Events
This event has passed. Check out other things to do instead.
Coach K and his stacked Blue Devils are coming to Conte Forum
Boston College will have its hands full as Duke and its plethora of NBA prospects head for Chestnut Hill.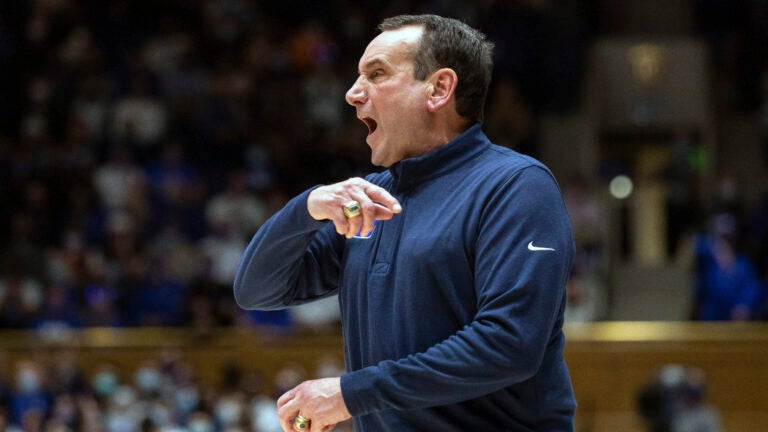 The Eagles are showing signs of promise in their first season under new head coach Earl Grant. But that's not why the area's most-anticipated college basketball game of the season is set to be played at Conte Forum on Feb. 12.
It's because the Dukies are due in town that day.
As one might expect, Duke has set itself up to launch legendary coach Mike Krzyzewski into retirement with a confetti-filled flair, having spent the first portion of the season at or near the top of the national polls, and looking very much like a contender to compete once the NCAA tournament turns mad in March.
Last year, the Blue Devils were at a low point. They finished 13-11 overall, and would've had to play their way into the national tourney with a Cinderella run in the ACC championship, but COVID shut them down before they even had a chance. This year, with Krzyzewski on his farewell tour, they've returned to their perch thanks in no small part to two of the best NBA prospects in the nation. Freshman power forward Paolo Banchero could be the No. 1 pick in this summer's draft, while classmate AJ Griffin is said to be a Jimmy Butler-type who figures to join Banchero as a top-10 selection. Various draft sites also have freshman guard Trevor Keels and sophomore center Mark Williams as first-round targets for NBA teams.
That said, this looks like a game that could be difficult for the Eagles to win – but the real winners could be Boston's basketball fans, who get to see an icon on the sideline and some of the country's best ballers on the floor. That could explain why there were just a few tickets left through BC's official ticket site, and what did remain was going for upwards of $125 (although they were slightly cheaper on the secondary market).
Need weekend plans?
The best events in the city, delivered to your inbox