Events
This event has passed. Check out other things to do instead.
Cool off with a state-sanctioned dip in the Charles River
Registration for the "afternoon of of swimming, splashing, and jumping in the river" opens May 12.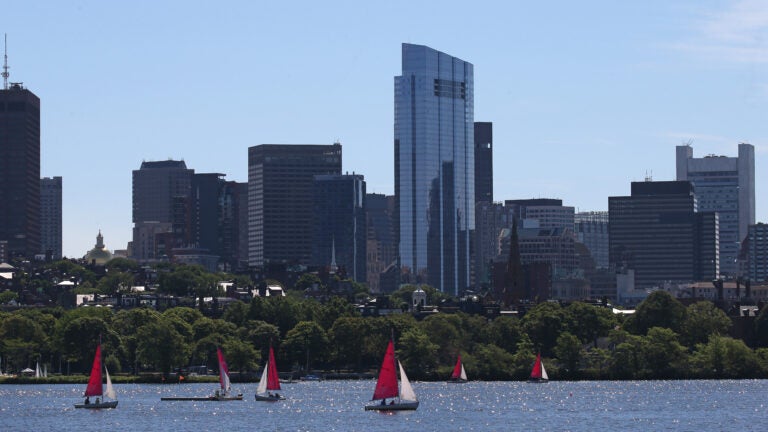 Most days of the year, you can enjoy the Charles River in a number of ways — sailing on it, running and biking past, watching it from the train — but, what you can't do is swim in it. That rule goes off the table June 18 for one afternoon for the City Splash.
Held in a demarcated deep-water area off of the Fiedler Dock, City Splash is a state-sanctioned swim hosted by the Charles River Conservancy.
This year's "afternoon of swimming, splashing, and jumping in the river" marks the Conservancy's 6th year of urban river swims, according to the event website.
All that's standing between you and jumping in the river is registration, which opens May 12.
"Spots are limited, and the event fills up fast! Make sure to set a reminder to get your desired swim time slot," reads the event website.
If you are looking for something other than just splashing about, the Charles River Swimming Club is hosting a one-mile race between Harvard and Longfellow Bridge. About one fourth of the race spots are still left as of May 4, and registration is online with a fee.
Normally, swimming in the Charles isn't allowed — or at least it hasn't been since the 1950s. Swimming was originally limited due to health risks posed by pollution, according to the Conservancy.
"After years of environmental health progress, most notably the EPA's Charles River Initiative, swimming is now allowed through state-sanctioned events such as the Charles River Conservancy's City Splash events and the Charles River Swimming Club's annual One-Mile Swim Race, which began in 2007," the website says.
The first City Splash took place in 2013 and happened annually through 2017, followed by a few years of interruptions by bad weather and the pandemic.
If you aren't enticed by the prospect of swimming in the river, do not fear. The Conservancy is hosting a variety of on-land activities showcasing how to stay cool in the summer heat and there is an afterparty from 4 to 6 p.m.
Need weekend plans?
The best events in the city, delivered to your inbox