Events
This event has passed. Check out other things to do instead.
First Night is back — but still different due to the pandemic
City officials plan to offer COVID-19 vaccines and rapid tests at the almost entirely outdoor New Year's Eve event.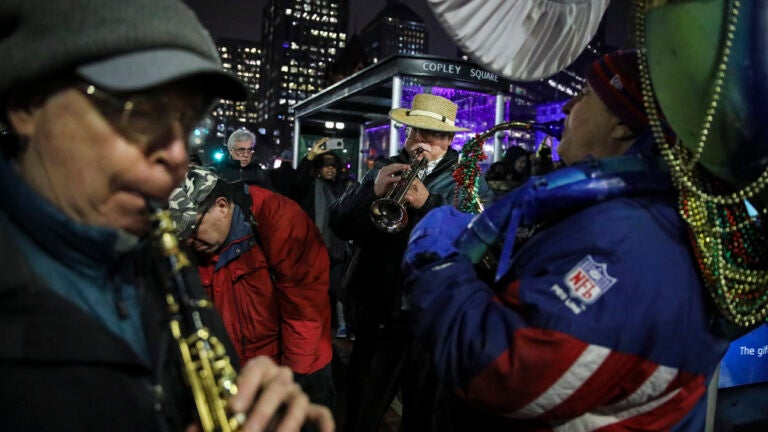 After a pandemic-induced hiatus last year, First Night is returning this Friday to ring in 2022 with in-person festivities, from fireworks to figure skating.
However, with Massachusetts reporting record COVID-19 case numbers due to the omicron variant, the New Year's Eve tradition won't quite be back to normal.
Fight Night organizers are shifting nearly all indoor events to outdoor venues to minimize the risk of virus transmission, and city officials will be offering vaccines and rapid COVID-19 tests to attendees throughout the day and night.
"As we come together to celebrate community, our joy, and a fresh start in 2022, we must also recognize the moment that we still very much are in," Boston Mayor Michelle Wu said during a press conference Thursday morning.
The decades-old First Night celebration, as well as countless private New Year's Eve gatherings, come as the winter COVID-19 surge puts pressure on the local health care system, which is struggling with staffing shortages. Massachusetts reported over 15,000 new COVID-19 cases on Wednesday, a pandemic record. And while officials credit the vaccines for keeping hospitalizations and deaths well below last year's winter surge, even with no business or gathering restrictions, the number of COVID-19 patients has crept up to its highest levels since early February.
Still, with a few tweaks, officials say First Night can safely proceed.
Pivoting to a nearly all-outside celebration
Before the pandemic, the downtown celebration would consist of a mix of indoor and outdoor events around the Back Bay and Boston Common. And this year's schedule still includes event hallmarks, such as the parade, music and dance performances, ice sculpting, and fireworks at both 7 p.m. and midnight.
T.K. Skenderian, a spokesman for Conventures, the events company that produces First Night, said they knew "months ago" that this year would have "far less indoor programming" than usual, if any at all. That, however, was before the omicron variant added to the existing delta-fueled surge in cases.
"We kept one venue in Boston Public Library and one in Copley Place Mall on the schedule until a few weeks ago, and then transitioned them to the outdoors nearby," Skendarian said in an email this week.
Wu said Thursday all city-sponsored events would officially be moved outdoors, though the First Night schedule does still include a few indoor events at churches, including a concert at Trinity Church and a piano recital at First Church. According to Skenderian, masks will be required at those events.
South Church also canceled three planned indoor brass and percussion artists, consolidating them into a single live-streamed virtual concert.
Conventures President Dusty Rhodes said Thursday that they were able to successfully pivot all other indoor performances outside, with an additional outdoor stage.
"No one dropped out," Rhodes told reporters.
The current forecast calls for relatively mild temperatures in the low 40s through the afternoon and evening, with a chance of rain later in the night. Officials reminded attendees to dress accordingly.
In addition to the indoor mask mandate, organizers are encouraging attendees to wear masks in crowded outdoor areas and to stay home if they are feeling unwell or have had a recent COVID-19 exposure. First Night events will be live-streamed on www.nbc10boston.com.
Free shots and rapid tests
City officials also announced that there will be walk-in vaccine clinics in Copley Square during nearly all of First Night, even as they "strongly" recommended all attendees already be vaccinated.
Near the BosTix Booth in Copley Square, the Whittier Street Health Center will host a walk-in vaccine clinic from noon to 7 p.m., meaning no appointments are necessary. Along with primary series doses and boosters, the clinic will offer pediatric vaccines to children ages 5 to 11.
And from 7 p.m. until 11 p.m., city officials will run a walk-in vaccine clinic — offering only primary series doses and boosters — inside the Boston Public Library.
Frederica Williams, the president and CEO of the Whittier Street Health Center, said Thursday that the earlier clinic will also have a doctor and nurses on hand to answer any questions about the vaccines.
"We have found that as the infection rates are increasing, as people have questions about the safety and effectiveness of the vaccination, people frequently just walk up and want to have questions answered," Williams said.
Whittier Street Health Center is also planning to hand out 1,000 free rapid COVID-19 tests to First Night attendees, while supplies last.
As the state's positive test rate has skyrocketed, testing sites have been swarmed by lines of residents and government officials have worked to make rapid tests more available. Wu asked that First Night attendees take up to one test kit for each family member from the Copley Square clinic.
"Take only what you need for this round, because there are many, many folks who have no access, and even if they are available for purchase, we want to make sure that there's equity in how these are distributed," the mayor said.
'These recommendations apply to all New Year's Eve gatherings'
First Night isn't the only celebration where attendees should exercise some caution.
"These recommendations apply to all New Year's Eve gatherings," Dr. Bisola Ojikutu, the executive director of the Boston Public Health Commission, said Thursday, urging individuals who have symptoms or have been exposed to COVID-19 to stay home.
Ojikutu also said that even vaccinated individuals "should consider getting a COVID-19 test, if possible, before gathering indoors."
"We also suggest wearing a well-fitted mask indoors," she said. "If you're planning on gathering indoors, please opt for smaller gatherings where you know the vaccination status of the individuals attending."
While she acknowledged that it's a "difficult time," Wu also encouraged people to enjoy each other "with public health as an extra consideration."
"The burden really shouldn't be on residents to feel like you're not doing the right thing or you're being discouraged or you're not supposed to have any fun or not celebrate," Wu said. "This is a joyful time for the city."
Need weekend plans?
The best events in the city, delivered to your inbox