Events
This event has passed. Check out other things to do instead.
Follow the emerald glow at 'Lights in the Necklace'
The Emerald Necklace Conservancy brings back its brilliantly colored outdoor lights to Boston.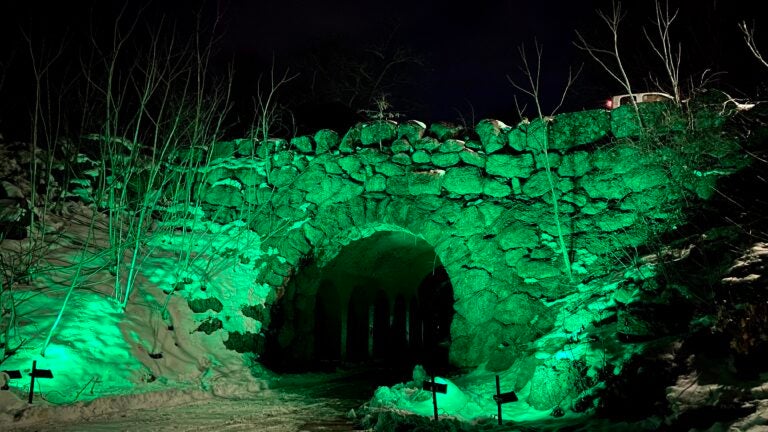 Bridging communities is what the Emerald Necklace was designed to do nearly 150 years ago. These days, it continues to be some of the best places of connection during the pandemic. For the next two months, just follow the emerald glow to discover the appeal for yourself.
The Emerald Necklace Conservancy is lighting up Boston again through its unique exhibition "Lights in the Necklace," returning Feb. 1 through March 20. Select bridges within the 1,100 acres of the Emerald Necklace will be awash daily with an emerald glow from dusk to 9 p.m., celebrating the power of urban parks to bring visitors together, as well as inspire and light the way in challenging times. Ten trees at the intersection of the Commonwealth Avenue Mall and Charlesgate Park will join in on the display, covered in emerald green string lights along with posted info about the ongoing revitalization of the park.
Illuminated locations include:
· Charlesgate Park Trees on the Commonwealth Avenue Mall
· Liff Park Bridges in the Back Bay Fens
· Chapel Street Footbridge, Bridle Footbridge and Longwood Avenue Bridge in Riverway Park
· Leverett Pond Footbridge and Wards Pond Footbridge in Olmsted Park
· Ellicott Arch in Franklin Park
As they're subject to change, check the Conservancy's website for the most up-to-date details. Information about each bridge's history and significance in the Emerald Necklace will be also available online, along with a mobile tour guide at www.emeraldnecklace.tours.
Need weekend plans?
The best events in the city, delivered to your inbox