Events
This event has passed. Check out other things to do instead.
9 fun things to do for college students after dark
Watch comedy, hear poetry, and dance at the MFA.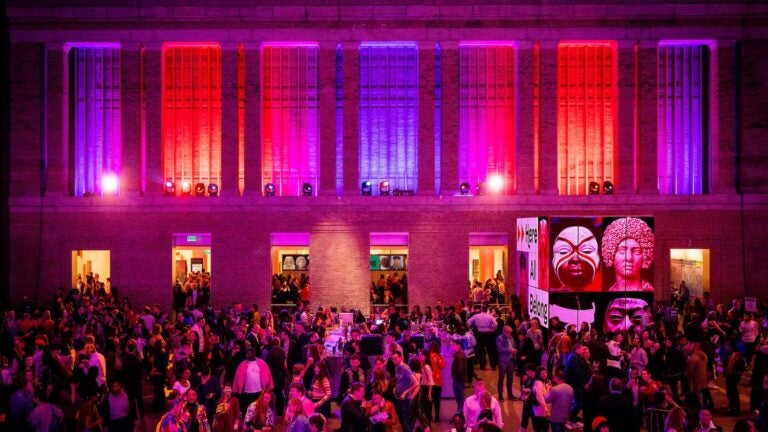 September marks a fresh beginning for college students. After moving back to Boston, many might be excited to start new classes, make new friends, and find exciting things to do in the city. Nightlife is an important part of any college experience, though it can be difficult to find events that are open to students 18 and over. We've rounded up a few ideas to make that process easier.
Below, find a guide to nightlife activities that college students can participate in. Whether you're interested in hearing original poetry read aloud, sampling cuisine from around the world, or just want to dance, we've found events that you might enjoy this fall. Scroll down to see 9 different ways to have fun after dark.
Glass Cannon Live! is coming to Paradise Rock Club, and the production will be a unique live gaming session that will bring laughter to the audience. You'll be following five nerdy heroes in a "Lovecraftian nightmare, where danger lurks around every corner." The show is a table-top role playing game, but it's set in front of a live audience, an improv comedy event at its core. Tickets are $40, Sept. 9; 967 Commonwealth Ave., Boston.
Students from across Massachusetts are invited to attend the Black Ice College Fest, a back-to-school dance party held at Citizens House of Blues Boston. Revelers from Boston University, Northeastern University, Harvard, MIT, and more are expected to attend, according to a spokesperson. Come to socialize and meet undergraduates from different schools. Tickets are $20 for general admission; Sept. 9; 15 Lansdowne St., Boston.
If you find yourself writing verses in your spare time, you may want to read your work at Trident Booksellers & Cafe's Poetry Open Mic Night. The bookstore in Back Bay fosters a supportive environment in their upstairs cafe space, where poets can share their own pieces or read another author's poem. Free; Sept. 10; 338 Newbury St., Boston
From The Anchor in the Charlestown Navy Yard, you'll be able to enjoy a festive evening at the Soulful Bliss Arts & Music Festival. The evening is curated by and for communities of color and will feature live performances, an artisan marketplace, sunset views of the skyline, and food and drinks. Before you start the night, take a Soulful Yoga Class from 3 to 4 p.m. Free; Sept. 10; 1 Shipyard Park, Charlestown.
You may be familiar with comedian Michael Yo from "America's Got Talent" and "The Insider." The University of Arkansas football player turned performer will be entertaining crowds at Laugh Boston, offering what promises to be "some stinging pop culture commentary.". Tickets are $29; Sept. 14; 425 Summer St., Boston.
September 15 marks the start of National Hispanic Heritage Month, and the Museum of Fine Arts will honor Latinx culture with a festive evening. Listen to live music, take in a traditional Bomba dance performance, attend talks in galleries, and view artwork from North, Central, and South America. Entry is pay what you wish, with a $5 minimum; Sept. 21; 465 Huntington Ave., Boston.
Maybe you find yourself humming show tunes that get stuck in your head for hours. If that's the case, you may want to join a Broadway Rave, held at Brighton Music Hall. You can dress up in costume as your favorite musical theater character, and be prepared to dance to hits from "Hamilton." Tickets are $18; Sept. 29; 158 Brighton Ave., Allston.
The streets of Union Square will be lined with revelers, enjoying flavorful food, music, dance — and performances using fire — at Ignite! A Global Fire and Food Festival. When you're not savoring arepas, pupusas, and birria tacos, you can take in a Brazilian Capoeira dance, jugglers, face painting, and food demos. Free; Sept. 30; 90 Union Square, Somerville.
What could be more fun than being at the museum after dark? At this after hours party, part of the Museum of Fine Arts' Late Nites programming, the institution will be celebrating a new exhibition, "Fashioned by Sargent." The night ends at 1 a.m., but until then, you'll be able to dance to the tunes of DJs, see pop-up performances, and roam the galleries. Non member advance tickets are $20; Oct. 20; 465 Huntington Ave., Boston.
Need weekend plans?
The best events in the city, delivered to your inbox