Events
This event has passed. Check out other things to do instead.
High school football trophies on the line at Gillette
Eight state champions will be crowned over two days of Super Bowls in Foxborough.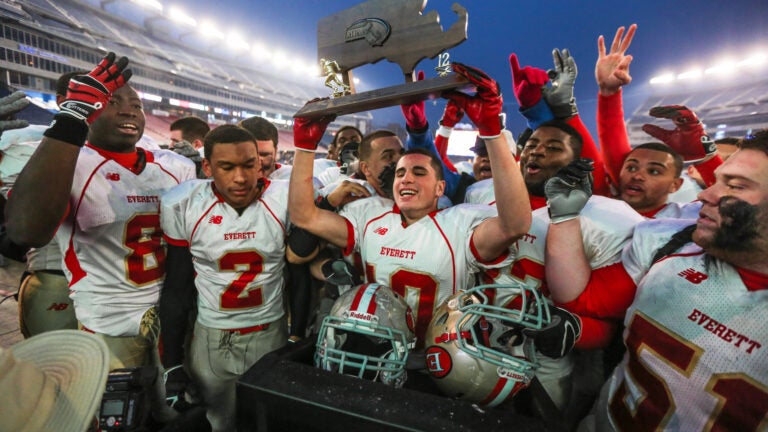 Over the 48 hours after the six-time Super Bowl champion Patriots battle the Buffalo Bills on the same turf, 16 Massachusetts high school teams will take the field in pursuit of their own titles when Gillette Stadium plays host to the state football finals for all eight divisions.
With the games played on both Friday, Dec. 2, and Saturday, Dec. 3, here is the schedule for the big showdowns:
Friday, Dec. 2:
Division 7: West Boylston vs. Saint Bernard's, 3 p.m.
Division 5: North Reading vs. Shawsheen Valley Tech, 5:30 p.m.
Division 4: Duxbury vs. Grafton, 8 p.m.
Saturday, Dec. 3:
Division 8: Hull vs. KIPP Academy, 10 a.m.
Division 1: Springfield vs. St. John's Prep, 12:30 p.m.
Division 6: Stoneham vs. St. Mary's of Lynn, 3 p.m.
Division 3: Milton vs. Wakefield, 5:30 p.m.
Division 2: King Philip vs. Catholic Memorial, 8 p.m.
It will be the fifth season in which Gillette has been the site of every championship clash, and each of the teams to get there will certainly have earned the right to play in Robert Kraft's house. Under the MIAA's current format, teams first need to qualify for the playoffs during an eight-game regular season, then they must grind through three win-or-go-home contests over the course of November. (Plus Thanksgiving, although that doesn't count toward the postseason.)
In 2021, Springfield Central (Div. 1), Catholic Memorial (2), Marblehead (3), Scituate (4), Swampscott (5), Rockland (6), Cohasset (7), and Randolph (8) all left Gillette Stadium with some fresh hardware. This year, Springfield and Catholic Memorial are looking to go back-to-back, though the title in each of the other six divisions is sure to change hands.
Like last year, tickets are available only online and will not be sold at Gillette Stadium. Tickets are $17 for adults and $14 for students/senior citizens, with free seats for kids 5 and younger. The tickets are good for general admission to the games, parking, and a game-day discount of $3 off adult admission at the Patriots Hall of Fame. Each ticket is good for every game on either Friday or Saturday, but each day requires a separate ticket.
Need weekend plans?
The best events in the city, delivered to your inbox