Events
This event has passed. Check out other things to do instead.
Lamar Jackson's Ravens to pose challenge in Patriots' home opener
After two road tests, Bill Belichick's team begins the Gillette Stadium portion of its schedule against Baltimore and its MVP quarterback.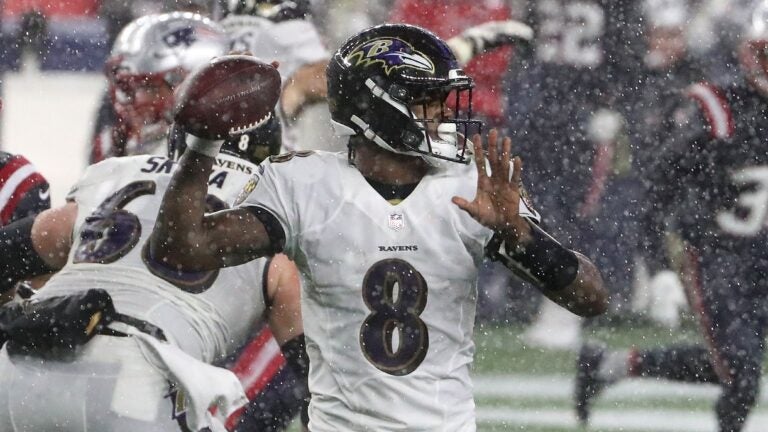 As real football returns to Gillette Stadium for the 2022 season, it will do so by staging a battle between two proud franchises fighting to establish their bona fides in the formidable AFC.
Perhaps surprisingly, the Ravens and Patriots have combined for one playoff win since the start of the 2019 season, although both Baltimore and New England carried into 2022 hopes of reestablishing their place among the AFC elite. And their meeting in New England's Sept. 25 home opener stands to be potentially significant in advancing that ambition.
While Bill Belichick and New England are mid-rebuild in the wake of Tom Brady's dominant era, Baltimore is at a less-certain crossroads in its quest back to contention. The Ravens won eight of 11 to open 2021, but as star quarterback Lamar Jackson battled injuries they subsequently lost six in a row. Finishing 8-9, they missed the playoffs for the first time in four years.
That setback could've merely been a hiccup for John Harbaugh's tenured program — or it could be a signal that something needs to change. The Ravens are just 2-4 in playoff games over the near-decade since the Super Bowl title they won in February 2013, and Jackson entered training camp this July without a long-term commitment from the team. Barring a new deal, the 2019 NFL MVP will hit free agency next spring.
During his 14 seasons at the helm in Baltimore, Harbaugh has never beaten the Patriots in a regular-season game at Gillette Stadium — but his Ravens have won two playoff games in Foxborough. They were also positioned to win a third. And a fourth.
A late September visit certainly doesn't carry the season-defining finality that comes with a trip to Gillette in January, and neither the Ravens nor the Patriots will be eliminated from contention after Week 3.
But New England's home opener is still one that will surely have those evaluating the AFC landscape rushing to judgment in the early season.
Need weekend plans?
The best events in the city, delivered to your inbox