Events
11 open studios in the Boston area to visit this spring and summer
See the thousands of local artists who make the Boston area a cultural hub at these free events.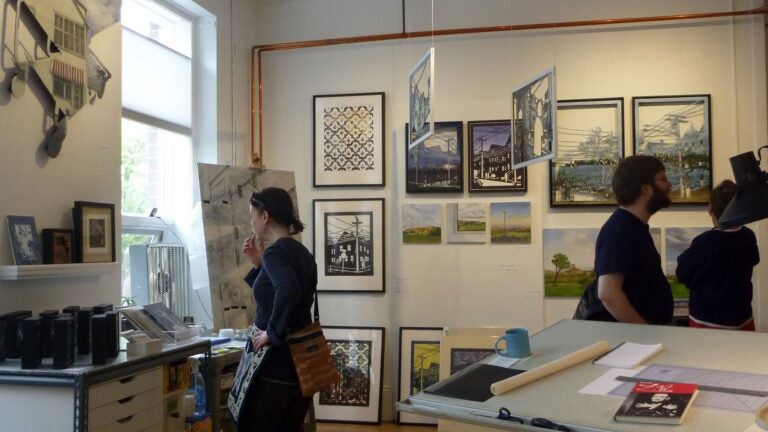 Boston has a well-earned reputation as a cultural hub, thanks to world-class museums like the Museum of Fine Arts, The Institute of Contemporary Art, and the Isabella Stewart Gardner Museum. But outside of those pillars of the arts, there are thousands of artists and creatives in the metro Boston area, whether it's college students drawn to a top-tier fine arts program or lifelong residents who have spent decades honing their craft.
With warmer weather getting more and more people out of the house each weekend, studio spaces from SoWa to Somerville will be hosting open studios, giving visitors a chance to see the beauty and creativity that blossoms in their own communities.
Here are 11 open studios events in the greater Boston area to check from now to the end of September.
SoWa Open Market isn't the only attraction you'll find when visiting the cultural hub at 500 Harrison Ave.: On the first Friday of every month from 5-9 p.m., most of the 80+ members of the SoWa Artists Guild open their studios to the public, peeling back the curtain on their creative process. Sip refreshments and chat with creatives as you wander from room to room watching the painters, photographers, and designers as they work. (Fridays from 5-9 p.m.; sowaboston.com)
Somerville will honor its vibrant art scene this weekend, as hundreds of artists at more than 80 of the city's studios showcase their work during the annual Somerville Open Studios from noon to 6 p.m. on Saturday and Sunday. Wander down a street you've never traveled to find art you've never dreamed of, or, for a more structured approach, take the free trolley provided by the city to some of the major studios. (May 6-7 from noon-6 p.m.; somervilleopenstudios.org)
For more than 35 years, Brookline Open Studios has showcased the city's best artists in a mixture of professional and home studios. This Saturday, more than 50 artists will be on display at the Brookline Arts Center, Monmouth Park, and on Station Street in Brookline Village from 11-5 p.m. If the weather doesn't cooperate, the event will move to Sunday. (Saturday, May 6 from 11-5 p.m.; brooklineartscenter.com)
This Saturday and Sunday, one of Lowell's largest artist spaces will open its doors to the public. Western Avenue Studios and Lofts, home to around 350 artists, makers, and creatives, will welcome visitors from noon to 5 p.m. There will be food trucks, live music, and an artist reception in the main gallery from 3-5 p.m. (May 6-7 from noon-5 p.m.; westernavenuestudios.com)
All 23 of Boston's neighborhoods have their own vibrant artist community, and May 20-21 will be your chance to see some of the best Dorchester has to offer. Studios at 11 Humphreys Street and 1486 Dorchester Ave. will showcase a mix of painting, photography, sculpture, mixed media, and even culinary arts from 11-5 p.m. (May 20-21; dorchesteropenstudios.com)
Out in the suburbs, Lexington has attracted a robust artist community as well, with small galleries and home studios dotting every corner of the town. There is no central hub for the town's open studios on May 20 and 21, with the town instead providing a map and artist directory so visitors can plot their own route among the galleries. (May 20-21 from 11-5 p.m.; lexingtonopenstudios.com)
Each year, a group of artists and gallerists in Beacon Hill bring their works to the sidewalk for the annual Beacon Hill Art Walk. This year's event, which will be held on June 4 from noon to 6 p.m., will feature around 100 artists, showcasing works of all styles. If the sidewalks get too crowded, a number of residents also open up their private courtyards to exhibit more art or host live music. (June 4 from noon-6 p.m.; beaconhillartwalk.com)
As part of its 40th anniversary celebration, the Cape Ann Artisans, a group that unites artists living in Gloucester and Rockport, will host a free open studios weekend on June 3 and 4 from 10-5 p.m. For a map of where to find all of the artists on the North Shore peninsula, check out the group's website. (June 3 and 4 from 10-5 p.m.; capeannartisans.com)
Meander along the shores of the Mystic River for West Medford Open Studios, a gathering of artists, poets, jewelers, and other creatives in the city showcasing and selling their work. The event will be held on Saturday, June 24 from noon to 5 p.m. in Dugger Park, and will feature more than 70 artists showcasing everything from pottery to mosaics. (June 24 from noon-5 p.m.; wmos.org)
You'll have two chances to see Hull's artists showcase their works, with the city hosting open studios weekends July 8-9 and September 9-10. Last year's event featured 27 artists at 17 locations, as well as a central hub at Gallery Nantasket, where visitors could purchase works from a variety of Hull's creatives. (July 8-9 and September 9-10 from 10-4 p.m.; hullartists.com)
Closing out the summer and ushering us into autumn, Jamaica Plain Open Studios will host a neighborhood-wide event on September 23 from 11-6 p.m. and September 24 from 11-4 p.m. Last year's event featured more than 100 artists at 50 different studios, with the biggest concentration of creatives at the First Unitarian Universalist Church on Elliot Street. Visit the group's website for more info and to see last year's map and artist directory. (September 23 from 11-6 p.m. and September 24 from 11-4 p.m.; jpopenstudios.com)
Need weekend plans?
The best events in the city, delivered to your inbox