Events
This event has passed. Check out other things to do instead.
See more than 37,000 flags planted on Boston Common
The annual Memorial Day Flag Garden honors Massachusetts service members who have lost their lives in combat.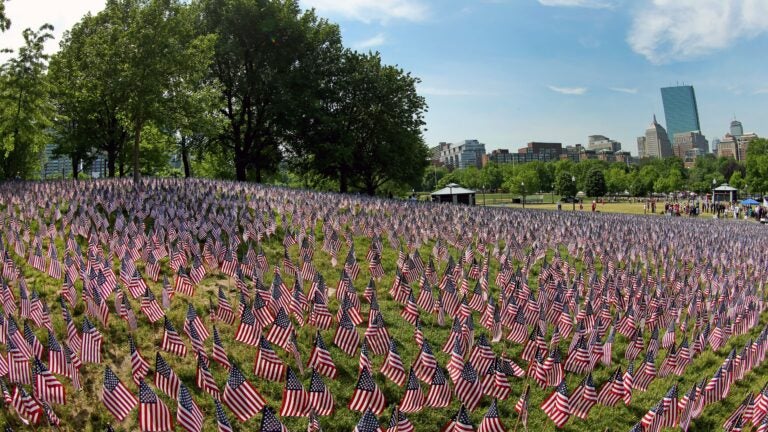 Each Memorial Day weekend since 2010, Massachusetts Military Heroes Fund (MMHF) and its volunteers have created a garden of flags on Boston Common for the long weekend. The 37,000 flags represent every single Massachusetts person who has given his or her life to defend the country since the Revolutionary War.
The Memorial Day Flag Garden is planted at the Soldiers and Sailors Monument, a Civil War tribute, by volunteers. This year, MMHF will work with volunteers and staff from Home Base, a partnership of the Red Sox Foundation and Massachusetts General Hospital that helps veterans and their families as they heal from invisible wounds like traumatic brain injury and post-traumatic stress. Individual volunteers can also register to help with the creation or maintenance of the garden.
President Biden's inauguration ceremony in 2021 took a page out of Boston's book. The National Mall was covered with 191,500 flags, including American flags plus state and territory flags, representing the thousands of folks who couldn't attend the ceremony in person because of the coronavirus pandemic. The MMHF's co-founder Steve Kerrigan, an adviser to Biden's inauguration committee, took inspiration for the DC flag garden from Boston.
The garden will be on display this year May 26 through May 30.
Need weekend plans?
The best events in the city, delivered to your inbox