Events
This event has passed. Check out other things to do instead.
The Beanpot is coming back
Boston's four D-1 men's hockey programs resume their battle for bragging rights after skipping 2021.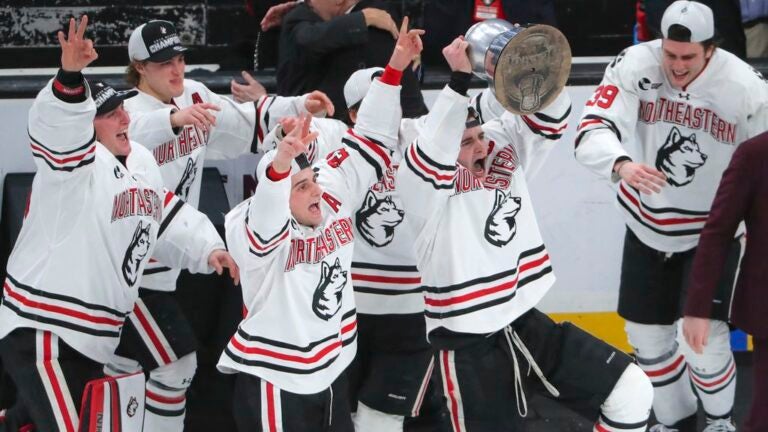 After an unprecedented hiatus, Boston's hockey fans are set to regain some normalcy on their sports calendars.
The Beanpot is back, set to return to its rightful place on the first Monday of February after the iconic tournament was called off in 2021 as a consequence of the COVID-19 pandemic. That cancelation meant the battle for bragging rights between Boston's four Division I men's hockey teams missed a year for the first time since the original affair in 1953, and means that the upcoming event will be the 69th edition of its storied history.
Northeastern has owned the tournament as of late, though the Huskies will put their four-year/three-championship reign on the line in the opening round against the Eagles of Boston College. Arguably the two best teams among the four, they'll face off in the nightcap; Boston University and Harvard will open the action with the early game, with the puck dropping at 5 p.m.
The winners will face off a week later for the coveted cup, which BU has skated a record 30 times – 10 more than BC, which ranks second. After the 4:30 consolation matchup, the title tilt will start at 7:30 p.m. on Valentine's Day.
Balcony tickets for each night start at $44 – though it's worth noting that tickets in the lower levels cost just a few dollars more, at $51 per seat. That might be the better option if you don't want to run the risk of sitting next to your rival school's band, or potentially their Dog House. There are separate tickets for each night, but a ticket gets the ticketholder in to both of that night's games.
Need weekend plans?
The best events in the city, delivered to your inbox