Events
This event has passed. Check out other things to do instead.
10 things to do in Boston this Halloween weekend
BosTen is your weekly guide to the best events and coolest things to do in Boston.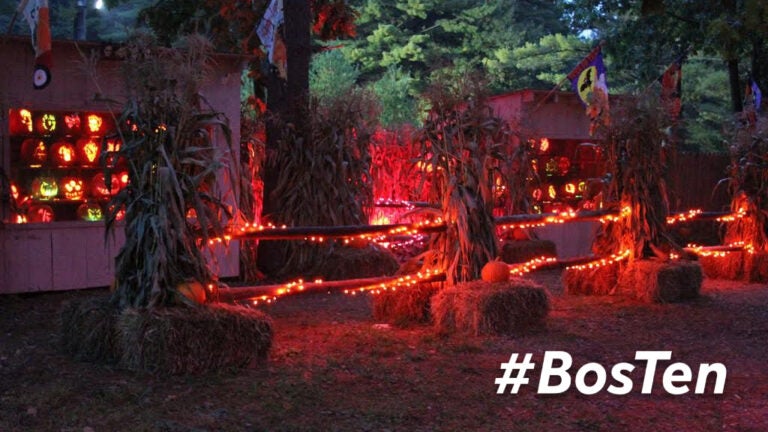 Welcome to BosTen, your weekly guide to the coolest events and best things to do in Boston this weekend. Sign up for our weekly email newsletter here. Have an idea about what we should cover? Leave us a comment on this article or in the BosTen Facebook group, or email us at [email protected].
The ninth annual GlobeDocs Film Festival, which runs through Sunday, will feature more than a dozen documentary film screenings, many of which will be followed by moderated conversations with filmmakers and Boston Globe journalists. Viewers will have a range of both virtual and in-person screenings at The Brattle Theatre in Cambridge to choose from. Highlights include Thursday night's "American Symphony," which follows former "Late Night with Stephen Colbert" bandleader Jon Batiste as he creates his magnum opus; and Saturday's "Beyond Utopia," which offers a rare glimpse of life inside North Korea and those trying to escape it. For a full list of films and to buy tickets, visit the GlobeDocs Film Fest website. (Now through Sunday, Oct. 29 at various times; Brattle Theatre, Cambridge; $15 per film; all ages) — Kevin Slane
Rare and vintage book sellers will once again line the Hynes Convention Center as the Boston International Antiquarian Book Fair (or the Boston Book Fair) returns to the city for the 45th year. Over 100 vendors will flock to Boston to sell rare books, manuscripts, first editions, and maps from around the world. Book dealers from the U.S., as well as countries such as Denmark, France, Germany, the Netherlands, Serbia, and the UK, will sell books and museum-quality artifacts with prices that range from super affordable to well into the millions, making the fair great for both seasoned bibliophiles who collect and first-timers who just want to browse. The festival is free and open to the public on Saturday from noon to 7 p.m. and on Sunday from noon to 5 p.m, while tickets to opening night, on Friday cost $25 per person. Saturday and Sunday's free programming includes lectures on topics like Revolutionary-era Boston maps and Japanese aesthetics, and a women's panel on book collecting. (Friday, Oct. 27 to Sunday, Oct. 29 at various times; Hynes Convention Center, Boston; $25 for Friday entry, free Saturday and Sunday) — Natalie Gale
Start your Saturday off in style at the Fenway Fright Halloween Bar Crawl, which takes over Lansdowne Street for six hours Saturday afternoon. Head to Game On at noon, then make stops at Bleacher Bar, Bill's Bar, Loretta's Last Call, King's, and Lansdowne Pub. Tickets are $10 and include entry to all participating bars, access to a pro photographer, entertainment and themed drinks and food at every stop. There will also be a costume contest with prizes. (Saturday, Oct. 28 from 12-6 p.m.; Lansdowne St., Boston; $10; 21+) — Kevin Slane
---
Watch Kevin Slane's Halloween segment on "Boston Globe Today"
---
If you didn't get enough of Barbie this past summer, you can channel Margot Robbie's character at a celebration this weekend. The Liberty Hotel's 2023 Halloween Extravaganza will be a Barbie-themed Halloween party, where you can enjoy pink cocktails, take fun photos, eat Barbie inspired bites, and dance to music from DJ White and DJ Joshua Carl. There will also be VIP tables and special room packages, along with an opportunity to have dinner at CLINK beforehand. (Saturday, Oct. 28 at 9:00 p.m.; The Liberty Hotel, 215 Charles St., Boston; $110; 21+) — Shira Laucharoen
In honor of Dia De Los Muertos coming up, The Painted Burro in Somerville will host a sugar skull painting party. During the Mexican holiday, you're meant to connect with and pay homage to deceased loved ones, and sugar skulls play an important role in celebrations. To begin decorating, you'll be given a plaster skull, paint, and brushes. You can also sip on a signature Dia De Los Muertos Margarita, and other beverages and bites can be ordered. (Saturday, Oct. 28 at 3 p.m.; The Painted Burro, 219 Elm St., Somerville, Boston; $30; 21+) — Shira Laucharoen
Ever since Spooky World departed from Gillette Stadium and decamped for New Hampshire, there's only been one real contender for the scariest haunted attraction in the Greater Boston area: Witch's Woods. The fright fest takes over the Nashoba Valley Ski Area every October, and wraps up its ghoulish displays on October 31. The Haunted Hayride is top of the must-see list, but the Vampire Passage, Keepers Crypt, and Castle Morbid provide plenty of scares as well. Before you head out, get your heart rate back to normal by visiting the hundreds of professionally carved pumpkins at the Jack-O-Lantern Jamboree. (Daily through October 31 from 6-10 p.m.; Witch's Woods, Westford; $48) — Kevin Slane
Think back to Halloweens of the '90s: Were you rocking a Power Rangers getup, or more of a Disney Princess-type dress? Maybe it was something more irreverent, like a character from Rocko's Modern Life. We're just guessing here: The Nautilus Pier 4 wants to see your best at their '90s-themed Halloween weekend celebration. Cartoon characters, public figures and nostalgia acts are particularly encouraged, but you do you. DJ Ryan Brown is in the house setting the tone from 9 p.m. 'til 1 a.m. This is not a ticketed event, but reservations are recommended for dinner service. The bar is first-come, first-served and the party is open to all 21-plus people. (Saturday, Oct. 28 from 5 p.m. to 1 a.m.; Nautilus Pier 4, Boston; free; 21+) — Jacqueline Cain
This Saturday, Boston Public Library's Mattapan branch welcomes historian Anthony Sammarco, who will walk visitors through the evolution of Boston's Mattapan neighborhood from a Jewish enclave to a home for new Caribbean immigrants. A Boston native, Sammarco has written over 70 books on his hometown, including a history of Howard Johnson's and a retrospective on the Baker Chocolate Company, which was founded in colonial times and lives on today under the ownership of Heinz. (Saturday, Oct. 28 at 2-3 p.m.; 1350 Blue Hill Ave., Mattapan; free) — Kevin Slane
Following a special edition of Scary Movie Drag Bingo the previous weekend, Time Out Market continues the festivities with a circus-themed Halloween party this Saturday. From 9 p.m. to midnight, performers including a stilt walker, circus hooper, and a tarot card reader will entertain while Le Petite Pouf twirls the cotton candy. There will also be a live DJ and 360-degree photo booth. Most creative costumes win a prize, and entry is free. (Saturday, Oct. 28 from 9 p.m. to midnight; Time Out Market, Boston; free; all ages) — Jacqueline Cain
Does your dog have a great costume this year? Dress them up and bring them to Park-9, the area's new dog park bar, for a Haunted Halloween Party and Costume Contest. From 5 to 11 p.m. on Saturday, Everett's indoor playplace becomes a decorated Haunted Dog Mansion with cocktail specials and treats. Prizes will be awarded for best costumes in several categories, such as best dog/human coordinated costume. Park-9 is also open Oct. 31 for trick-(f)or-treating. Dog-less humans are also welcome to hang out. (Saturday, Oct. 28 from 5-11 p.m.; Park-9, Everett; free; all ages) — Jacqueline Cain
Need weekend plans?
The best events in the city, delivered to your inbox