Events
This event has passed. Check out other things to do instead.
10 things to do in Boston this Labor Day weekend
BosTen is your weekly guide to the best events and coolest things to do in Boston.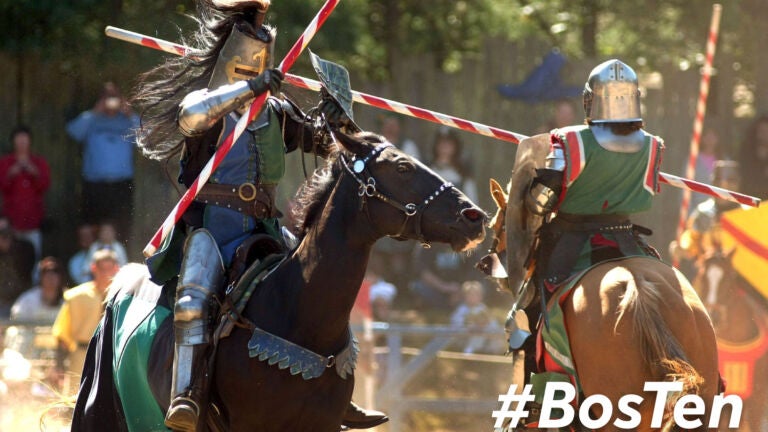 Welcome to BosTen, your weekly guide to the coolest events and best things to do in Boston this weekend. Sign up for our weekly email newsletter here. Have an idea about what we should cover? Leave us a comment on this article or in the BosTen Facebook group, or email us at [email protected].
Tracy Chang's Pagu, a Spanish meets Japanese restaurant, will be celebrating its sixth birthday on Thursday. At the patio party, you'll be able to enjoy oysters, beef tartare, tortilla de John Bush, patatas bravas, and more. And before we forget, there will also be summer corn pizza, squid ink calamari pizza, and lots of paella. Drinks like slush puppies, spritzes, and sangria will be served. Tickets are $45 each, and you'll want to get one so that you can attend this Central Square event. — Shira Laucharoen
Before we see the end of summer, you'll want to party one last time, and brasserie Rochambeau has plans for you. This Thursday, they'll host a Champagne and Oysters Patio Party, starting at 6 p.m. The event is the third in their four-part Summer of Wine Series, and you'll be able to sip on two different glasses of champagne. There will be a short informational session with sommelier Ben Oram. Freshly shucked raw oysters will make an appearance, along with other snacks, and you can dance the night away to music from the house DJ. Tickets are $50 each. — Shira Laucharoen
The popular Mayor's Movie Nights program, which shows free movies accessible to every neighborhood in Boston throughout the summer, is wrapping up for the season this Friday with a showing of "The Super Mario Bros. Movie" at the Frog Pond on Boston Common. Starring Chris Pratt ("Guardians of the Galaxy") as the famed video game plumber, "Super Mario Bros." was the top-earning movie at the worldwide box office in 2023, grossing $1.36 billion. The Frog Pond screening begins at dusk, around 7:30 p.m. — Kevin Slane
Greta Gerwig's "Barbie" has been a box office sensation, introducing viewers worldwide to her unique directorial sensibilities through the vessel of Mattel's iconic doll. The filmmaker, who previously wowed us with "Lady Bird" and "Little Women," has been open about the many films that inspired her when directing "Barbie," beyond the obvious shot-by-shot "2001: A Space Odyssey" homage in the opening scene. For the next seven days, Brattle Theatre in Cambridge will screen a number of Gerwig's "Barbie" influences for your viewing pleasure. The series begins Friday with Peter Weir's "The Truman Show" and the ahead-of-its-time satirical musical "Josie and the Pussycats," and continues through Sept. 7 with golden-era musicals ("An American in Paris"), timeless romances ("The Philadelphia Story"), and one of the most visually stunning films ever made in Jacques Teti's "Playtime." (If you want to learn even more about Gerwig's inspirations, this interview with Letterboxd is worth a watch.) — Kevin Slane
Does your child love animals and reading? Combine their two interests by attending Story Time at the Franklin Park Zoo with the Boston Public Library this Friday at noon. According to the library's website, this event is meant for children 5 years old or younger, and meets between the Zoo Office and Meeting Barn. No registration is required for this event; however, tickets to Franklin Park Zoo are required for admission. — Laura Emde
Deep in the woods in Carver, an enchanting village known as Carvershire awaits — where royalty strolls alongside minstrels and jesters, knights battle on horseback, and kissing wenches steal smooches from unsuspecting victims. Beginning this Saturday, King Richard's Faire returns for its 42nd season of entertainment, exciting rides, skilled games (yes, there will be axe throwing and archery), meals of spit-roasted giant turkey legs and mead, and more. Walk through the gates and back in time to the Renaissance period, as hundreds of entertainers (think acrobats, aerialists, jugglers, minstrels, fire eaters, and puppeteers) perform non-stop throughout the day on vibrant stages and meander on the property's winding paths. Talented artisans will also hawk their wares of glass blowing, portrait painting, hand-spun pottery, sword making, and more. Guests can come in period costume or wear modern day attire. — Cheryl Fenton
Fluff up your finest feather boa: You're invited to brunch (or dinner) at Harry's House. A traveling pop-up themed around ex-boy band chanter Harry Styles is stopping in Boston this Saturday and Sunday at Sunset Cantina in Allston. While all of Harry's hits are streaming through the speakers, you'll be treated with kindness to a meal of burgers and drinks — the menu is to-be-confirmed, but we wouldn't be surprised to see some Watermelon Sugar among the options. The themed fun continues with prizes for best dressed, as well as other games played throughout the two-hour experience. — Jacqueline Cain
Though the signature summer cultural event in Chinatown — The August Moon Festival — has come and gone, there's still time to catch a lion dance and some delicious food. The Rose Fitzgerald Kennedy Greenway has collaborated with Chinatown Main Street to bring lion dances all summer long to the Chinatown Gate in Auntie Kay & Uncle Frank Chin Park on The Greenway, and will do so for the final time this Saturday at noon. — Kristi Palma
The lineup has changed over the two-plus decades of their existence, but Brit rockers Arctic Monkeys — who rose to the top of the charts with 2005 single "I Bet You Look Good On the Dancefloor" — remain one of the most successful indie bands to have gone the mainstream route. Under the creative guidance of singer-songwriter Alex Turner, the contents of their live shows and seven albums — the most recent is last year's "The Car" — seamlessly shift from the danceable "Brick by Brick" and the full-out rocker "Why'd You Only Call Me When You're High?" (with maybe their best lyrics) to the laid-back rhythmic groove of "There'd Better Be a Mirrorball" and the gentle throb — and, of course, high vocals — heard in "Sculptures of Anything Goes." Turner and co. will surely have fans dancing this Sunday when they visit TD Garden. — Ed Symkus
Typically closed on Mondays, the ICA will offer free admission for Labor Day, which is also the final day of the year to take a ferry across the harbor and visit the seasonal ICA Watershed museum. The Watershed's closure means this is your last chance to see the North American premiere of a new exhibit from Simone Leigh, whose work mixes ceramic, bronze, and video and has made her one of the hottest names in contemporary art. Visitors can reserve free tickets for both the museum and the ferry beginning Sunday at 10 a.m. via the ICA website. — Kevin Slane
Need weekend plans?
The best events in the city, delivered to your inbox