Events
This event has passed. Check out other things to do instead.
10 things to do in Boston this Memorial Day weekend
BosTen is your weekly guide to the best events and coolest things to do in Boston.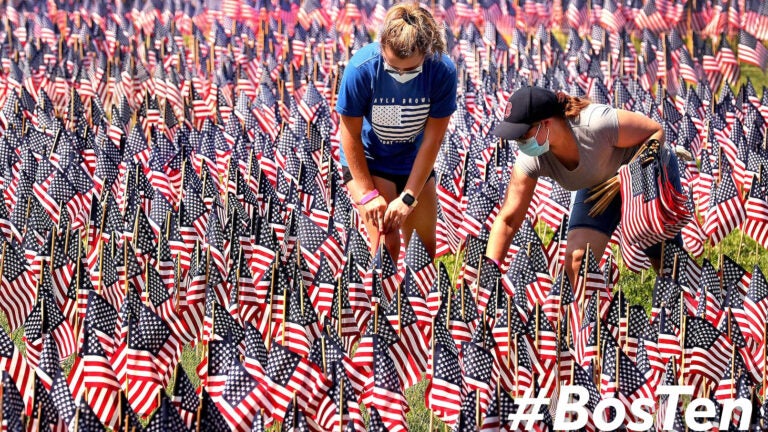 Welcome to BosTen, your weekly guide to the coolest events and best things to do in Boston this weekend. Sign up for our weekly email newsletter here. Have an idea about what we should cover? Leave us a comment on this article or in the BosTen Facebook group, or email us at [email protected].
Starting this Thursday, Boston Ballet will begin an 11-day run of "The Sleeping Beauty" at the Citizens Bank Opera House. Featuring an iconic Tchaikovsky score performed by the Boston Ballet Orchestra and choreography by Marius Petipa, the ballet spins a familiar tale of woodland fairies, a valiant prince, a wicked sorcerer, and Princess Aurora and her sleeping spell. Tickets are on sale now, starting at $39. — Natalie Gale
It's been 10 years since the first Boston Calling took over City Hall in May 2013, and the city's biggest music festival is back again this weekend with Foo Fighters, The Lumineers, and Paramore headlining at the Harvard Athletic Complex Friday through Sunday. This Boston Calling 2023 lineup features a mix of strong local acts like The Q-Tip Bandits and Ali McGuirk early in the afternoon, with headliner-level talent including Alanis Morisette, Niall Horan, and the Flaming Lips taking audiences into the evening. Tickets for the three days of shows are still available, though single-day GA passes for Saturday's concerts are now sold out. For more info on ticket availability and set times, check out Boston Calling's website. — Kevin Slane
Each Memorial Day Weekend for the past 13 years, the Massachusetts Military Heroes Fund and its volunteers have created a garden of flags on Boston Common near the Soldiers and Sailors monument. In total, the group places more than 37,000 flags, one for every service member from Massachusetts who has fallen in the line of duty from the Revolutionary War until now. The result is a breathtaking display of red, white, and blue that must be seen to be believed. — Kevin Slane
In 2022, the Boston-based nonprofit World Ocean School purchased the S/V Denis Sullivan, a 137-foot ship that is the world's only replica of a 19th-century three-masted Great Lakes schooner. Now, the organization is welcoming groups aboard for leisurely two-hour sails around Boston Harbor, where guests can enjoy a cash bar and learn more about the history of the Tall Ship and others from its era. Tickets for a Friday cruise at 5 p.m., a Saturday sail at 11 a.m., or a Memorial Day excursion at 1 p.m. are available now via FareHarbor. — Kevin Slane
Looking for something fun to do in the Seaport this weekend? Every Saturday and Sunday for the remainder of spring, the Seaport Summer Market (88 Seaport Blvd.) will host local artists and entrepreneurs from 11-8 p.m. selling a range of products including art pieces, clothes, jewelry, pottery, and more. The market will also have outdoor games for all ages, several food and drink options, and a pop-up "Dinos in Space" exhibit from The Boston Children's Museum. — Emily Collins
This Saturday, a stretch of Mass Ave. in the center of Lexington will close to vehicles from 10 a.m. to 3 p.m., as 90+ local retailers take to the streets for Discovery Day, the town's annual street fair. The whole family will find food, fun, and games as they walk through the town center, while adults can settle in at the beer garden run by Craft Food Halls. After Mass. Ave reopens, head around the corner to the after-party at 6 Meriam Street, where you'll find live music, lawn games, and more food stands until 5 p.m. — Kevin Slane
The weather is warming up, and there's no better time to head to Talulla, an intimate and elegant spot in Cambridge, for a Rosé Dinner this Sunday at 5 p.m. On the $85 prix fixe menu, you'll find courses like the Hamachi crudo, with lemon, peas, avocado, and seaweed, and chilled spaghetti, with lobster and caviar. Enjoy chilled asparagus and porcelet, with eggplant, ramps, and cherries. Finally, end your night with strawberry shortcake, featuring tarragon cream and bay leaf ice cream. Beverage pairings are $55, and an à la carte menu will also be available. — Shira Laucharoen
In what has become an annual tradition, the Museum of Fine Arts, Boston will offer free admission on Memorial Day. Tickets are available on a first-come, first-served basis, which means that visitors may want to consider queuing up before the MFA opens its doors at 10 a.m. Sweetening an already great deal, visitors who score the free tickets will also receive free admission to the MFA's current Hokusai exhibit, "Hokusai: Inspiration and Influence," which is normally a $7 surcharge. The exhibit, on display through July 16, features more than 100 original works by the Japanese artist, as well as 200-plus pieces by artists who either inspired Hokusai or were inspired by him. — Kevin Slane
Like the MFA, the Institute of Contemporary Art, Boston also offers free admission to visitors on Memorial Day each year. Unlike the MFA, the ICA allows visitors to reserve free passes ahead of time, with registration opening on Sunday at 10 a.m. via the ICA website. Current highlights at the museum include "María Berrío: The Children's Crusade," in which the Colombian artist explores the history of the 1212 Christian conversion efforts through the lens of our current sociopolitical climate. — Kevin Slane
The U.S.S Constitution has been holding Memorial Day-focused events throughout the second half of May, asking visitors to make a paper poppy to honor the military members past and present in their lives. The poppies will be used as part of a ceremony aboard the ship on Monday morning, when crew members will honor those who made the ultimate sacrifice for their country. The service is open to the public, and begins at 11 a.m. — Kevin Slane
Need weekend plans?
The best events in the city, delivered to your inbox