Events
This event has passed. Check out other things to do instead.
10 things to do in Boston this weekend
BosTen is your weekly guide to the best events and coolest things to do in Boston.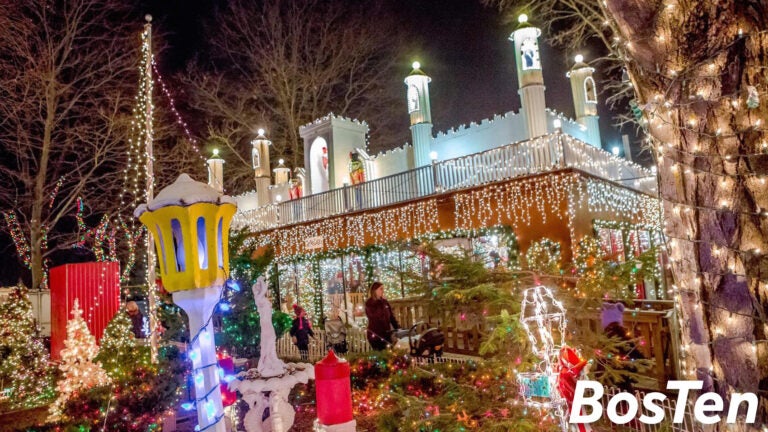 Welcome to BosTen, your weekly guide to the coolest events and best things to do in Boston this weekend. Sign up for our weekly email newsletter here. Have an idea about what we should cover? Leave us a comment on this article or in the BosTen Facebook group, or email us at [email protected].
If you're looking to gather a small group of friends and enjoy a sumptuous meal before the holidays, stop by Cambridge's The Lexington for the Heaven Hill whiskey dinner on Thursday. The four courses include a smoked caesar, made with caraflex cabbage and duck fat pangrattato, and Berkshire pork belly. There will also be wild boar cappelletti and a whiskey affogato for dessert. Whiskey ambassador Rich Fiorillo will be presenting some spirits from Heaven Hill Distillery. Tickets cost $120 each, and it will be an evening of hearty, fall fare. (Thursday, Nov. 16 at 6:00 p.m.; The Lexington, 100 N. First St. Fl. 2, Cambridge; $120; 21+) — Shira Laucharoen
It doesn't cost a thing to check out The Institute of Contemporary Art on Thursday nights when admission is free from 5-9 p.m. Tickets can be claimed the morning of the event starting at 10 a.m. on the ICA website. When you stop by, be sure to check out a new exhibit by Barbara Kruger, which runs through January 2024. Kruger's exhibit "uses textual statements and images taken from mass media to create memorable artworks that investigate ideas of power, identity, consumerism, and gender," according to the ICA. (Thursday, Nov. 16 from 5-9 p.m.; 25 Harbor Shore Drive, Boston; free) — Kristi Palma
If there's one comedian who would have spent the last six months waist-deep in TV and film projects were it not for the writer's strike, it would be Ilana Glazer: The co-creator and star of the immensely popular "Broad City" on Comedy Central, she also starred with Scarlett Johansson and Kate McKinnon in the 2017 comedy "Rough Night," and in the 2021 Hulu horror film "False Positive," which she also co-wrote. Plus there was her Amazon Prime stand-up special "The Planet Is Burning," which sounds about right. As Hollywood productions slowly unthaw after the long work stoppage, we get to reap the benefits of her comedy tour, hitting Medford in November. (Thursday, Nov. 16 at 8 p.m.; Chevalier Theatre, 30 Forest St, Medford; $29.99-$49.99) — Peter Chianca
Musicians and music enthusiasts won't want to miss this author talk with Boston Globe correspondent Jim Sullivan, who has been writing about music and other culture for the Globe's Living/Arts section for decades. The Brookline resident will be at the Brookline Booksmith this Thursday at 7 p.m. to discuss his two new books, "Backstage & Beyond Vol. 1: 45 Years of Classic Rock Chats & Rants" and "Backstage & Beyond Vol. 2: 45 Years of Modern Rock Chats & Rants." Together, the two books chronicle the careers of rock and roll's biggest stars from 1950 through the 1980s, using Sullivan's own interviews and articles. (Thursday, Nov. 16 at 7 p.m.; Brookline Booksmith, 361 Washington St., Brookline; free) — Zipporah Osei
In the days leading up to Thanksgiving, you may be wondering what kind of drinks you should serve to guests. Head to Koy Restaurant & Bar for a Sweet Tooth Soirée, where you'll learn how to mix holiday dessert cocktails. The beverages you'll be making will be sponsored by Kikori Whiskey, Baileys, and Ketel One Vodka. Sweet and decadent, these cocktails are sure to make for a festive end to your Thanksgiving meal. (Friday, Nov. 17 at 8 p.m.; Koy Restaurant & Bar, 16 N. St. Boston; $55; 21+) — Shira Laucharoen
Starting this Friday, ZooLights will once again illuminate Stone Zoo in Stoneham to celebrate the holiday season. The 26-acre zoo will shine with thousands of lights during the celebration, including a festively decorated Yukon Creek with cold weather fauna like black bears, Canada lynx, reindeer, and arctic foxes. ZooLights visitors who book the "Santa Experience" in advance on select nights can enjoy hot chocolate and s'mores and get a photo with the big man himself. Visitors can also meet Mrs. Claus as she strolls through ZooLights on select Tuesdays and Thursdays, and on Christmas Eve. Timed entry tickets can be purchased in advance through the Zoo New England website. (Open daily starting Friday, Nov. 17 from 4 p.m. to 9:30 p.m.; Stone Zoo, 149 Pond St., Stoneham; $14-17) — Natalie Gale
Established in 1968 by a group of model train enthusiasts, the Bay State Model Railroad Museum is only open to the public for short periods on Wednesday nights and during their twice-yearly open houses, which return this Saturday and Sunday from 10 a.m. to 4 p.m. Visitors to the usually private club can see three incredible model railroad layouts in full operation, carefully maintained by club members. Admission is $5 per person and free for those under the age of 5. (Saturday, Nov. 18 and Sunday, Nov. 19 from 10 a.m. to 4 p.m.; 760 South St., Roslindale; $5) — Kevin Slane
This Saturday marks the return of Plymouth's annual Hometown Thanksgiving Parade, which celebrates the town's history with a procession incorporating both the site of Mayflower II and Plymouth Rock. The day kicks off at 9 a.m. with an opening ceremony, followed by a procession along Plymouth's waterfront at 10 that will feature some truly impressive floats. There's also a beer garden, food truck alley, children's pavilion, and a number of other planned activities throughout the weekend. For those who can't make it in person, the revelry will also air on WCVB-TV Channel 5 from 10 a.m. to noon. (Saturday, Nov. 18 from 9 a.m. to 12 p.m; Water St., Plymouth; free) — Kevin Slane
For the next six months, New York City's famed Metropolitan Opera is coming to the big screen thanks to Showcase Cinemas' "The Met: Live in HD." During the 10-show series, performances are transmitted live from the world famous opera house into several Showcase Cinemas throughout Massachusetts. This Saturday's live show is "X: The Life and Times of Malcolm X," a jazz-inflected opera by Anthony Davis that spotlights Malcolm — performed by baritone Will Liverman — and his story. Several performances also offer encore recorded live events presented without any editing. Tickets are below what live theater costs (between $22 and $29), but the performances promise to be priceless. (Saturday, Nov. 18 at 12:55 p.m.; various Showcase Cinemas; $22-29) — Cheryl Fenton
To celebrate the return of its outdoor ice rink and holiday tree farm this weekend, 401 Park — the rebranded Landmark Center in the Fenway neighborhood — is transforming into Studio 401 for the day. Unlike the infamous Studio 54, this ice skating party will be a family-friendly environment, featuring free waffles and cotton candy, DJ sets from local musicians, and other kid-focused activities. Timed reservations for the rink can be made in 75-minute increments on 401 Park's website. (Sunday, Nov. 19 from 11 a.m. to 8 p.m.; 401 Park Dr., Boston; $6-12) — Kevin Slane
Need weekend plans?
The best events in the city, delivered to your inbox