Events
This event has passed. Check out other things to do instead.
10 things to do in Boston this weekend
BosTen is your weekly guide to the best events and coolest things to do in Boston.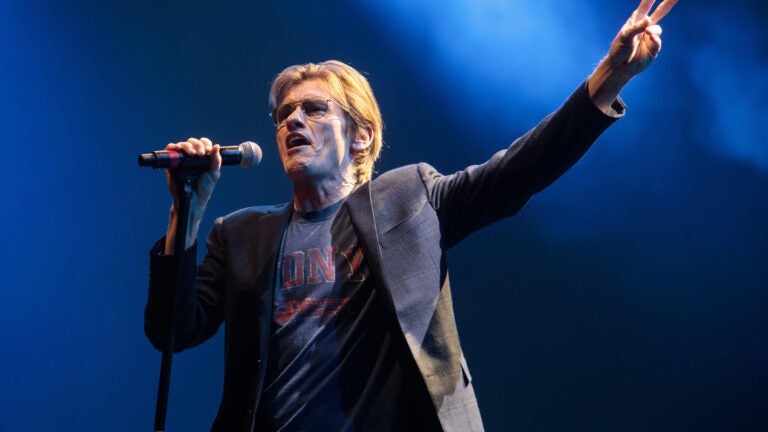 Welcome to BosTen, your weekly guide to the coolest events and best things to do in Boston this weekend. Sign up for our weekly email newsletter here. Have an idea about what we should cover? Leave us a comment on this article or in the BosTen Facebook group, or email us at [email protected].
Settle into Bistro Du Midi's elegant dining room and enjoy a Game & Truffle dinner. On Thursday, the night promises to be a sumptuous feast, brought to you by chef Robert Sisca. You'll be dining on live scallop crudo, rabbit farci, white truffle tagliatelle, Milbrook Farms venison Wellington, and a huckleberry pie, featuring black truffle yogurt. Tickets cost $250 per person, and your meal will be enjoyed with views of the Public Garden. (Thursday, Nov. 2 at 6:30 p.m.; Bistro Du Midi, 272 Boylston St., Boston; $250) — Shira Laucharoen
This year marks the 35th anniversary of the Boston Jewish Film Fest, which will bring 15 days of screenings (12 in-person, three virtual) focused on the Jewish experience to the Boston area through Nov. 15. Highlights of this year's lineup include "Remembering Gene Wilder," a look back at the acclaimed comic actor through interviews and home footage; and "Queen of the Deuce," a documentary about Chelly Wilson, an entrepreneur who emerged from WWII Greece and became a key figure of the adult film world in 1970s New York City while never losing her matriarchal instincts. Screenings will be held at a variety of theaters — including the Museum of Fine Arts, West Newton Cinema and the Brattle Theatre — through Nov. 12. Both individual tickets and full fest passes are available now. (Now through Wednesday, Nov. 15 at various times and locations; $16 per film, $360 for all-access pass) — Kevin Slane
Are you thinking about the Thanksgiving holiday ahead and wishing it could come sooner? Get in the spirit of the season by taking a pie and pasta making class at South Boston's Capo. A $100 ticket will cover the supplies, an apple pie demo with pastry chef Marissa Hart, a pasta demo from chef Kunal Datta, and a pasta dish that you can sample while your dessert is baking in the oven. You'll also be able to enjoy 20% of all food that evening. (Thursday, Nov. 2 at 6 p.m.; Capo Restaurant, 443 W. Broadway, South Boston; $100) — Shira Laucharoen
Head to the Prudential Center now through Monday to "embark on a floral journey of discovery" with fleurs de Villes: VOYAGE, a world-famous traveling flower show. Visitors can see 16 fresh floral mannequins, each of which is inspired by the various cultures and countries represented at the show. As part of the festivities, enjoy a free floral demonstrations from Cass School of Floral Design on Saturday, and be sure to vote for your favorite floral arrangement for a chance to win a trip to Bermuda. (Now through Monday, Nov. 6; Prudential Center, 800 Boylston St., Boston; free) — Kevin Slane
Golf season may be winding down in New England, but that doesn't mean you have to pack the clubs away for the winter. Topgolf is opening its first location in Massachusetts this Friday at the new Topgolf Boston-Canton. The three-story facility has 90 hitting bays, each equipped with heaters, fans, and the company's Toptracer technology. In addition to the main attraction of its golf games, the venue will also feature a full service restaurant, and each bay has lounge-type furniture or high-top tables, allowing guests to enjoy the menu while they play. Topgolf Boston-Canton also houses a rooftop terrace, outdoor patio, and a 28-foot video wall and more than 200 HD TVs, making it a great option for game day watch parties. (Opens Friday, Nov. 3 at 10 a.m.; Topgolf, 777 Dedham St, Canton; $15 and hour and up) — Kevin Slane
It's November, and with snow already making an appearance in parts of New England, Ski season is officially here. Celebrate returning to the slopes this Friday through Sunday at the Snowbound Expo, which will bring the latest gear, technology, apparel, inspirational speakers, and more to the Boston Convention & Exhibition Center. Famous shredders making an appearance this weekend include Olympians like Shaun White, Lindsey Jacobellis, Ted Ligety, and more. (Friday, Nov. 3 from 2-8:30 p.m.; Saturday, Nov. 4 from 10 a.m. to 7 p.m.; and Sunday, Nov. 5 from 10 a.m. to 4 p.m.; 415 Summer St., Boston; $16-31 GA, free for ages 16 and under) — Kevin Slane
Almost two decades after collaborating on the Oscar-winning film "Sideways," actor Paul Giamatti ("Billions") and director Alexander Payne ("The Descendants") reunited for "The Holdovers," which was filmed in Massachusetts last year and is already getting strong Oscar buzz. The film takes place at fictional prep school Barton Academy (which most resembles Deerfield Academy) over the Christmas holidays in 1971, where roundly disliked professor Paul Hunham (Giamatti) is tasked with supervising students staying at the school over break. Eventually, the only "holdovers" left are Paul, Deerfield's head cook Mary (Da'Vine Joy Randolph, "Empire"), and a 15-year-old troublemaking student named Angus (newcomer Dominic Sessa). Earlier this week, Payne told a preview crowd at the Somerville Theatre (which is also featured in the movie) about casting Sessa and other students from Deerfield in major roles, and it's refreshing not to see 26-year-olds playing high schoolers on screen for once. Every detail in the film feels like 1970s New England, even when the trio takes a quick field trip to Boston. Best of all, Giamatti is in top form as an acerbic academic whose venom towards the world barely masks an ocean of pain. "The Holdovers" is playing at three area theaters this weekend — Cambridge's Kendall Square Theatre, Brookline's Coolidge Corner Theatre and AMC Boston Common — before expanding on Nov. 10. — Kevin Slane
There's something happening here, and we do know what it is: Bob Dylan is playing three shows at Boston's Orpheum Theatre this Friday, Saturday, and Sunday. The legendary (and Nobel Prize-winning) singer-songwriter will bring his so-called "Never Ending Tour" to Boston, visiting the Orpheum for the first time since 2014, and playing a three-show stand in Boston for the first time since April of 2005. Some recent reports, notably in the New York Post, suggested that Dylan, 82, might retire from touring after his current run. But with this trio of Boston shows and upcoming dates in Providence, R.I. (Nov. 10), and Waterbury, Conn. (Nov. 11), he's not showing signs of slowing down yet. Friday and Saturday's shows are sold out, but Sunday still has tickets available via LiveNation. (Sunday, Nov. 5 at 8 p.m.; Orpheum Theatre, Boston; $91 and up) — Peter Chianca
Back in 1995, just before ending his illustrious career as a winger for the Boston Bruins, Cam Neely created a local cultural institution with Comics Come Home, a yearly showcase that benefits the Cam Neely Foundation for cancer care. As usual, veteran comic Denis Leary will host the event, which draws top comics from around the country to Boston for a good cause. This year's lineup includes Pete Davidson, Bill Burr, Lenny Clarke, Alex Edelman, Rachel Feinstein, Robert Kelly, Marc Maron, Tammy Pescatelli, and Orlando Baxter, which should provide the crowd at TD Garden hours of entertainment on Saturday. (Saturday, Nov. 4 at 8 p.m.; TD Garden, Boston; $65) — Kevin Slane
This Sunday, Joy Buolamwini, founder of the Algorithmic Justice League and author of "Unmasking AI," will discuss her new book at the MIT Museum with Harvard University professor Sarah Elizabeth Lewis. Buolamwini's work is dedicated to preventing AI harm and taking an intersectional look at tech and research. Tickets to this event are included with museum admission, which can be purchased at the MIT Museum website. (Sunday, Nov. 5 at 1 p.m.; 314 Main St., Cambridge; $10-18; all ages) — Zipporah Osei
Need weekend plans?
The best events in the city, delivered to your inbox