Events
This event has passed. Check out other things to do instead.
10 things to do in Boston this weekend
BosTen is your weekly guide to the best events and coolest things to do in Boston.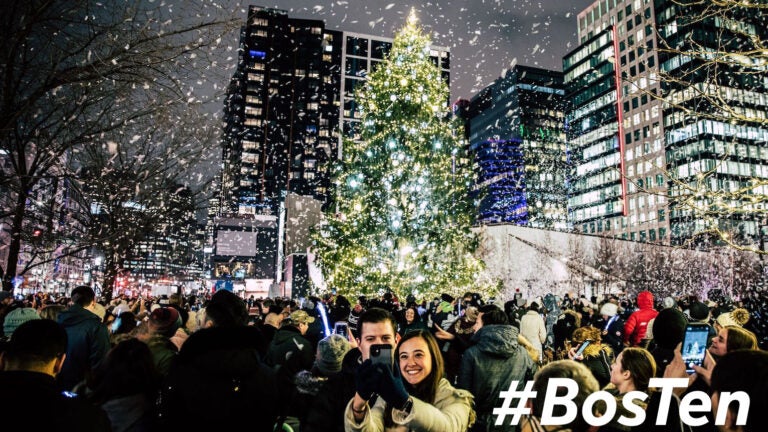 Welcome to BosTen, your weekly guide to the coolest events and best things to do in Boston this weekend. Sign up for our weekly email newsletter here. Have an idea about what we should cover? Leave us a comment on this article or in the BosTen Facebook group, or email us at [email protected].
If you're looking for a heartwarming holiday movie to check out in the coming weeks, director Alexander Payne's newest film, "The Holdovers," is just the ticket. From the very first frame, "The Holdovers" is a love letter to a bygone era in Massachusetts. The film takes place in 1970 at the fictional prep school Barton Academy, where curmudgeonly teacher Paul Hunham (Paul Giamatti) doles out failing grades to spoiled prep students with unrestrained glee. Thanks to his abrasive nature, Hunham is stuck babysitting the lone "holdover" student (newcomer Dominic Sessa) during winter break while the school's cook, Mary (Da'Vine Joy Randolph), watches from a healthy distance. Payne used a combination of five Massachusetts schools to film "The Holdovers," including Northfield Mount Hermon, Groton, and Deerfield Academy, which is where he found Sessa, who is a revelation in his first professional role. Awards season is just getting started, but it wouldn't be shocking if Giamatti earns a long-overdue Best Actor nomination from the Academy Awards. (Opens nationwide Thursday, Nov. 9; rated R) — Kevin Slane
Watch: Kevin Slane reviews 'The Holdovers' on 'Boston Globe Today'
The hosts of the popular podcast "Dolls of Our Lives," Mary Mahoney and Allison Horrocks are hosting "Dolls of Our Lives: Why We Can't Quit American Girl" — a moderated discussion about the nostalgia and allure of American Girl dolls this Thursday from 6-8 p.m. The event will be led by Alea Stokes, research services librarian. Afterward, guests can buy a copy of the book, "Dolls of Our Lives," and have it signed by the authors. The event is free, but advance registration is required. (Thursday, Nov. 9, from 6-8 p.m.; Boston Public Library, 700 Boylston St., Boston; free with registration) — Cheryl Fenton
Since 2018, Boston's Seaport neighborhood has transformed into a winter wonderland with Snowport, a multi-week celebration of the holiday season. Snowport 2023, which begins this Friday, will bring together more than 120 businesses and 17 dining concepts selling their wares at the Snowport Holiday Market, located at 100 Seaport Blvd. Along with all your gift shopping needs for the holidays, Snowport visitors will be able to enjoy outdoor activities, including iceless curling and a bustling Christmas tree market. The Holiday Market isn't just for shopping, though. If you're looking for photo ops, swing by the 10-foot Mistletoe Archway, the oversized gifts at Presents Place, and the Winter Wish Wall, a 25-foot chalkboard where visitors write down their holiday wishes. Looking for a hands-on activity? The Crafting Corner lets you create mason jar snowglobes, holiday wreaths, ornaments, and more. (Open daily starting Friday, Nov. 10, at 1 p.m.; 100 Seaport Blvd., Boston; free) — Kevin Slane
Providence-based writer Vanessa Lillie's new novel is about a Cherokee archeologist for the Bureau of Indian Affairs who travels from Rhode Island to Oklahoma to investigate the disappearance of two women — one of whom is her sister. Lillie will discuss her new book with Adrienne Keene, a Cherokee writer and the author of "Notable Native People: 50 Indigenous Leaders, Dreamers, and Changemakers from Past and Present," this Friday at Brookline Booksmith. (Friday, Nov. 10, at 7 p.m.; 279 Harvard St., Brookline; free) — Zipporah Osei
With the weather turning colder, you might be thinking of dining on some quality comfort food. If that sounds like how you'd like to spend a day this weekend, stop by Mei Mei in South Boston, where they'll be celebrating the 10th Restaurant Anniversary with a day of bottomless dumplings. For $20, you'll get a wristband, and you can sample from the all you can eat buffet. There will be dumplings in flavors like lemongrass pork, cheddar scallion potato, curried sweet potato, five spice tofu mushroom, and even pumpkin pie. Sip on a crafted cocktail, beer, wine, or sake. (Saturday, Nov. 11, at 1 p.m.; Mei Mei Dumplings, 58 Old Colony Ave., South Boston; $20) — Shira Laucharoen
Get ready to party at Lamplighter Brewing Co. on Broadway. The brewery will be celebrating its seventh anniversary Saturday with a big birthday bash featuring special brews, favorite classics to sip on, and yes, beer slushies. Their production floor will be turned into an indoor beer garden, and at the event, you'll be able to play "water" pong, cornhole, and Jenga, as well as use the photo booth. Plus, while Lamplighter doesn't usually offer tours, you'll be able to get a glance at how the beer is made, when you purchase tickets in advance. Join the fun between the hours of 2-11 p.m. (Saturday, Nov. 11, at 2 p.m.; Lamplighter Broadway, 284 Broadway, Cambridge; free; 21+, with babies and kids welcome if accompanied by a parent or guardian) — Shira Laucharoen
The virtues of an apple a day are well extolled, but how about trying all of the region's best hard apple cider in a day? Find out for yourself at CiderFeast, a celebration of all things autumn, which returns to South Boston this Saturday. The second annual all-inclusive sampling event promises 50-plus sips from 20 top cider makers hailing from New England and beyond. Expect Massachusetts favorites like Artifact Cider Project, Pony Shack, and more, alongside Vermont, New Hampshire, New York, and New Jersey cider companies, and even imports from Spain. Idle Hands Craft Ales is also in the house. Along with hard cider tastings, look forward to artisan snacks such as cheese and charcuterie by Formaggio Kitchen, apple cider doughnuts, brunch platters by Loco Taqueria and One Mighty Mill Bagels, plant-based offerings, and more cider-friendly fare. (Saturday, Nov. 11, from noon to 4 p.m.; Lithuanian Citizens Association, 368 W Broadway, South Boston; $45; 21+) — Jacqueline Cain
Want to squeeze in some fun fall outdoors time before the weather gets too cold? This Saturday marks the fifth and final time in 2023 that The National Park Service (NPS) will waive entrance fees for all National Parks, this time in honor of Veterans Day. Of the more than 400 National Parks country-wide, 110 parks charge entrance fees ranging from $5 to $35. New England parks that typically charge a fee that will be free include Adams National Historical Park in Quincy ($15/person), Acadia National Park in Bar Harbor, Maine ($15/person, $30/vehicle), and Saint-Gaudens National Historical Park in Cornish, New Hampshire ($10/person). (Saturday, Nov. 11, at various times and locations) — Natalie Gale
This Saturday, spend the early morning observing resident birds and fall migrants in a unique urban habitat that's a favorite stomping ground for many species. At 7:30 a.m., visitors will gather at Mass Audubon's Boston Nature Center and spend two hours with a BNC naturalist, finding and identifying birds through field marks, sounds, and behaviors. (Saturday, Nov. 11, from 7:30-9:30 a.m.; Mass Audubon's Boston Nature Center, 500 Walk Hill St., Boston; free) — Cheryl Fenton
For lovers of both the written word and visual art, the fifth annual Boston Art Book Fair is the place to be this weekend. A partnership between Bodega and the Boston Center for the Arts, the free two-day fair's programming includes a zine-making session, conversations with creatives, and a papermaking workshop. For those who want an early look at the 140+ exhibitors, you can buy tickets to a preview party on Friday night from 6-9 p.m. (Saturday Nov. 11, from noon to 7 p.m. and Sunday, Nov. 12, from noon to 5 p.m.; 539 Tremont St., Boston; free) — Zipporah Osei
Need weekend plans?
The best events in the city, delivered to your inbox