Events
This event has passed. Check out other things to do instead.
10 things to do in Boston this weekend
BosTen is your weekly guide to the best events and coolest things to do in Boston.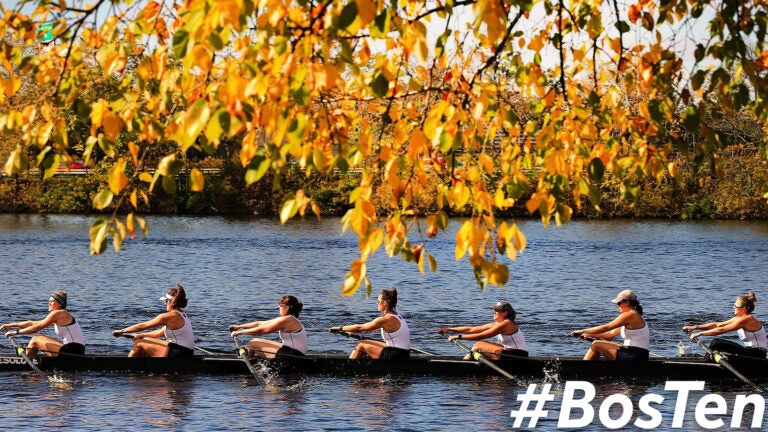 Welcome to BosTen, your weekly guide to the coolest events and best things to do in Boston this weekend. Sign up for our weekly email newsletter here. Have an idea about what we should cover? Leave us a comment on this article or in the BosTen Facebook group, or email us at [email protected].
There's no time quite like the cooler months of fall to sit down to a classic beer dinner. Distraction Brewing will join Somerville's Foundry on Elm this Thursday, and guests will be able to enjoy a $45 two-course dinner with beer pairings. Dine on buttermilk fried pickles, accompanied by Jalapale, or maple-glazed salmon with caramelized cauliflower, Brussels sprouts, and baby kale, paired with Sap Shack. You can enjoy the dinner anytime between 4-10 p.m. (Thursday, Oct. 19 at 4 p.m.; Foundry on Elm, 255 Elm St., Somerville; 21+) — Shira Laucharoen
For the third straight year, the City of Boston will host a Fall-o-Ween event this Friday on Boston Common. The free, family-friendly, outdoor event runs from 5 to 8 p.m. at the northwest corner of the park, near the Frog Pond and the corner of Charles and Beacon streets. This year's event will look much like the last two, with free activities like light-up cornhole, arts and crafts, music, giveaways, and a glow-in-the-dark playspace with swings and seesaws. This year will also bring a Haunted Zombie Maze, a Spooky Mansion Slide, the "Jumpin' Pumpkin," and a trackless train. Adults and children are encouraged to come in costume. (Friday, Oct. 20 from 5-8 p.m.; Boston Common, Boston; free) — Natalie Gale
Is there a more thankless gig than the White House Correspondents' Dinner? It's the rare comedian who doesn't suffer brickbats after hosting the event, and during the Trump years that went double — which is why you have to give Michelle Wolf credit for not pulling punches during her 2018 crack at the job. (Her joke about then-Press Secretary Sarah Huckabee Sanders creating the "perfect smokey eye" out of the ashes of burnt facts will live in infamy, and hilarity.) Unfortunately the writer's strike scuttled Wolf's scheduled guest hosting stint on "The Daily Show" this past summer, so you'll just have to catch the Seth Meyers and "Daily Show" vet at the Wilbur instead. Tickets for the 7:30 show are sold out, but you can still land seats for the late show at 10. (Friday, Oct. 20 at 10 p.m., The Wilbur, Boston, $35-55) — Peter Chianca
This Saturday, head over to the Blue Hills Trailside Museum for Flocktober, one of seven festivals happening at Mass. Audobon's wildlife sanctuaries across the state. Make nature-inspired art, meet wildlife, enjoy seafood from Chef Stephen Coe's Lobsta Love food truck, and sip craft beer from Roundhead Brewing as you watch the sun set. (Saturday, Oct. 21 from 4-7 p.m.; 1904 Canton Ave., Milton; $15-20 GA, free for children) — Kristi Palma
October means the return the Head of the Charles regatta (HOCR) to the Charles River in Cambridge, drawing world-class athletes to Boston for the two-day spectacle this weekend. Over 11,000 athletes, including some of the world's best crew teams, compete in the regatta each year. Competing athletes' skill levels range from novice to Olympic, and the most prestigious races, the men's and women's elite and championship races, happen on Saturday afternoon. Spectating is free and open to the public, and some spectator-favorite spots to watch the race are the BU Bridge, where you'll have unobstructed views of the starting line; Riverbend Park and the John W. Weeks footbridge; Eliot Bridge, the closest bridge to the finish line and the most likely spot for collisions; and Christian Herter Park, a wide open space near the finish line with a Nightshift beer garden. Find this year's provisional race schedule here. (Saturday, Oct. 21 and Sunday, Oct. 22 from 7:45-5:30 p.m.; Charles River, Cambridge; free) — Natalie Gale
Fans of both Halloween and dogs have a veritable bounty of Halloween pet parades and costumed canine events to choose from this October. This Saturday, dogs big and small will take part in Howl-O-Ween at Peters Park, a pet costume contest with four categories: families, small dogs, big dogs, and groups. Additionally, meet adoptable dogs from Gals Best Pal Rescue, with many dog-friendly vendors for all your canine companion needs. (Saturday, Oct. 21 at 9 a.m.; Peters Park, 230 Shawmut Ave., Boston; free) — Laura Emde
Somerville's Neighborhood Produce is bringing a pumpkin patch to Winter Hill Brewing on this Saturday. From noon 'til 4 p.m., "a pile of pumpkins as high as Winter Hill" is just waiting for your picks. The afternoon taproom extravaganza will also feature corn stalks and hay bales for sale, plus plenty of seasonal beers by WHBC and smoked meats by the in-house Scott Brothers Kitchen. (Saturday, Oct. 21 from 12-4 p.m.; Winter Hill Brewing, Somerville; free) — Jacqueline Cain
Lucinda Williams is having a good year, with the release of her memoir "Don't Tell Anybody the Secrets I Told You" and the album "Stories from a Rock n Roll Heart." Positive events like these are much deserved for the country rocker, who has had her share of recent tough times. Afflicted by a stroke in 2020, she's no longer able to play guitar. But nothing has slowed her down as far as her songwriting or her ability to belt out those songs, with a churning band backing her up. A typical Lucinda Williams show these days includes a mix of country, blues, and folk and, as suggested by the title of the new album, touches of straight-ahead rock. Audiences at Saturday night's Orpheum show should expect to hear recent numbers, such as the rollicking "Let's Get the Band Back Together" and the wistful "Never Gonna Fade Away," as well as Williams' hits — anything from "Righteously" to "Essence." (Saturday, Oct. 21, 8 p.m., Orpheum Theatre, Boston; $28-58) — Ed Symkus
An animated pre-Halloween event returns to the Inman Square area this Saturday starting at 5 p.m. The fourth annual Camberville Zombie Pub Crawl unleashes a swarm of revelers in their most undead attire across eight bars: Look alive and meet fellow inspirited characters at State Park in Kendall Square between 5 and 6:30 p.m. Then follow the living dead onto Lord Hobo, across-the-street neighbors New Republik and An Sibin, the Turing Tavern, Trina's Starlite Lounge and its adjacent sibling Parlor Sports, and finally, the Druid. This is a come-as-you-are, go-as-you-please event. Stops will be about 90 minutes each (you can follow @cambervillezombiepubcrawl on Instagram for updates). Look for drinks featuring Amaro Montenegro at every stop: The dark elixir is sponsoring this year's event. (Saturday, Oct. 21 from 5 p.m.-2:30 a.m.; State Park, Cambridge; 21+) — Jacqueline Cain
Ahead of a big top-themed event on Halloween, Time Out Market's resident drag queen, Plane Jane, is leading Scary Movie Bingo this Sunday. From 6 to 8 p.m., play along with Jane and a spellbinding lineup of her hauntingly glamorous friends for this free event. Bingo winners can claim exciting prizes, and there's a costume contest, too. (Sunday, Oct. 22 from 6-8 p.m.; Time Out Market, Boston; free) — Jacqueline Cain
Need weekend plans?
The best events in the city, delivered to your inbox