Events
This event has passed. Check out other things to do instead.
Trae Young headed for Boston to battle with Celtics' young stars
The Hawks' guard is always fun to watch, and recently put up a stat line like only a handful of others in NBA history.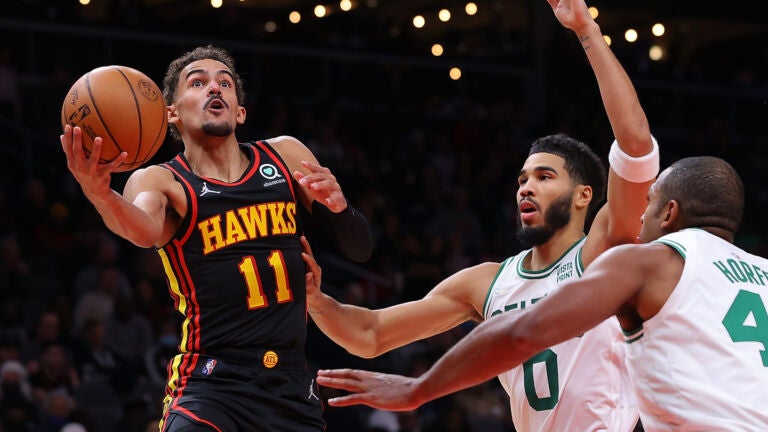 As of mid-January, only six players in NBA history had delivered a performance during which they scored at least 55 points and added at least 10 assists.
And one of them is scheduled to play at TD Garden soon – in a nationally televised afternoon game that could be enormous for Eastern Conference playoff positioning.
The Hawks have been a big disappointment coming off their run to the East finals last spring, but their centerpiece star, Trae Young, has been anything but a letdown. After scoring 56 with 14 dimes against the Trail Blazers in January, he was up to 28.4 points and 9.5 assists per game this season, and riding a run of 16-straight contests in which he'd scored 25 or more.
The knock on Young coming out of Oklahoma was his size, though with his incredible ball skills and shot-making ability, his slight frame only makes him more fun to watch. The tradeoff comes at the defensive end, and his liabilities are part of the reason the Hawks have been one of the NBA's easiest teams to score against this season, but that may make this game even more of an appealing ticket for Celtics fans, who'll be looking for their team to take advantage.
At the start of the season, a Celtics-Hawks game on the eve of Valentine's Day would've potentially been forecast as a battle for playoff seeding – not merely a playoff spot. But a first half mired in mediocrity left both tussling over a place in the play-in tournament as the All-Star break approaches, and put extra emphasis on what might've otherwise been an ordinary mid-winter matchup.
Need weekend plans?
The best events in the city, delivered to your inbox