Events
This event has passed. Check out other things to do instead.
Wrap up Pride month at Boston Urban Pride
From June 30 to July 3, attend a variety of events celebrating "Black, brown, Latino indigenous LGBTQIA+ pride."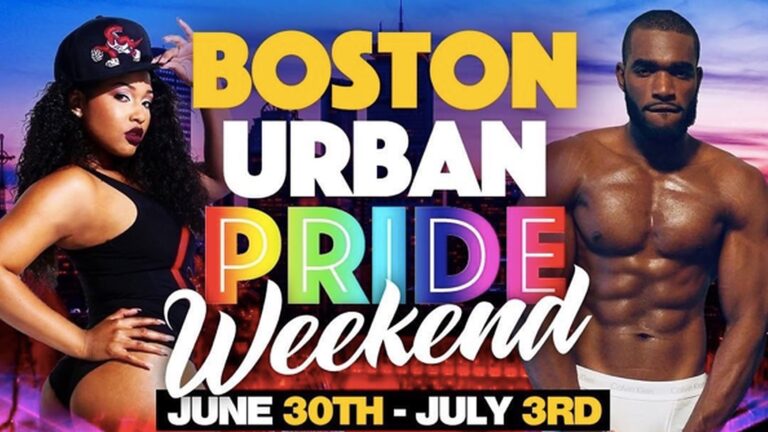 Right at the end of Pride month is another chance to celebrate all things LGBTQ: Boston Urban Pride.
Hosted by BLUE, or the Boston Lesbigay Urban Foundation, the celebration, which runs from June 30 to July 3, promises a weekend celebrating "Black, brown, Latino indigenous LGBTQIA+ pride," and welcoming all allies.
Kicking off the weekend is a free event on Thursday, June 30 aimed at 22-year-olds and younger: Urban Pride Youth Skating. Hosted at Chez-vous Roller Rink in Dorchester, young people are invited to skate from 7 p.m. to 10 p.m. Music will be provided by Natural Vybez Ent.
There will be two events on Friday, July 1 as part of the celebrations. The first is a free Welcome to Boston Mixer where people can mingle, meet people, pick up event passes, and support vendors. Later in the evening is Essence, an "annual all Black affair" with music by Lady Ly and Killa Court. The event, which runs 9:30 p.m. to 1:30 a.m., is hosted by Zell Swag and MzMoPhila.
July 2 brings an Entourage Brunch Day party at Slade's Bar and Grill with music by DJ Dimples & DJ Unityy. Later that day, the Mr. and Miss Gay Urban Pride competition will take place. The event will honor the winners from 2021, Seymour Chilton and Dominique Powell St. James, and it includes $3,500 in prizes for contestants, according to the event site.
Also on July 2 is Glow, a boat ride based out of Rowes Wharf with music by Natural Vybez Ent and DJ Unitty and hosted by Melissa (Love and Hip Hop) and TaeDaTea, according to the event site.
The Music and Arts Festival and Climax "The Finale" will wrap up the Urban Pride weekend on July 3. The festival, from noon to 5 p.m. at Flying Embers Brewery, includes performances from members of the LGBTQ community. Climax, starting at 8 p.m. is hosted at Fort Hill Bar and Grill and will have music by DJ Live and DJ Bynca.
Tickets are available for individual events, or for the entire weekend online.
Need weekend plans?
The best events in the city, delivered to your inbox