Festivals & Expos
10 free things to do in Boston in October
Experience a food festival, book fair, art, music, and more.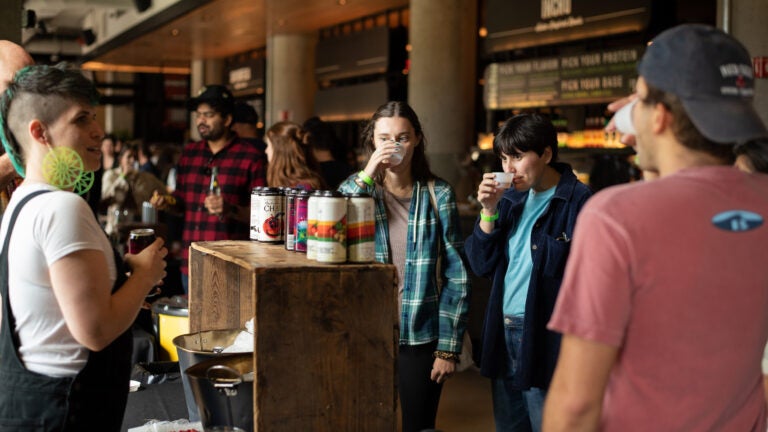 Whether you're in search of a Halloween scare or want to shop 'til you drop at an outdoor market, there are plenty of free ways to enjoy diving head first into fall in Boston. You can sip on cider, pack in some outdoor music before the cold weather hits, and appreciate the arts, all without shelling out a dime. Here are 10 things to do in Boston for free this October.
Start the month off with a game of bingo with a musical twist on Oct. 1. Test your musical knowledge and win prizes during "Musical Bingo" while enjoying food and drinks from Time Out Market's 13 homegrown concessions for purchase. But be sure to get there early — the prime seats are the tables closest to the stage at the front near the Brookline Ave. entrance. (Time Out Market, 401 Park Dr., Boston)
The Fenway's favorite outdoor market strolls into fall every Sunday thanks to Original Markets. You'll discover 30-plus small businesses showcasing their wares — vintage clothing, jewelry, art, records, and more — as well as pop-ups from mochi donut connoisseur Pon de Joy and the mobile Italian ice car the Slushy Lady. You can stop by from noon to 5 p.m. (The Station, 1400 Boylston St., Boston)
The Fort Point Arts Community hosts its 44th annual Fort Point Open Studios event Oct. 13-15 from 3 to 6 p.m. Organized by FPAC artists, visitors can view and meet artists in a live studio presentation and even buy some pieces. The program is also accompanied by free music, demonstrations, performances, public art installations, and children's art-making activities. Artists from across the neighborhood will open their studios to share their art, and you can enjoy performances and art happenings on local surrounding streets. (300 Summer St., Boston)
Vegan curious? Check out the 28th annual Boston Veg Food Fest, a weekend-long celebration held Oct. 14 from 10 a.m. to 6 p.m. and Oct. 15 from 11 a.m. to 4 p.m. that brings together an array of providers of 100% plant-based food and lifestyle products, notable speakers and chefs, and educational exhibitors. You can talk directly to food producers and learn from these experts in plant-based nutrition, culinary arts, athletics, climate, and sustainable, animal-friendly living. (Reggie Lewis Athletic Center, 1350 Tremont St., Boston)
Consider the Head Of The Charles Regatta as a who's who of rowing. Held this year Oct. 20-22, the world's best crew teams challenge each other to the ultimate rowing competition on the Charles River. Grab a spot early between the Anderson and Weeks bridges, the halfway point of the race, for the best views. Between competitions, which run from 8 a.m. to 5 p.m., stroll the Weld Exhibition for delicious local flavors, free samples, and official Regatta programs and merchandise. (Charles River, Boston)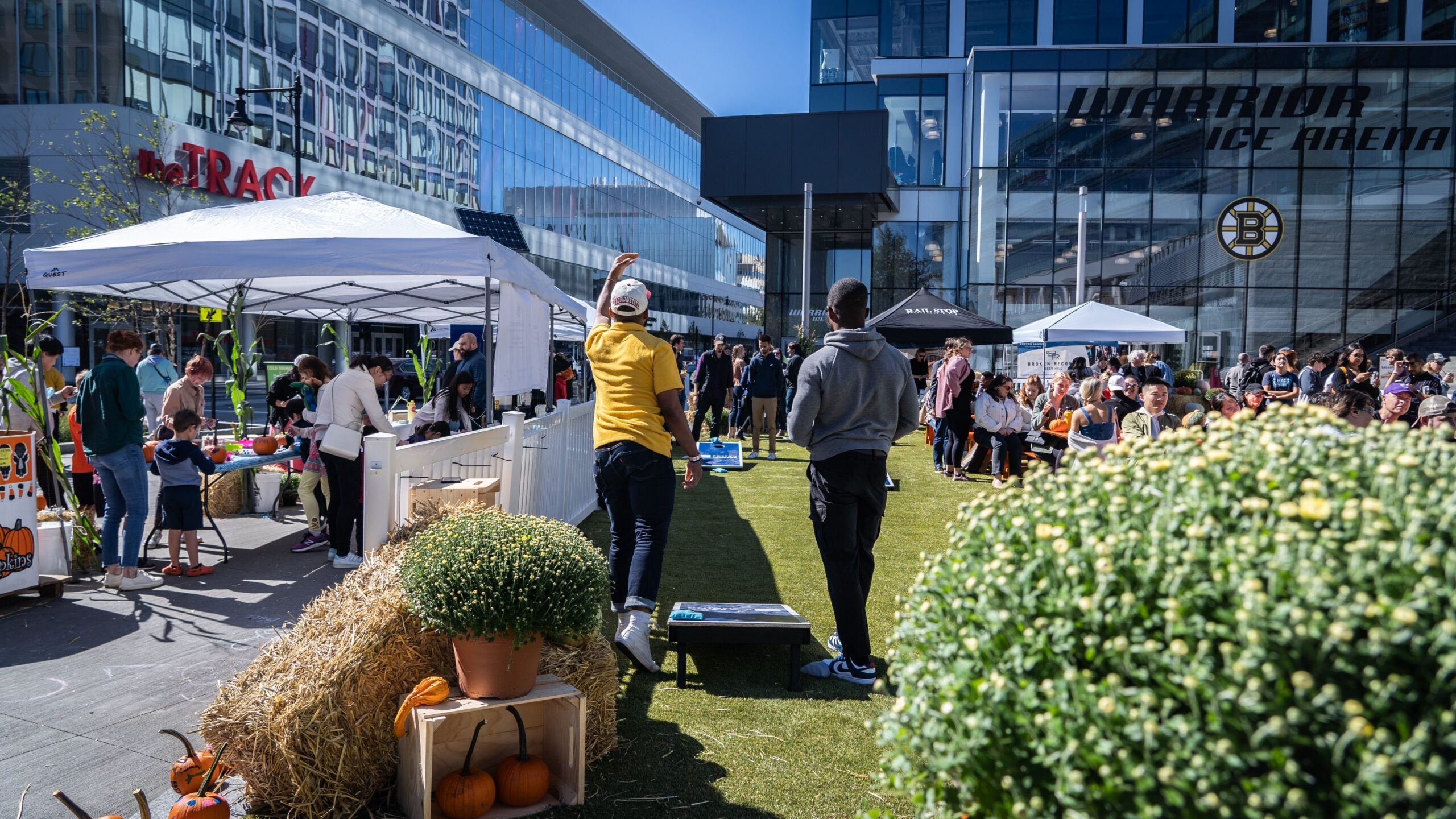 Boston Landing will host BBQ X BREW on October 29.
Revelers of the autumn season can enjoy the flavors of fall with free New England cider samples and seasonally-inspired bites as Cider Fest returns to Time Out Market Boston on Oct. 21 from noon to 5 p.m. While sipping your favorite cider, snack on caramel apples and more from a Hilliard's Chocolates pop-up (which will be open Oct. 20-22). Guests must be 21+ to sample ciders. (Time Out Market, 401 Park Dr., Boston)
Booklovers, gather 'round. The 45th annual Boston International Antiquarian Book Fair offers a wide and diverse selection from 100-plus dealers from the U.S., Canada, Denmark, Germany, France, Italy, Netherlands, and the U.K. exhibiting and selling fine and rare antique books, manuscripts, children's books, autographs, maps, atlases, modern first editions, photographs, fine and decorative prints, and more. While the Friday night opening (Oct. 27) is a ticketed event, the weekend-long fair (held Oct. 28 from noon to 7 p.m. and Oct. 29 from noon to 5 p.m.) is free and open to the public. There are panel discussions and guest speakers on both Saturday and Sunday. (Hynes Convention Center, 900 Boylston St., Boston)
The Boston Choral Ensemble is hosting its last pop-up concert of the season at the Central Branch in Copley Square. Beginning at 3 p.m. on Oct. 21, the 30-minute family-friendly program bursts with joyful music from the many diverse communities that call Boston home. Pieces include "Kalinda" in Haitian Creole; "Balelaikka," a Tamil tongue-twister from India; "Salseo," a Venezuelan song with a salsa beat; and the stirring "Song for the People" by Melissa Dunphy.(Deferrari Hall of the Boston Public Library's Central Library Branch, Copley Square, 700 Boylston St., Boston)
Bring your blanket or lawn chair and set up a cozy picnic with award-winning BBQ beneath the twinkling (and city) lights. Held rain or shine, Boston Landing's Guest Street campus in Brighton hosts BBQ X BREW on Oct. 29 from 4 to 8 p.m. There will bold and spicy BBQ treats from Sarcastic Swine and local brews from Broken Record for purchase, along with free live bluegrass from Evan Murphy Band. (Boston Landing's Guest Street campus, 100 Guest St., Brighton)
Every year, over 50 stores and restaurants at the Shops at Prudential Center sponsor Trick-or-Treat for Charity, with proceeds going to a non-profit partner. Dress the kiddos in their cutest Halloween outfits and enjoy trick-or-treating, face painting, magic shows, pumpkin decorating, live musical performances, and more on Oct. 29 from 11 a.m. to 1 p.m. While it's $5 donation per child (12 and under) to purchase a trick or treat bag, all other activities are free. (Prudential Center, 800 Boylston St., Boston)
Need weekend plans?
The best events in the city, delivered to your inbox