Festivals & Expos
This event has passed. Check out other things to do instead.
10 free things to do in Boston in September
From outdoor movies and workouts to history lessons and art exhibits, these activities don't cost a thing.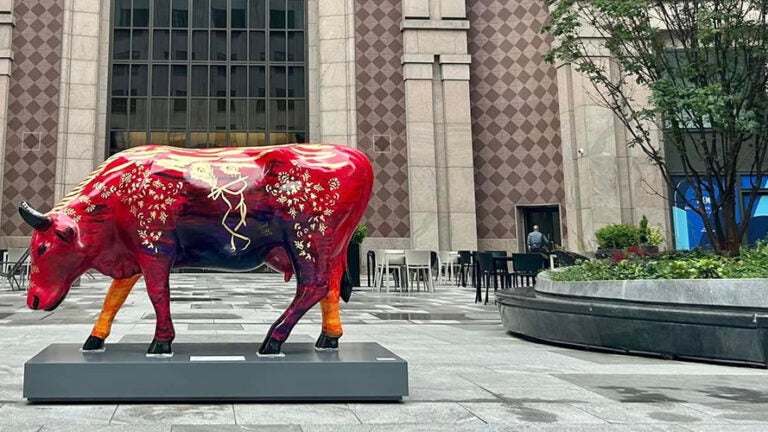 With summer winding down and fall around the corner, you don't have to spend a fortune to enjoy all the city has to offer. From outdoor workouts to history lessons, listing to music to appreciating the arts, there are plenty of activities to experience all without shelling out a dime. Here are 10 things to do in Boston for free this September.
Soon the CowParade New England presented by Herb Chambers will be moo-ving on to greener pastures, but you can still bear witness to these massive bovines sculptures until September 4. In place to recognize and celebrate 75 years of progress and impact made possible by the Jimmy Fund community, the public art installation includes 75 life-sized cow sculptures designed, painted, and transformed by talented artists throughout New England. You can even make one yours, as each one is available for purchase to benefit local nonprofit organizations. (various locations throughout Boston)
With the ICA Watershed's season coming to a close on September 4, there's still time to view "Guadalupe Maravilla: Mariposa Relámpago." This exhibition presents a selection of sculptures and paintings by Maravilla, including Mariposa Relámpago (Lightning Butterfly), the artist's largest sculpture to date. Mariposa Relámpago is part of the artist's Disease Thrower series—sculptures that incorporate natural materials, handmade objects, and items collected by the artist to become shrines and healing instruments. The Watershed is open from 11 a.m. to 5 p.m. every day except on Mondays. (256 Marginal St., Boston)
Spark a little interest in our city's history with a visit to Boston Fire Museum. You'll find tons of engaging firefighting history, as experienced and knowledgeable tour guides speak about such notable blazes as the Great Boston Fire of 1872 and Cocoanut Grove. View a gallery of hand and horse drawn fire apparatus, including motorized and more modern examples. The Museum is open to the public every Saturday from 10 a.m. to 4 p.m. Donations are welcome. (344 Congress St., Boston)
It doesn't cost a thing to stroll the Greenway Artisan Market, operated by Somerville Flea, every Saturday and Sunday from 11 a.m. to 6 p.m. But if you're in the mood to shop, you can support local artisans, designers, and entrepreneurs by buying unique handmade products, jewelry, crafted goods, and art along The Greenway. Bring a picnic lunch or buy food from a nearby food truck and delight in Boston's spectacular views. (State St. and Atlantic Ave., Boston)
Unwind with evening meditation under the shade of the maple collection of the Arnold Arboretum. Facilitator Bob Linscott, a certified Mindfulness Based Stress Reduction teacher at Brown University and Center for Mindfulness at UMASS Memorial Health Care, will guide you through 30 minutes of mindfulness designed to help you de-stress and connect with the natural world. To access the group, walk five minutes down Meadow Road from the Hunnewell Building. Meditations are held Sept. 4, 11, 18, and 25 from 6 to 6:30 p.m. (The Arnold Arboretum, 125 Arborway Way, Boston)
Don't miss this one-of-a-kind experience to watch a film on the pier alongside the USS Constitution. Gates open at 6:40 p.m. on September 8 for a showing of "Pirates of the Caribbean: Dead Man's Chest" with Old Ironsides as a backdrop. Prior to the screenings, educators from the USS Constitution Museum will offer free, all-ages activities and discussion of the ship's history as it relates to the evening's movie selection. (USS Constitution Museum, Building 22, Charlestown Navy Yard, Charlestown)
Shawn Quigley of the National Park Service will present Safe Harbor: "Boston's Maritime Underground Railroad" at the Boston Public Library Parker Hill branch on Sept. 9 from 3:30 to 4:30 p.m. During the years preceding the American Civil War, Boston served as one of the most important stops on the Underground Railroad, and this program explores the untold stories of men and women making daring escapes to freedom through Boston Harbor. Registration is required. (1497 Tremont St., Roxbury)
Holding court on the second weekend of September from 11 a.m. to 6 p.m., the Boston Arts Festival showcases the visual and performing arts in Boston. Run by the organizers of the Beacon Hill Art Walk and Artists Crossing Gallery, the event launches Boston's Arts Open Studios season featuring more than 70 juried local visual artists, craftspeople, and local musicians performing on the waterfront stage throughout the day. See and shop a wide variety of art and high-end craft work, including paintings, photography, ceramics, jewelry and sculpture, and more. (Christopher Columbus Waterfront Park, 100 Atlantic Ave., Boston)
Through a fusion of movement, breathwork, and mindfulness, "CROWN: Yoga for Conscious Awakening" harnesses the power of the chakra system to guide students on an inward journey. As part of the Seaport Sweat program and with a noon start time, these 45-minute classes are equipment-free, but if you would like a mat, you're welcome to bring one with you to class. The September sessions are held Sept. 15, 22, and 29. (The Superette, 70 Pier 4 Blvd., Boston)
See how the stars are aligned, thanks to a little help from the free star chart from the Museum of Science. Setting you up for night sky watching on Sept. 1 at 10 p.m., Sept. 15 at 9 p.m., and Sept. 30 at 8 p.m., this handy printable chart shows the main star groups and constellations visible from Boston. Just hold it overhead, lining up "north" with the north section, and you'll be seeing stars. It also has info on the Harvest Moon, visible on Sept. 29 at 7:30 p.m. (anywhere in Boston)
Need weekend plans?
The best events in the city, delivered to your inbox