Festivals & Expos
This event has passed. Check out other things to do instead.
10 free things to do in Boston in May
Enjoying the city doesn't have to cost a dime.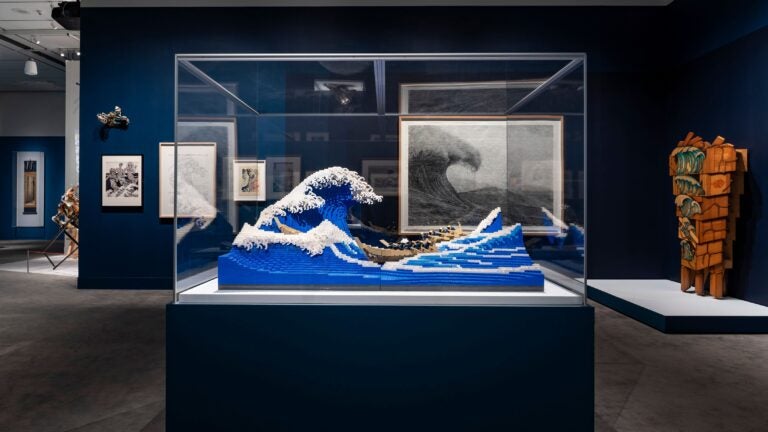 You don't have to spend a fortune to enjoy all the city has to offer. There are plenty of activities to experience, all without shelling out a single dollar. Get your fill of spring flowers, enjoy street performers, celebrate our military heroes, and so much more. Here are 10 things to do in Boston for free this May.
As part of the museum's free first Thursdays, May 4 is your last chance to see the popular exhibition, "Betye Saar: Heart of a Wanderer." Stroll among works from this celebrated contemporary artist and leading figure of the Black Arts Movement in the 1970s, as well as the rest of the museum's permanent collection and its gorgeous courtyard and grounds. (25 Evans Way, Boston)
The SoWa Open Market is one of the largest open-air farmer and artist markets in Boston. With more than 100 regional and local vendors, plus food and beverage trucks, nestled among artist studios, galleries, and retail shops, this community becomes a vibrant gathering place every Sunday, May 7 through Oct. 29, from 11 a.m. to 4 p.m. (500 Harrison Ave. and Thayer St., Boston)
"¡A Bailar! Dance as a Way to Inclusion," held on May 11 from 7 to 9:30 p.m., showcases the artistic movement, wellness and belonging within the Hispanic and Latinx communities through New England's leading artmakers, dancers, and musicians. Following the conversation, the Museum's Blue Wing turns into a celebration, featuring performances and audience demonstrations from the Afro-Latin dance scene, dancing to DJ music, and more. Free with pre-registration. (Museum of Science, 1 Science Park, Boston)
The Arnold Arboretum's beloved Lilac Sunday returns on May 14 (Mother's Day) for a chance to experience the springtime bloom of its renowned collection of more than 400 lilacs. Visit for tours with Arboretum experts, hands-on children's programming, and more. Bonus: this is the only time picnicking on the Arboretum expanse is permitted. (The Arnold Arboretum, 125 Arborway, Boston)
Grab a gander at what's unquestionably one of the cutest Mother's Day events in Boston. Duckling Day is an annual parade during which hundreds of children, led by the Harvard University Marching Band, take to the Public Garden's pathways dressed like characters from the famous story. Want more than just a sneak peek on the sidelines? Family registration for actual participation costs between $35 to $40 as a festive fundraiser for the nonprofit Friends of the Public Garden. (Boston Public Garden, 4 Charles St., Boston)
Street performer season is in full swing, most of which take place between about 11a.m. to 4 p.m. Expect to see stunts, musical acts, breakdancing, magicians, and acrobats. (1 South Market St., Boston)
Comedy in Boston is no laughing matter. Sit with freelance writer Nick Zaino for 100 Years of Boston Comedy, an hour-long look at the long history of humor in Boston and New England, from Jay Leno to Steven Wright, Paula Poundstone to Denis Leary. Registration is required for this free event held on May 17 at 6 p.m. (Boston Public Library, Central Library, 700 Boylston St., Boston)
To honor those who gave their lives in service to our country, several towns host parades and celebrations paying tribute during this May holiday. Even the Boston Common gets into the spirit, with its annual Memorial Day Flag Garden of more than 37,000 flags placed in front of the Soldiers and Sailors Monument. From May 25 to 29, stroll around this moving display by the Military Heroes Organization that commemorates the state's service men and women who died defending freedom. (Boston Common, 115 Boylston St., Boston)
To kick off the boating season, the Boston Harbor Islands hosts its annual Free Ferry Day on May 20, offering free ferry service all day — first come first served — to Spectacle Island and George Island.
Start your summer off at the MFA's annual Memorial Day Open House on May 29 from 10 a.m. to 5 p.m. Free museum entrance also includes coveted access to the special exhibition "Hokusai: Inspiration and Influence." The event is for Massachusetts residents only, and you will enjoy performances and Spotlight Talks, create art, and more. (465 Huntington Ave., Boston)
Need weekend plans?
The best events in the city, delivered to your inbox