Festivals & Expos
5 ways to celebrate the Lunar New Year in Boston
Ring in the Year of the Rabbit at these festive events.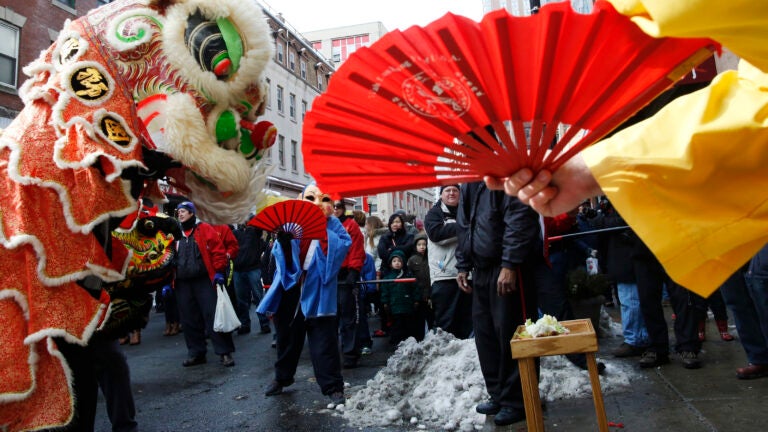 The Chinese New Year, often referred to as the Lunar New Year, will ring in the Year of the Rabbit in 2023. The Chinese New Year takes place this year from Jan. 22 to Feb. 9. The Lunar New Year is celebrated in other Asian countries, too, like Vietnam, Korea, and Singapore. Below are ways to celebrate the Lunar New Year in Boston, many of which revolve around Boston's Chinatown neighborhood.
Boston's annual Chinese New Year parade takes place on Sunday, Jan. 29, bringing crowds, street food, dancing, firecrackers, and music to the streets of Chinatown. Most of Chinatown closes to car traffic during the event, while the parade proceeds around Kneeland Street, Harrison Ave, and Essex Street. Parade goers will see dance troupes and kung fu groups performing lion dances with elaborate costumes and many restaurant owners in the neighborhood leave offerings to "feed" the lions, ensuring good luck for the new year. The parade also usually includes a dragon dance, as long as the weather holds up so the delicate dragon costumes aren't damaged.
Each year, on the same day as the Chinatown parade, the China Trade Center at 2 Boylston Street hosts the Lunar New Year Cultural Village. The village has lots of kid-friendly activities to help ring in the new year, like calligraphy, origami, lantern crafting, snacks, and a special lion dance performance.
Another way to ring in the Chinese New Year is by heading to one of the area's many Chinese restaurants for some dumplings, dim sum, noodles, pastries, and more. Here are some of Boston's best spots for Chinese cuisine, both in the city and in surrounding towns.
Têt is the Vietnamese Lunar New Year celebration, and each year the Vietnamese American Community of Massachusetts (VACM) and the New England Intercollegiate Vietnamese Student Association (NEIVSA) organize Têt in Boston. This year's celebration takes place at Flynn Cruiseport at 1 Black Falcon Ave, on Sunday, Jan. 15 from 10:30 a.m. to 5 p.m. and includes dozens of food and art vendors plus information booths, activities for kids, photo opps, and both traditional and modern Vietnamese performances. Admission to the festival is $3 online or $5 at the door.
Pao, Chinatown's community arts center, hosts interactive Lunar New Year arts activities throughout the day on Jan. 29, like Chinese red envelope folding, Korean calligraphy, Korean dasik cookie stamping on clay, and rabbit-related crafts. It will also host three lion dance demonstration sessions at 11:30 a.m., 1 p.m., and 2 p.m. Visitors can also head to Pao Arts Center any time through February 25 to see "Under the Oak Tree," an art showcase by the students of the Red Oak Program at Boston Chinatown Neighborhood Center.
Need weekend plans?
The best events in the city, delivered to your inbox