Festivals & Expos
6 ways to celebrate Women's History Month in Boston
Explore art exhibits, watch films, discover walking tours, and more.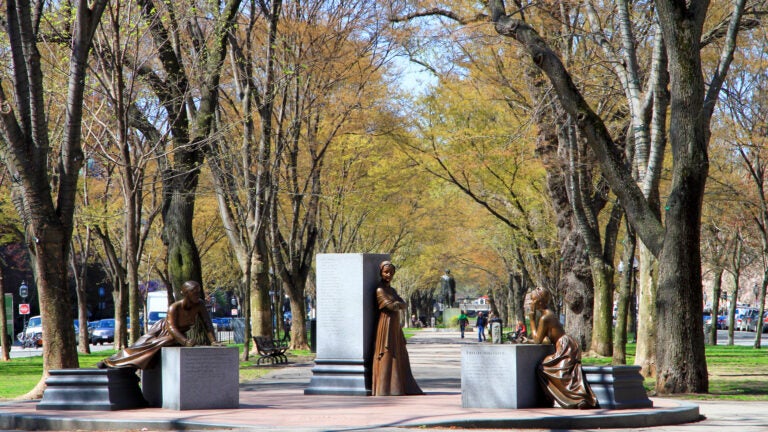 The U.S. recognizes March as Women's History Month, while International Women's Day falls yearly on March 8. Some of the country's most historically influential women have called Boston home, including Abigail Adams, Phillis Wheatley, Louisa May Alcott, Clara Barton, Amelia Earhart, Judith Sargent Murray, and many others.
This March, celebrate the achievements of women with art, film, books, and more.
The Boston Women's Heritage Trail (BWHT) comprises thirteen walks throughout different neighborhoods that chronicle where Boston women made history. Each self-guided trail has a map of historic sites online, and trails are separated by neighborhood. The Beacon Hill trail features sites like the statues of Mary Dyer and Anne Hutchinson by the State House, the former homes of Louisa May Alcott and Sylvia Plath, and the Museum of African American history, while the Back Bay trails highlight women in the arts and education like Phillis Wheatley, Anne Sexton, and Isabella Stewart Gardner. Find a virtual tour of the BWHT on YouTube.
Eat at a woman-owned restaurant
Boston has no shortage of women-owned eateries, some of which are a few of the best restaurants in the city. Top picks to check out include Kristin Canty's Woods Hill Pier 4, Nia Grace's Darryl's Corner Bar & Kitchen, Karen Akunowicz's Fox & the Knife, Joanne Chang's Myers + Chang, Kathy Sidell's Saltie Girl, Lydia Shire's Scampo, Sarah Wade's Stillwater, and Tiffani Faison's Tenderoni's and Sweet Cheeks Q.
The Women's and Gender Studies departments at MIT host the annual Women Take the Reel Film Festival throughout March. Each film or documentary is free and open to the public and focuses on women's issues, like "Belly of the Beast," a documentary covering involuntary sterilizations at California prisons, "Sisters with Transistors," about the female pioneers of electronic music, and "Fly So Far," a documentary following El Salvadoran women jailed for homicide after miscarriages or stillbirths.
Check out exhibits by female artists
Celebrate women in the arts this March by checking out exhibits by female artists at local museums. Maria Lassnig's Experimental Films is at the MFA through April 2, while the ICA spotlights artists Xaviera Simmons, Taylor Davis, Barbara Kruger, and María Berrío and the PEM exhibits work by Shelagh Keeley and Susan Philipsz.
The Boston Public Library has curated a list of 31 books by female authors, one for every day of Women's History Month. The list contains books by women and about women's issues, like "She Said" by Jodi Kantor, "Brotopia" by Emily Chang, "We Ride Upon Sticks" by Quan Barry, and "Nine Moons" by Gabriella Wiener.
Feminist organizations around Boston will come together for the 25th annual Women's Day Breakfast on March 8 at Simmons University from 9 to 11 a.m. Last year's breakfast included a panel on Boston women in the workforce (and lack thereof) moderated by WCVB CityLine's Karen Holmes Ward.
Need weekend plans?
The best events in the city, delivered to your inbox