Festivals & Expos
This event has passed. Check out other things to do instead.
7 ways to Celebrate Earth Day in Boston
Mark Earth Day in Boston by volunteering in a cleanup, attending a concert, hitting a trail, and more.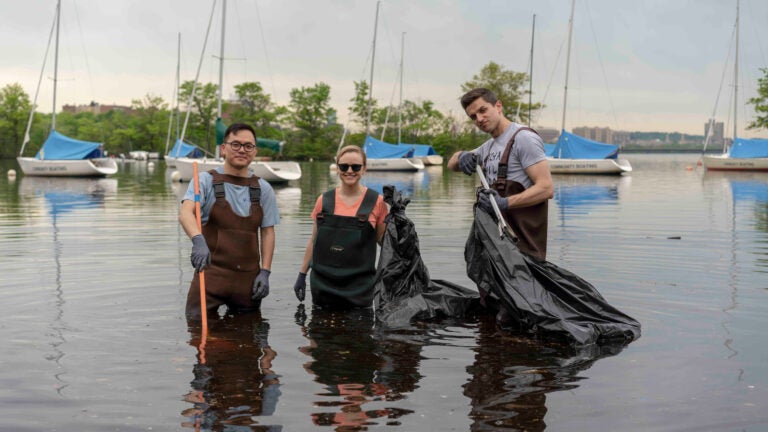 In 1970, U.S. Congressmen Gaylord Nelson and Pete McCloskey launched the first Earth Day celebration, putting in motion the modern environmental movement. The day of marches, rallies, and talks started at college campuses but quickly gained steam around the country and the world. Since then, millions have celebrated Earth Day on April 22, which falls on a Saturday this year.
Ahead, discover Earth Day happenings across Boston that include cleanups, arts initiatives, and outdoor activities.
What started out as an effort to clean up the Charles River in 1999 has grown into an annual cleanup event with thousands of volunteers, nationally recognized by American Rivers National River Cleanup. This year, on April 21-22, volunteers will pick up litter and remove invasive species along 80 miles of the Charles River, from Hopkinton to Charlestown. Groups are assigned to different parts of the Charles River Watershed. Volunteers will also work along the Emerald Necklace's 1,100 acres surrounding the Muddy River.
The Peabody Essex Museum's exhibit "Climate Action: Inspiring Change" which runs through June 25, provides a digestible, family-friendly dive into climate related art using data to present information about climate change and its solutions. The Salem museum hosts a lineup of Earth Day programming in conjunction with the exhibit April 19-23, which is school vacation week. Workshops will include drum making, data artwork, and chalk art planet workshops. The museum is partnering that week with Rare, a leading climate and conservation organization, on small pop ups throughout the museum that educate about bite-sized climate actions we can all take.
Pier 5 in Charlestown hosts its annual Earth Day celebration on Saturday, April 22 starting at noon. The lively outdoor event features refreshments, games, live music, family-friendly activities, and, most importantly, the chance to connect with neighbors. Tickets go on sale April 4, and proceeds benefit the Pier 5 Association, which aims to revamp the empty pier lot and turn it into a vibrant community park. Those interested in the project can learn more at pier5.org.
On April 23, the day after Earth Day, the Emerson Colonial Theatre will host "Our Planet Live in Concert," based on the Emmy Award-winning Netflix series "Our Planet" by David Attenborough and William Shatner. The 5 p.m. show will combine the series' HD cinematography with the score by composer Steven Price performed by a live orchestra. "Our Planet Live in Concert" comes to Boston for one show only, and a portion of proceeds go to the World Wildlife Fund.
Avoid the car altogether on Earth Day and practice your bike skills at one of six off-road bike paths in or near Boston. Boston consistently ranks among the top bike-friendly cities in the U.S., so explore the city from a different angle or simply get in a fun workout on trails like the Southwest Corridor in Jamaica Plain or the Emerald Necklace Bikeway from Dorchester to Boston Common.
On April 22, the Harriet E. Richards Cooperative House (or H.E.R. House) at Boston University will host an Earth Day concert at 6 p.m. The night will feature performances by artists such as tiredeyes, House Failure, and Realized Nation and includes refreshments. Tickets are $5 in advance or $7 at the door, and doors open at 5:20 p.m.
Immerse yourself in nature on Earth Day by heading to one of several hiking destinations within an hour of Boston. Stay right in Boston proper at spots like Spectacle Island or the Arnold Arboretum, or head a bit further out to World's End in Hingham or Ward Reservation in Andover.
Need weekend plans?
The best events in the city, delivered to your inbox