Festivals & Expos
This event has passed. Check out other things to do instead.
The Topsfield Fair brings food, rides, music, and more this fall
America's oldest agricultural fair runs from Sept. 30 to Oct. 10.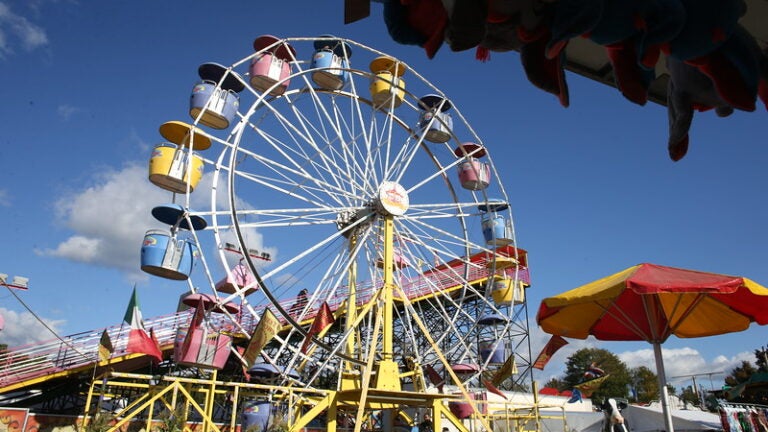 Every fall since 1818, the North Shore has traded in summertime slushies and beach-side lounges for amusement rides, animals, agriculture, and loads of fried and sugary snacks. Such is a day at the Topsfield Fair, as this quintessential county fair returns in October.
With everything from racing pigs and bike stunt shows to canine aquatics and the Flying Wallendas, you can't swing a fried Twinkie without hitting something to see and do at this outdoor gathering. There will be demonstrations (ranging from beekeeping to miniature trains), New England's Premier Flower Show, and local harvest displays including a giant pumpkin weigh-off. Musical guests will include Chubby Checker on Oct. 5, Kansas on Oct. 6, and Trace Atkins on Oct. 7. Animal lovers can get their fix of farm life by visiting barns occupied by award-winning cattle, goats, pigs, bunnies, poultry, and exotic foul, while thrill-seekers can hit up the Midway for amusement games and rides. Everyone's favorite fair food will also return this year, from cotton candy to whoopie pies, baked potatoes to the Gobbler (a Thanksgiving Dinner in a sandwich). New foods on the scene will include Mediterranean dishes, smoothies, a taco truck, and acai bowls.
Discounted tickets will be available online in early August through Sept. 30 at noon. Discounted ride tickets (10 rides for $30) will also be available for advanced purchase.
Need weekend plans?
The best events in the city, delivered to your inbox