Festivals & Expos
Tap your foot at these Boston-area porchfests
Experience free, communal, live music.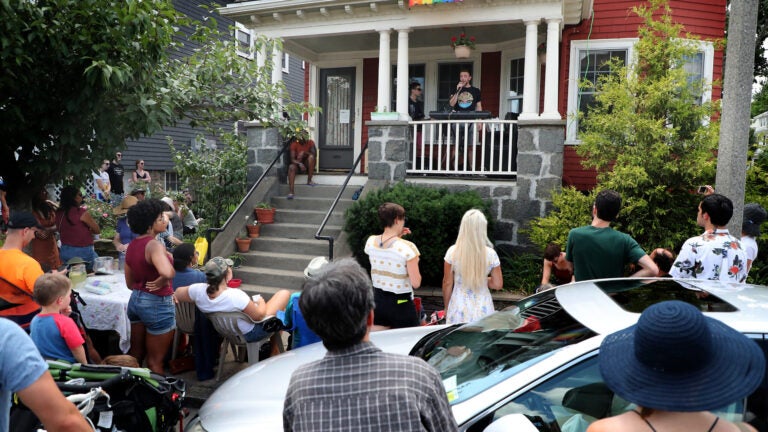 The days are getting longer and the weather's getting warmer, which means it's officially porchfest season. The first porchfest was held in Ithaca, New York in 2007, and the concept has since expanded to porches in cities and towns across the country, bringing amateur musicians together for an afternoon of free, live music from neighborhood porches and front yards. Somerville hosted its inaugural fest in 2011, the first porchfest in the Boston area. This year, Somerville Porchfest kicks off a season of fests across the city and beyond on May 13. Read on for all of this year's confirmed porchfests.
On Saturday, May 13 from noon to 6 p.m., hundreds of musicians perform on porches throughout Somerville. Porches west of Willow Ave will perform from noon to 2 p.m., porches between Willow Ave and Central St will perform from 2 to 4 p.m., and porches east of Central will perform from 4 to 6 p.m.
Newton Porchfest returns to porches, lawns, and driveways throughout Auburndale, Lower Falls, and Waban on Saturday, June 3 from noon to 6 p.m.
Medford Porchfest will take place on Saturday, June 3 from noon to 5 p.m. Signups for both hosts and performers is open through May 21.
Dorchester's porchfest (called Dorchfest, of course), running for the second year in a row, is happening on Saturday, June 3 and 10 more bands will join the roster this year.
The 4th annual Fenway Porchfest returns on Saturday, June 10, bringing outdoor music to parks, gardens, and parking lots in this neighborhood with few porches.
Winchester's Porchfest brings live music, poetry, dance, and storytelling to the town on Saturday, June 10 from noon to 5:30 p.m.
Malden's Porchfest on Saturday, June 10 includes neighborhood block parties and a city-wide trolley from noon to 7 p.m.
On Saturday, June 17, Arlington Porchest runs from noon to 6 p.m., with West Zone performances from noon to 4 p.m. and East Zone performances from 2 to 6 p.m.
Dedham Porchfest is from 4 to 8 p.m. on Saturday, June 17 and a detailed schedule and map will be posted on the event site.
The fifth annual Reading Porchfest is the afternoon of Saturday, June 24. The town will also celebrate Juneteenth that day with speakers, food trucks, games, and a beer garden.
Quincy hosts its porchfest on Saturday, June 24 from 3 to 9 p.m. in the Merrymount, Wollaston Hills, and Squantum neighborhoods.
Jamaica Plain's porchfest is Saturday, August 19 from noon to 6 p.m. Since 2014 the event has brought the JP community together, complete with a designated "community hour" from 3 to 4 p.m.
Milton's Porchfest, which began in 2017, will bring live music to the town's Columbine Cliffs neighborhood on Saturday, September 9 from noon to 6 p.m.
Porchfest returns to Swampscott on Saturday, September 23 from 11 a.m. to 6 p.m.
Always on the last Saturday of September, Melrose Porchfest this year is the afternoon on September 23.
Hull's porchfest will take place on Saturday, September 23 from 1 to 6 p.m. in the town's Kenburma neighborhood.
On September 23, Roslindale Porchfest will run from 1:30 to 5:30 p.m., with performance time slots at 1:30 p.m., 3 p.m., and 4:30 p.m.
West Concord Village hosts its porchfest on September 23 from 1 to 5 p.m. This year's festival includes an Acoustic Village and a karaoke stage.
The 8th annual Brookline Porchfest, presented by Arts Brookline and Brookline Music School, returns Saturday, September 30.
Need weekend plans?
The best events in the city, delivered to your inbox