Festivals & Expos
This event has passed. Check out other things to do instead.
Eat and play at The Big E in Springfield
The biggest agricultural fair in New England brings headliners John Fogerty and Jimmy Eat World.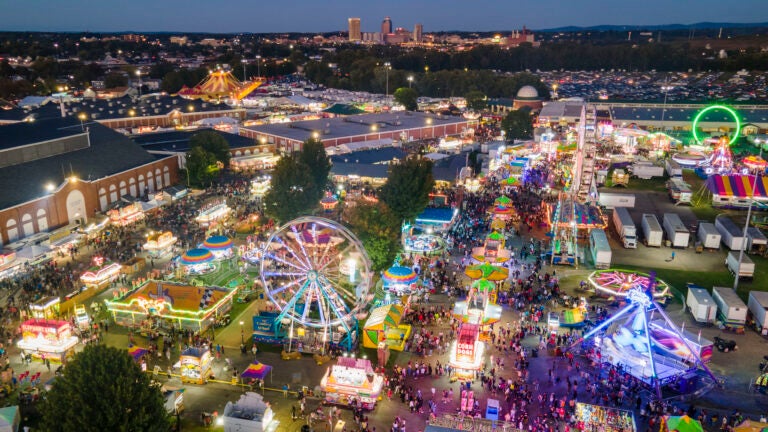 New England's biggest agricultural fair returns to Springfield for 2 1/2 weeks in 2023. Officially called the Eastern States Exposition, The Big E first started in 1916 and represents all six New England states. It's the biggest agricultural event on the eastern seaboard and the fifth largest fair in the nation.
This year's event runs from September 15 through October 1, and will feature the fair's traditional circus spectacular, carnival rides, agricultural events, and food vendors, along with live musical performances from big names like Third Eye Blind, Jimmy Eat World, Zedd, and John Fogerty. The Big E attracts more than 1 million visitors annually.
The fair is known for its Avenue of States, featuring replicas of the six original New England statehouses. Inside each building visitors learn about the history and heritage of each state—Massachusetts' replica has vendors of local delicacies like Boston baked beans and Boston cream cupcakes. Ireland's Dingle Peninsula also has a space at the fair, paying homage to the connections between County Kerry and Springfield.
The Big E stays true to its agricultural roots with thousands of 4-H participants, plenty of educational livestock displays and attractions, and a petting zoo. Other attractions visitors can expect daily are the Midway carnival rides, craft vendors, and the Big Parade at 6 p.m.
Tickets for this year's fair are currently on sale. Early bird pricing is $16 per day for adults and $10 for kids. Tickets to the concerts are sold separately, and cost between $29 and $79. Midway tickets are also sold separately—early bird unlimited ride tickets cost $30 and are valid Mondays through Fridays. The Big E has $10 parking on site and it's cash only. For more information about this year's fair, visit thebige.com.
Need weekend plans?
The best events in the city, delivered to your inbox