Festivals & Expos
Eat your veggies at the Boston Veg Food Fest
The 28th annual festival takes place Oct. 14-15.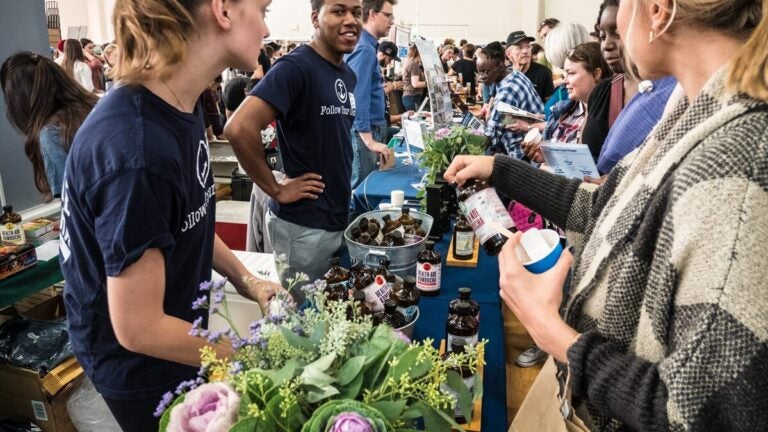 The Boston Veg Food Fest returns this October, bringing speakers, chefs, and food vendors to the Reggie Lewis Athletic Center at Roxbury Community College. Hosted by the Boston Vegetarian Society, the fest is a celebration of 100% plant-based food and lifestyle products, and it's completely free and open to the public.
Guests at the fest can taste samples, chat with food producers and industry leaders, and shop special discounts from the exhibitors. Food vendors will sell goodies like plant-based "cheese," vegan tamales or crepes with nut spreads, oyster mushroom po' boys, lentil bowls, international cuisines, vegan sweets, along with plant-based body care and lifestyle products.
Speakers will be located in the Media Arts Center Auditorium across the street from the athletic center. This year's highlighted speaker is Michael Greger, MD, founder of nutritionfacts.org and author of the 2015 New York Times bestseller "How Not To Die."
In an activity room for kids on the second floor, children will partake in crafts, face painting, and storybook readings.
Weather-permitting, the fest will have chairs and tables set up outside for eating food purchased from exhibits. Guests are encouraged to bring reusable water bottles and tote bags to reduce waste. The fest has three lots of free parking, and it's also easily accessible via the Roxbury Crossing Orange Line stop.
The fest will take place Oct. 14 from 10 a.m. to 6 p.m. and Oct. 15 from 11 a.m. to 4 p.m.
Need weekend plans?
The best events in the city, delivered to your inbox