Festivals & Expos
This event has passed. Check out other things to do instead.
Enjoy food, rides, and more at the Topsfield Fair
The annual county fair returns to the North Shore.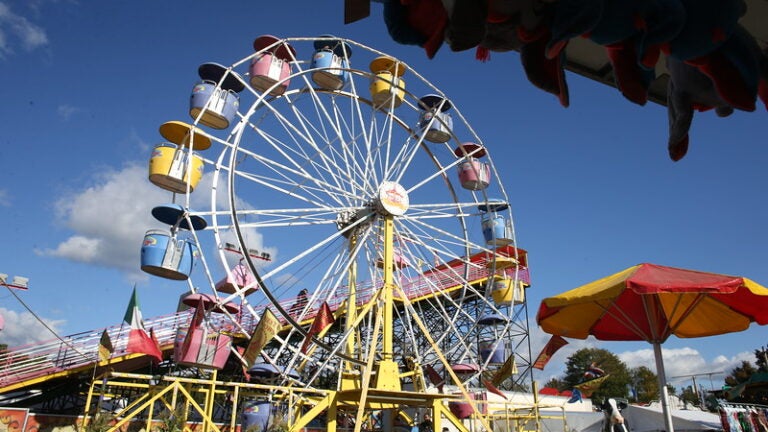 America's oldest agricultural fair returns this fall to Topsfield. The Topsfield Fairgrounds will once again come alive with agricultural exhibits, concessions and vendors, carnival rides, art shows, and live entertainment from Sept. 29 to Oct. 9. The fair has been running for more than 200 years.
There's no shortage of ways to have fun at the Topsfield Fair, like riding the Ferris wheel and playing carnival games on the Midway, ordering deep fried Oreos, seeing the largest pumpkin grown north of Boston this year, listening to live music, and watching shows with horses, bike stunts, or racing pigs.
Visitors will want to check out the winners of the fair's many competitions, earning best in class awards for livestock, fruits and vegetables, fine art, baked goods, wine, honey, and more. The fair is also home to New England's Premier Flower Show. And, of course, you can't miss the food vendors—Topsfield fair specialties include the "Gobbler" (a Thanksgiving sandwich), whoopie pies, baked potatoes, apple crisp, German fries, caramel apples, and even chocolate-covered bacon.
This year's fair opens at 4 p.m. on Friday, Sept. 29 and runs through Monday, Oct. 9. It's open most days from 10 a.m. to 10 p.m., but check the schedule for official hours. Early bird tickets are currently on sale for $15 a day. Parking is $15 at all fair parking lots.
Need weekend plans?
The best events in the city, delivered to your inbox