Festivals & Expos
This event has passed. Check out other things to do instead.
See the reenactment of the Battle of Lexington
The third Monday in April brings Revolutionary War reenactments, historical tours, parades, and other patriotic events to Lexington.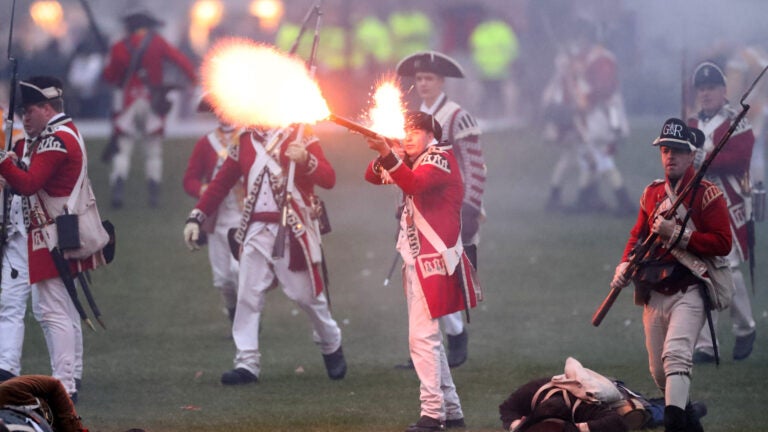 Each year on Patriots Day, some of the best runners in the world take off from Hopkinton around 9 a.m. for the Boston Marathon. But much earlier that same day, year after year, begins the reenactment of the battles of Lexington and Concord. Fought on April 19, 1775, the battles just west of Boston marked the start of the Revolutionary War, which would last for another 8 years.
On the night of April 18, 1775, Paul Revere rode from Charlestown to Lexington to warn the colonists that the British were coming to seize arms and make arrests. The next morning, the Revolutionary War began as the British and the Minutemen confronted each other and the first troops fell. Captain Isaac Davis, leader of the Acton Minutemen, was the first person killed.
At 5:30 a.m. on every third Monday morning in April, reenactors form the Lexington Minutemen and the British Regulars for skirmishes in Lexington and Concord, along with day-long celebrations and history tours. This year marks the 248th anniversary of the battles.
Festivities start on the Saturday and Sunday before Patriots Day with reenactments of events like the call to arms and Paul Revere's ride. The weekend includes family-friendly activities such as live music and historical tours out of the Lexington Visitors Center.
The biggest event of the weekend is the reenactment of the fight on the Lexington Battle Green, which is free and open to the public and begins with the ringing of the alarm from the Old Belfry at 5:30 a.m. on Monday. After the battle, festivities continue through the afternoon with parades, wreath laying ceremonies on the battle green, and tours at historical sites around town like Buckman Tavern and the Hancock-Clarke House.
Need weekend plans?
The best events in the city, delivered to your inbox