Festivals & Expos
Shop these holiday artisan markets around Boston
Plan your next shopping excursion using our handy guide.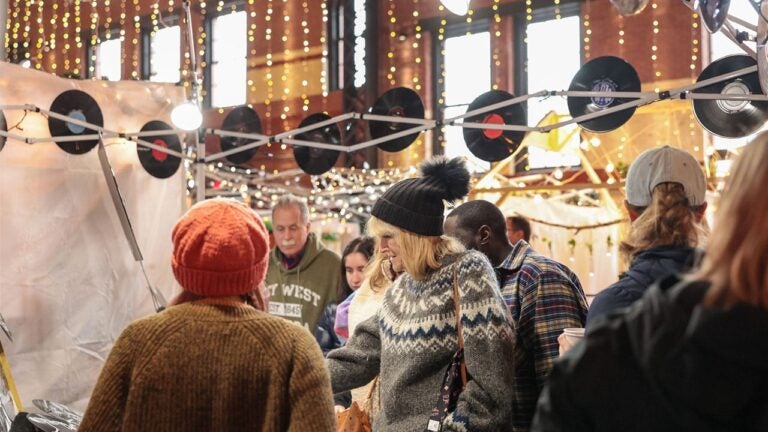 It's hardly the holidays in Boston without a smattering of artisan markets to ring in the season, and this year's first market opens Nov. 10 in the Seaport. The Holiday Market at Snowport will once again bring more than 100 vendors to the city. Old classics like the Harvard Square Holiday Fair, running since the '80s, will also return to town, as well as newer favorites like the SoWa Winter Festival at the Power Station. Read on for details about holiday artisan markets taking place in November and December.
Nov. 10 — Dec. 31
One of Boston's largest and longest seasonal markets, the Holiday Market at Snowport returns for its fifth year from Nov. 10 through Dec. 31. Open seven days a week, the market features over 100 returning and new vendors selling art, apparel, home goods, specialty food items, handcrafted goods, and accessories. Located at 100 Seaport Boulevard, the outdoor market also has a dining area with 17 food and beverage vendors.
Nov. 24 — Dec. 17
The SoWa Winter Festival returns for its 8th year, bringing more than 100 local vendors to the historic Power Station for 15 days this holiday season. The festival opens on Friday, Nov. 24, and will run Thursdays through Sundays until Dec. 17. Hours of operation are 4 to 9 p.m. Thursdays and Fridays (except Black Friday which opens at 10 a.m.), 10 a.m. to 10 p.m. on Saturdays, and 10 a.m. to 7 p.m. on Sundays. After perusing dozens of the region's best artisan vendors and grabbing a snack at a food stand, visitors can head upstairs for cocktails and live entertainment on the second floor. Visit SoWa's website for a complete lineup and map of all vendors.
Nov. 24 — Dec. 23
This holiday season, Downtown Boston once again hosts a holiday version of its summer outdoor artisan market. Running on Fridays and Saturdays only, the market takes place in Summer Street Plaza in Downtown Crossing from 11 a.m. to 4 p.m. on Friday, Nov. 24 through Saturday, Dec. 23. The neighborhood will have lots more holiday cheer throughout the season, too, with a district-wide lobby decoration contest, live music from the Harvard University Band, and a visit from Santa. Find more info at downtownboston.org.
Dec. 1 — 23
This December, Boston Women's Market has partnered with Faneuil Hall for a holiday market series each weekend until Christmas. The market runs Dec. 1-3, Dec. 8-10, Dec. 15-17, and Dec. 21-31, and features over 40 women-founded vendors. Visitors can find the market inside the west wing of Quincy Market during the following hours: Thursdays and Fridays from noon to 6 p.m., and Saturdays and Sundays from 11 a.m. to 5 p.m. Boston Women's Market will also pop up at a few other locations on afternoons throughout the season, like Night Shift's Everett location on Dec. 3, Harpoon Brewery in the Seaport on Dec. 9, Time Out in Fenway on Dec. 16, and the Speedway in Brighton on Dec. 10 and 17.
Dec. 2 from 9:30 a.m. to 3:30 p.m.
Copley Square's Old South Church will again hosts its annual Christmas Craft Fair, this year on Saturday, Dec. 2 from 9:30 a.m. to 3:30 p.m. Visitors will find artisans selling goods like pottery, knitting, ornaments, photography, blown glass, candles, woodworking, and more in the church's Gordon Chapel, along with Christmas cookies and holiday music ('tis the season!).
Dec. 15 — 23
Since 1986, Harvard Square has hosted a yearly holiday market in December — and this year is no different. The market runs for two weekends this year: Dec. 15-17 and Dec. 21-23. The juried market features dozens of artisans from New England and beyond selling goods like artwork, ceramics, candles, jewelry, books, knitwear, cosmetics, vintage goods, specialty food items, and more. The hours of operation are noon to 7 p.m. on Thursdays and Fridays, 11 a.m. to 7 p.m. on Saturdays, and noon to 6 p.m. on Sundays.
Need weekend plans?
The best events in the city, delivered to your inbox