Festivals & Expos
This event has passed. Check out other things to do instead.
Visit Boston's oldest continuous Italian festival, the Fisherman's Feast
The yearly festival returns to Boston, honoring the long fishing tradition of the city's Italian-American population.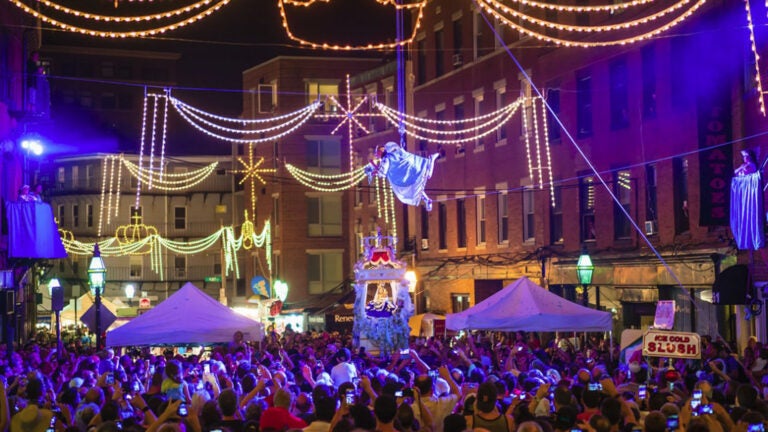 Boston's annual Fisherman's Feast returns to the North End Aug. 18—21. Fleet, North, and Lewis Streets are closed to car traffic during the festival, while the streets are packed to the brim with food vendors selling Italian specialties—sausages, calamari, pasta, pizza, arancini, and more.
Live bands provide entertainment each night, playing old rock favorites, newer pop hits, and some traditional Italian music. The festival culminates on Sunday night with the "Flight of the Angel." After a seven-hour progression through the streets of the North End, the Madonna del Soccorso di Sciacca statue is brought to North Street where two angels on balconies recite an Italian devotion, while a third angel flies down from a third-story window to meet the Madonna. This year's flying angel is Mia Graffeo, and Gianna Puccio and April Palazzolo Cedano will play the side angels.
Other weekend entertainment includes a meatball contest, where area restaurants compete for the title of Boston's Best Meatball, and the Cooking Stage, where chefs share some of their favorite recipes with the audience.
Boston's oldest continuous Italian festival, the Fisherman's Feast began in 1910 when Sicilian immigrants, who made up much of the Boston and Gloucester fishing fleets, brought their traditions to the area. The feast celebrates the devotion of the fishermen from Sciacca, Sicily to the Madonna del Soccorso (Our Lady of Help). The 112th annual Fisherman's Feast looks similar today as it did over a hundred years ago, with lights strung from the buildings and food vendors and music in the streets.
Need weekend plans?
The best events in the city, delivered to your inbox