Festivals & Expos
This event has passed. Check out other things to do instead.
Visit Somerville's HONK! Festival
The boisterous festival returns to Davis Square for a weekend of street music.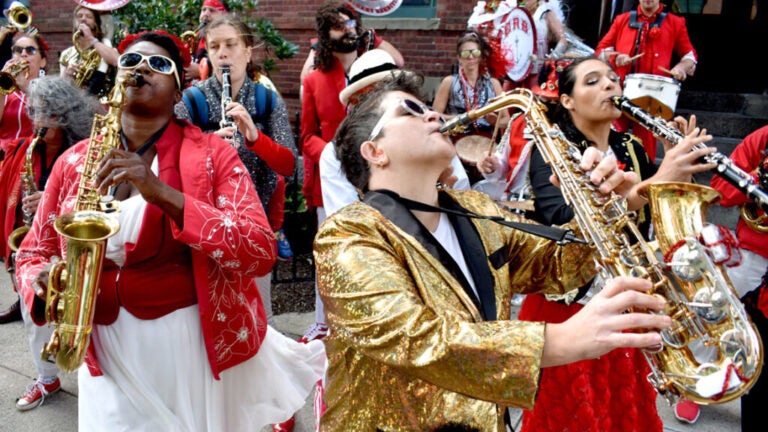 For the 17th year, the HONK! Festival of Activist Street Bands will return to the streets of Somerville, bringing street bands, dancers, and other entertainers to Davis Square.
The weekend kicks off on Friday evening with a showcase of bands and a parade of lanterns through Somerville neighborhoods. On Saturday, hundreds of performers, many of whom travel from out of state for the festival, take to the streets of Davis Square for a loud, proud, carnival-esque celebration of music and entertainment—all on the street, and all free.
On Sunday, local community groups and activists, representing causes like the environment and economic and racial justice, join the performers for a parade along Mass Ave from Davis to Harvard Square. Bands continue performing throughout the day.
Street bands will play music inspired by Klezmer (Jewish folk music), Brazilian samba, Afrobeat, New Orleans second line, punk, hip hop, and Romani music.
"Throughout the country and across the globe, a new type of street band movement is emerging—outrageous and inclusive, brass and brash, percussive and persuasive—reclaiming public space with a sound that is in your face and out of this world," according to the HONK! Festival website.
Bands play at street level and without amplification, blurring the lines between performers and spectators and using public spaces as a stage. HONK! in Somerville has inspired other activist street band festivals in places like Brooklyn, Seattle, Austin, and as far away as Australia and Brazil.
HONK! is a nonprofit community celebration run by volunteers that brings hundreds of musicians to Boston, many of whom are housed by neighbors and friends. Local restaurants provide food for performers and volunteers.
Need weekend plans?
The best events in the city, delivered to your inbox