Festivals & Expos
Where to find outdoor artisan markets in Boston this summer
Support local artists and small businesses this summer at one of the city's many artisan markets.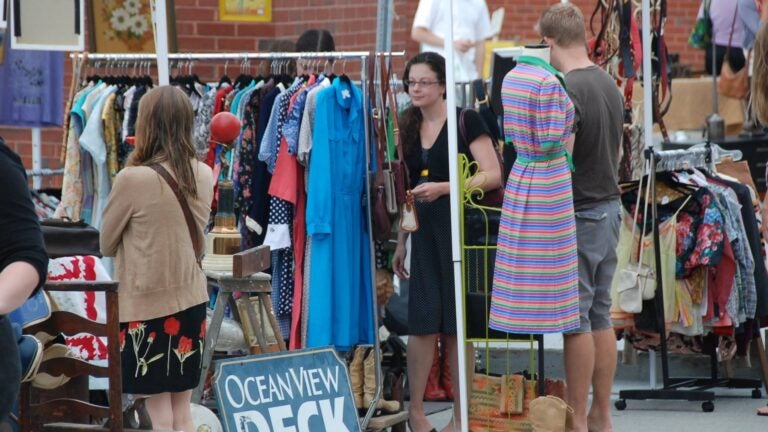 When the warm weather finally descends upon Boston, there's no shortage of ways to get out of the house. Visiting one of the many outdoor artisan markets that'll soon pop up in Boston neighborhoods and beyond is one of the most affordable ways to experience the city this season. Some markets, like the Somerville Flea or SoWa have years-long legacies of assembling vendors who purvey artisan goods — others, like the Harvard Square Open Market or the Greenway Artisan Market, are in their first few years.
Head to a market on weekends this summer to meet your neighbors, grab bites from a food truck, and support local makers and small businesses. Here are a few worth checking out.
From 11 a.m. to 4 p.m. on Sundays from May 7 through October 29, head to 500 Harrison Ave. in the South End to find dozens of vendors along with food trucks, beer gardens, and a farmers' market at the SoWa Open Markets. You'll find over a hundred purveyors of art, jewelry, specialty food items, housewares, and locally grown produce. The detailed food truck schedule is here. Head next door to Thayer Street to visit more art galleries and shops.
On both Saturdays and Sundays, visit the Rose Kennedy Greenway for the outdoor Greenway Artisan Market powered by Somerville Flea. Dozens of vendors sell art, jewelry, and other handmade goods on Saturdays from May 6 through October 31 and on Sundays from May 28 through October 8. Food trucks will line the Greenway this summer, too.
The Harvard Square Open Market returns to Church Street for the second year this summer, taking place from 11 a.m. to 5 p.m. on Sundays from June 4 through October 29. The outdoor market will host a mix of artisans, vintage dealers, makers, artists, and small business owners right in the heart of bustling Harvard Square.
While the Somerville Flea has collaborated with the Greenway for the Greenway Artisan Market, they also have their own outdoor artisan/flea market each summer. Now in its 12th year, the market will bring around 50 vendors to Davis Square on Sundays between 10 a.m. and 4 p.m. from August 6 through October 29 for a total of 13 markets. Visitors can expect vintage dealers and designers alongside artisans and artists, along with a live DJ and fresh produce from Kimball Fruit Farm.
The Downtown Boston BID Arts Market returns on Thursdays and Fridays from 11 a.m. to 5:30 p.m. starting May 4 and wrapping October 11. The market brings a rotating lineup of artisan vendors, craftspeople, and makers to pedestrian Summer Street in the heart of Downtown Crossing, so visitors have plenty of shopping and restaurants nearby after visiting the market.
The market that used to take place in Copley Square has moved to Boylston Street in front of the Public Garden this summer. Every Saturday from 11 a.m. to 3:30 p.m. now through October, the open-air market hosts 60 vendors and small businesses selling handcrafted and locally made products like jewelry, clothing, gifts, and home decor—and you can explore the Garden or Newbury Street while you're at it.
Need weekend plans?
The best events in the city, delivered to your inbox