Events
This event has passed. Check out other things to do instead.
First-place Patriots look to take over AFC lead against the Titans
Mike Vrabel's Tennessee team currently leads the conference, but Bill Belichick's team can pull even with a sixth-straight win.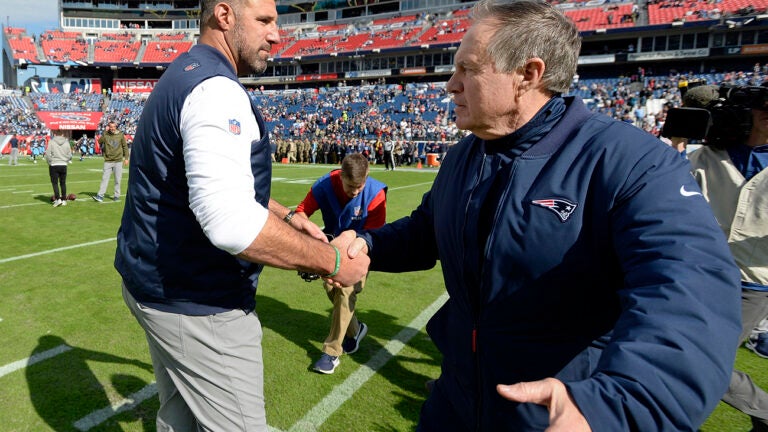 The last time the Titans played at Gillette Stadium, it marked the end of an era — with Tennessee's wild-card win marking the final game of Tom Brady's career as a Patriot.
But as they return to Foxborough, in a fascinating twist of scheduling fate, the feeling is quite different. Where there was a fostering sense of frustrated resignation as Mike Vrabel's team outclassed its host 22 months ago, there's today a sense of hope. As the Titans come back for the first time since destroying the dynasty, there's a sudden, somewhat shocking sense that good days are here again for the first-place Patriots. The Super Bowl-favorite Patriots.
Even a few weeks ago it would've been stunning for the Pats to be favored over the Titans, but they opened as 3.5-point favorites on Monday morning, according to the oddsmakers. That line is clearly a reaction to the confluence of New England having won five straight while a Derrick Henry-less Tennessee team reels from Sunday's loss to a putrid Houston squad, but, still, this suddenly has the look of a game the Patriots can — and maybe should — win.
If they do win, the conversation should shift from whether they'll make the playoffs to whether they could contend for the top seed in the conference standings. That's a spot currently occupied by the Titans (8-3), so a loss to Tennessee would leave the Pats two games behind and on the wrong side of the tiebreaker; however, if the Patriots win, they could finish the day in control of the No. 1 spot, pending the Ravens' outcome against the Browns. Either way, the next month will be enormous in determining what becomes of the 2021 Patriots, with both games against the division-rival Bills coming soon, too.
If the Pats can handle their business, it could signal the true arrival of a new phase — and it begins with the Titans in town. How fitting.
Need weekend plans?
The best events in the city, delivered to your inbox