Food
This event has passed. Check out other things to do instead.
48th annual Milford Oyster Festival promises seafood, live entertainment
Scott Stapp of Creed will perform.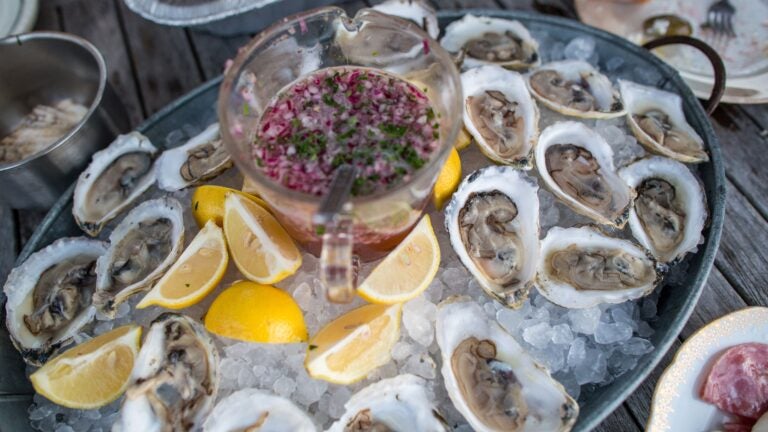 The Milford Oyster Festival, a free event on August 20 in Connecticut, will be bringing in 30,000 oysters harvested in Milford waters for the public to taste. During the festival, there will be an oyster eating contest, as well as a shucking contest, where contestants will have to open oysters and present them on a tray. Scott Stapp of the band Creed will be performing, as will a group called the Fooz Fighters, an award-winning Foo Fighters tribute band.
"We have people who come from all over the country to participate in the shucking contest," Michele Dibella, publicity chair for the festival, said. "The world renowned, number one shucker comes to our festival to participate in our contest. It's a lot of fun. They put a lot of pride in it, as well."
Dibella said that the oysters served at the festival are fresh and have a medium brine, due to the brackish water, with a flavor that is mildly sweet and meaty. Craft beer and medium-bodied wine will also be served at the event. There will be other forms of entertainment, such as a classic car show, a canoe and kayak race, arts and crafts, and amusement rides. The night before the festival, an event called Oyster Eve will be held, a "smaller, more hometown" event, featuring more oysters and a performance by a local band.
The event is unique in that it is run by volunteers.
"Another thing that makes it so special is that it's put on 100% by volunteers," Dibella said. "So nobody gets paid putting on this festival. We do it all financially on our own. One year's festival pays for the next."
She added: "There's sincerely something for everybody. You could bring your three-year-old kid, and you could bring your 80-year-old mom."
Need weekend plans?
The best events in the city, delivered to your inbox