Food
This event has passed. Check out other things to do instead.
A rising-star Boston chef debuts Southern Pines Supper Club pop-up
The last-Sunday dinner series celebrates Southern food and New England ingredients.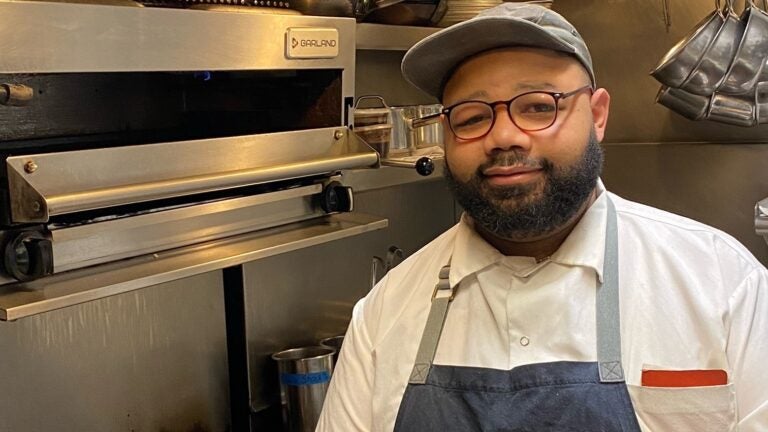 A chef who's been cooking in kitchens around Boston for a decade, Matthew Bullock premieres the Southern Pines Supper Club with a 2023 dinner series in Cambridge. Check out the Southern-inspired menu at Forage on the last Sunday of each month.
"The menu will follow the New England season but with a Southern twist," said Bullock. Nominated as a Rising StarChef while he was executive sous chef to Joshua Lewin at Peregrine in Beacon Hill, Bullock grew up in Boston, but his pop-up series is inspired by his grandmother's hometown of Southern Pines, N.C. It's named in her honor, as well as "to highlight the Southern traditions I want to showcase," he said. That means the chef's take on dishes like pimento cheese with benne seed crackers, killed lettuce with country ham and cornbread crumbles, and savory grits with smoked apple and fried shallots.
Southern Pines Supper Club will take over Forage once per month on a Sunday, the day the restaurant is typically closed, beginning January 29 and continuing for the foreseeable future, Bullock said. He wanted to partner with Forage, he said, "because of the core values they use, which are staying as local as possible and utilizing as much of a product as possible." To that end, Southern Pines will aim "to match Forage's flexibility with dietary restrictions and allergies." There will be vegan menu options each week, and everything will be available a la carte.
Meanwhile, Southern Pines Supper Club is crowdfunding. The initial goal of $800 dollars will go toward supplies and staffing needs to start the series at Forage. To make a reservation for Southern Pines Supper Club, call Forage at 617-576-5444 or find the experience on OpenTable.
Need weekend plans?
The best events in the city, delivered to your inbox