Food
This event has passed. Check out other things to do instead.
Bygone Belmont café brings brunch back to Greater Boston for one weekend only
Seta's Cafe and its cult-followed Armenian cuisine pops up at Hemlock Grill in Brookline.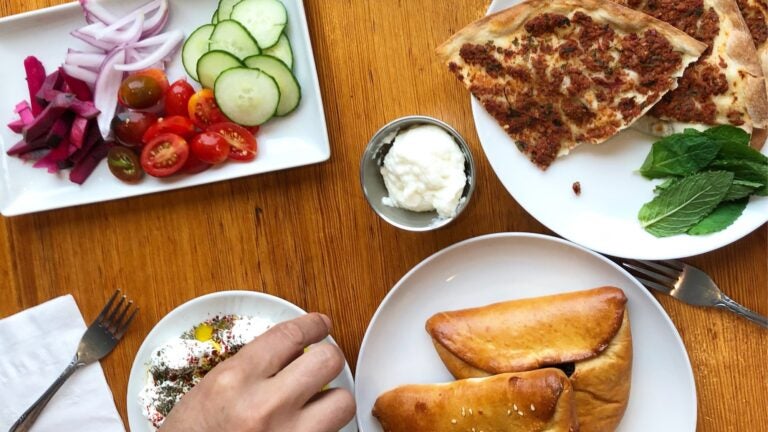 Seta's Cafe, which shuttered its Belmont location in 2019, was a hidden gem for healthy Mediterranean food, according to Alex Saenz, the chef behind Bisq Sandos and Taqueria el Barrio at Time Out Market as well as Brookline golf course eatery, Hemlock Grill.
In August, a little bit of Seta's returns to Greater Boston: Chef Seta Dakessian is taking over the kitchen at Hemlock for brunch on Saturday, August 27, and Sunday, August 28. Dakessian is now a personal chef based in California. Her Belmont café was known for shakshuka, homemade lavash, soujouk (a spicy sausage) served with eggs, and more.
Hemlock Grill is located at the Robert T. Lynch Municipal Golf Course in Chestnut Hill; there's no need to pick up a putter to check out the brunch pop-up, but if you'd like to, by all means, get out for a round on the public course.
Saenz, for his part, is "excited to have Seta back with her amazing food." The "simple but elegant" dishes she crafts with Armenian influence are much-missed by local regulars, he adds, himself included.
Seta's brunch pop-up menu is still in the works and will be influenced by what's available from local farms. Stay tuned to Hemlock and Seta's social media channels for more information about this casual, first-come, first-served brunch pop-up.
Need weekend plans?
The best events in the city, delivered to your inbox