Food
This event has passed. Check out other things to do instead.
Get on your way to mastering wok hei with cookbook author J. Kenji López-Alt
Celebrate the release of The Wok in-person with the author and Dan Souza, editor-in-chief of Cook's Illustrated at America's Test Kitchen.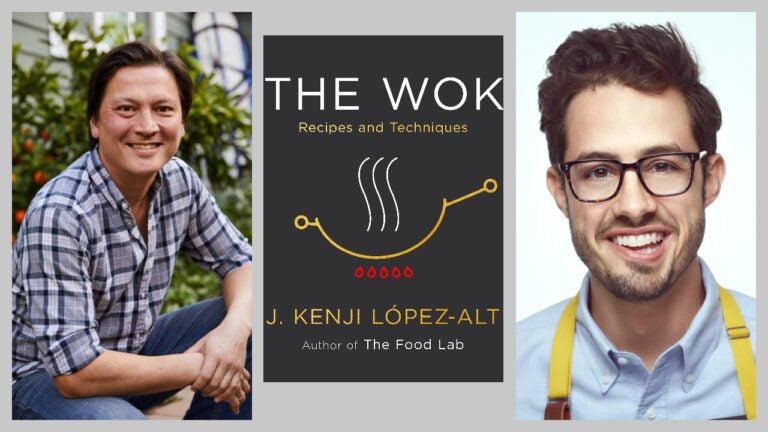 If you love noodles, tempura, and delicious charred stir-fry dishes, this one's for you: Celebrated cookbook author J. Kenji López-Alt is coming to Brookline to discuss his latest book, The Wok: Recipes and Techniques.
López-Alt is a New York Times food columnist and the creator of The Food Lab, a science-based approach to everyday cooking which began as a web series and became a cookbook that has sold more than half a million copies. López-Alt is also a restaurateur and a parent, and he says when he's in the kitchen, there's one pan he reaches for more often than any other: the wok.
This deep-sided, flat-bottomed pot is a go-to for stir-frying, but it's also useful for deep frying, steaming, simmering, and braising. The Wok delves into how to cook with it — including how to master wok hei, the signature smoky sear the pan can impart on ingredients like vegetables, meat, seafood, rice, and noodles. López-Alt's latest cookbook shares more than 200 recipes for Asian and American restaurant-style dishes such as Kung Pao Chicken, Pad Thai, and San Francisco-Style Garlic Noodles; and features more than 1,000 color photos. The Wok promises to be the definitive English-language guide to the science and technique of cooking in a wok.
Join J. Kenji López-Alt live at the Coolidge Corner Theatre to celebrate The Wok release in conversation with America's Test Kitchen personality and Cook's Illustrated editor Dan Souza. The event is produced by the Brookline Booksmith. Tickets include general admission to the in-person conversation as well as a signed copy of The Wok.
Need weekend plans?
The best events in the city, delivered to your inbox