Food
This event has passed. Check out other things to do instead.
Kick off patio season with a free bar pizza on a Cambridge roof deck
Brato at The Sinclair is dishing up four nights of fun freebies.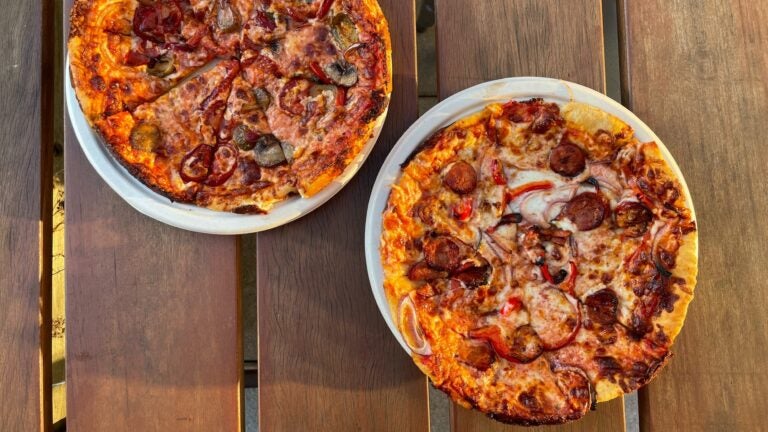 When patio season comes back around after months of Boston's notorious winter weather, locals don't have to be enticed with freebies to get back outside. But, hey — we'd never say no to free pizza.
That's just what's in store for the much-anticipated relaunch of a Harvard Square restaurant's roof deck. Brato at The Sinclair, a culinary partnership between The Sinclair music venue and Brighton's Brato Brewhouse + Kitchen, will reopen its roof deck on Wednesday, April 6. To celebrate the long-awaited return of the patio, which hasn't been open since before the initial COVID-19 shutdown, Brato is dishing up 50 free bar pizzas per night from April 13 through 16.
South Shore-style bar pies are the signature menu item at Brato at The Sinclair, a counter-service eatery attached to the acclaimed club. Ten-inch pan pizzas are a primo pre-show dinner option: Quick-cooking and easy to love, you can order and pay your bill from a bartender or via QR code from your phone. Efforts are also in the works to eventually enable ordering food from inside the music venue.
For now, though, enjoy these crispy-good, greasy pizzas at the restaurant or out on the roof deck. Brato at The Sinclair opens at 5 p.m. Wednesdays through Saturdays, and for the first week of roof deck season, the first 50 parties can try a pie for free (limit one pizza per party; first-come, first-served).
Do you really need another excuse to get your patio season on? You don't, but here's one anyway: Brato is also offering a rooftop-opening week giveaway for a chance to win two tickets to any available show at The Sinclair or sister venues Roadrunner or Royale (i.e., no sold-out shows), plus a $100 gift card for food at Brato at The Sinclair or to Brato Brewhouse.
Editor's note: The date of this event has changed to April 13-16 due to the weather.
Need weekend plans?
The best events in the city, delivered to your inbox