Food
This event has passed. Check out other things to do instead.
Make Ron Swanson and Leslie Knope proud by pairing whiskey and waffles
A gourmet shop in Brookline matches cask-aged spirits with breakfast food.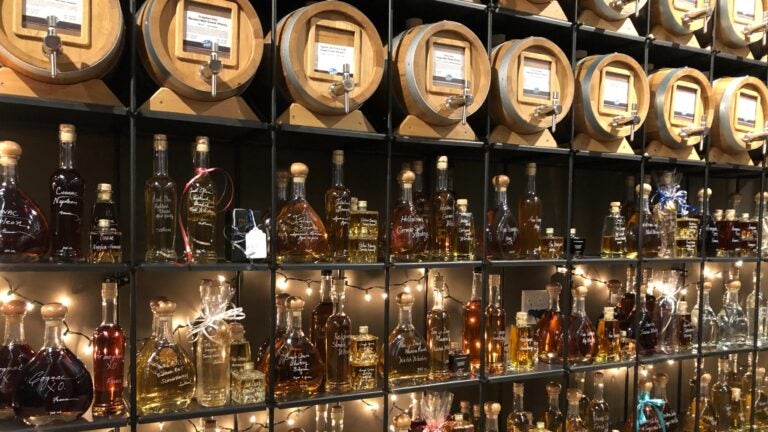 Ron Swanson and Leslie Knope from Parks and Recreation are two of TV's most iconic colleagues. They often disagree on things based on their very different worldviews, but they have immense respect for each other and ultimately always get the job done. One thing Ron and Leslie wholeheartedly agree on, however, is that breakfast foods are the best.
Played exuberantly by Burlington's Amy Poehler, Leslie is dedicated to Belgian waffles. Ron would be more likely to order steak and eggs, bacon, or The Four Horse-Meals of the Egg-Pork-alypse (a signature dish at JJ's Diner in Pawnee, Ind.) — but knowing his (and actor Nick Offerman's) love of Lagavulin Scotch, we're certain that Ron would approve of Whiskey & Waffles at Brookline gourmet shop, Vom Fass.
This bimonthly tasting event happens on the third and fourth Sunday — coming up next on February 27 — and pairs a hot, fresh, Belgian-style waffle with a flight of small-batch whiskey. Vom Fass is an international franchise of European style-markets and tasting rooms, selling white-label products like olive oils, vinegars, wine and spirits.
The Brookline shop carries nearly 40 different whiskeys (and bourbons, and scotches) from producers around the world, all resting in small wooden casks lining the shelves. Each Whiskey & Waffles tasting event offers a different sampling flight. Tickets are $35.
Need weekend plans?
The best events in the city, delivered to your inbox