Food
Roast Beef and Beer festival is a North Shore trifecta of beer, music, and food
The inaugural event at Bent Water Brewing Co. brings together local breweries and sandwich shops.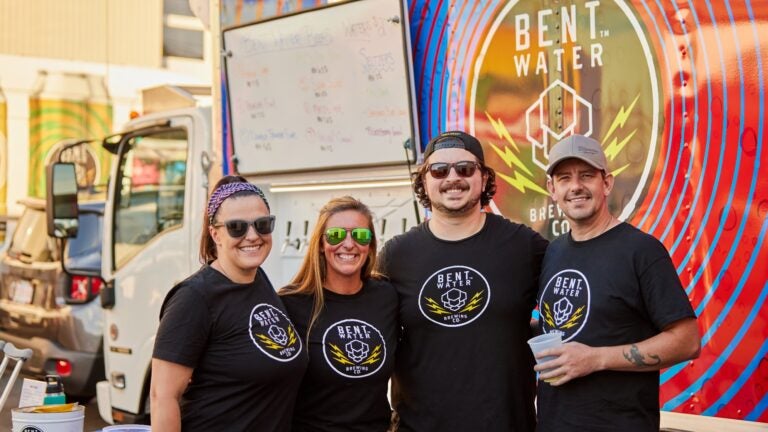 Picture this: It's a beautiful fall day, and you decide to take a jaunt to the North Shore for a juicy roast beef sandwich — an iconic regional delicacy — and to partake in the region's awesome beer scene. Someone has to be the DD because of the planned fall closure of Lynn Commuter Rail station (your daytrip reverie is momentarily dulled when you recall the state of the T). Nevertheless, the drive along Route 1A is scenic, and your friend curated a sick playlist of local music. Life is good.
We're here to tell you this day trip is even closer than you imagined. The folks at Bent Water Brewing Company in Lynn are sharing what they love about their local food and beer scene at the inaugural Roast Beef and Beer Festival. This walk-around tasting event brings together three North Shore breweries and a few restaurants for an evening of local flavor and fun.
"Several of our employees are passionate about the food scene," said Robin Leopoldo, Bent Water's director of communications. "Bent Water being Lynn's craft brewery and Lynn being one of the entry points to the North Shore, [this event] just made sense." Bent Water also invited beer friends Rockport Brewing and Channel Marker, which created North Shore Beefs IPA (among other sought-after brews) in Beverly. "We'll be pouring their beer," Leopoldo says.
Local beefluencer Andy Ferg of North Shore Beefs will also be in attendance, and North Shore funk band Big Ol' Dirty Bucket is holding it down musically.
Expect slider-size North Shore three-ways and other food available for purchase from Jamie's Roast Beef of Peabody; Nick's Pizza, Subs & Roast Beef out of Beverly; Nick's Place with multiple locations; and Ciao Restaurant and Bar from Lynn. (For anyone uninitiated, a North Shore three-way traditionally tops a squishy onion roll with thinly sliced roast beef and barbecue sauce, American cheese, and mayo. It's meaty, it's messy, and it's dang delicious when you're craving cold cuts.)
Save the date for Saturday, Oct. 8, from 4 until 8 p.m. Tickets will be $5, available via Eventbrite prior to the event as well as at the door. Pay-as-you-go for beer and food. A portion from ticket sales will be donated to My Brother's Table, a soup kitchen and hunger relief organization in Lynn; and Black Balloon Day, which supports families of people lost to the opioid crisis.
Need weekend plans?
The best events in the city, delivered to your inbox