Food
This event has passed. Check out other things to do instead.
Turn your kitchen into the Tasting Counter with a virtual collaboration dinner
Sustainable sources of seafood and more local flavor joins acclaimed chef Peter Ungár for this fundraising cook-along.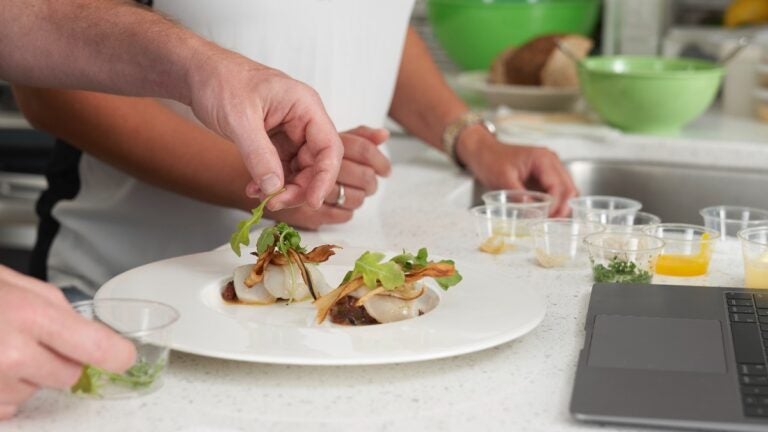 Your kitchen or dining-room table almost certainly pales in comparison to a real-life, front-row seat to dinner service at Somerville's 20-seat Tasting Counter (no offense!), but [email protected], the award-winning virtual dining experience chef and partner Peter and Ginhee Ungár developed during the pandemic, is well-worth experiencing. On Dec. 4, $10 from every plate-at-home meal kit will be donated to No Kid Hungry, which is a great excuse to try [email protected] Beyond the fundraiser, this feast features sustainable producers City Pier Seafood; SalterieOne, harvesters of Duxbury Bay sea salt; and Boston-grown Giant Gorilla Greens. A ticket to this dinner at home will include six courses — from sourdough bread to a trio of bite-sized sweets — with three dishes you'll plate during the interactive dinner, such as a sea scallop from City Pier Seafood with fermented rice, preserved lemon, finishing salt from SalterieOne, and Giant Gorilla microgreens. Follow tips from Ungár, which will also delve into how to entertain like the chef. Cooks of all skill levels and ages are encouraged to join. The ingredients you receive are 90 percent prepared, with only the finishing touches done at home — and you'll have the expert help from the chef on the screen. Purchase tickets online for curbside pick-up or contactless delivery (within 15 miles of Somerville) of your meal kits on the day of the experience.
Need weekend plans?
The best events in the city, delivered to your inbox