Food
This event has passed. Check out other things to do instead.
The ultimate guide to Thanksgiving dining in Boston
Boston restaurants are offering Thanksgiving dinner reservations, big bags of takeout, and more.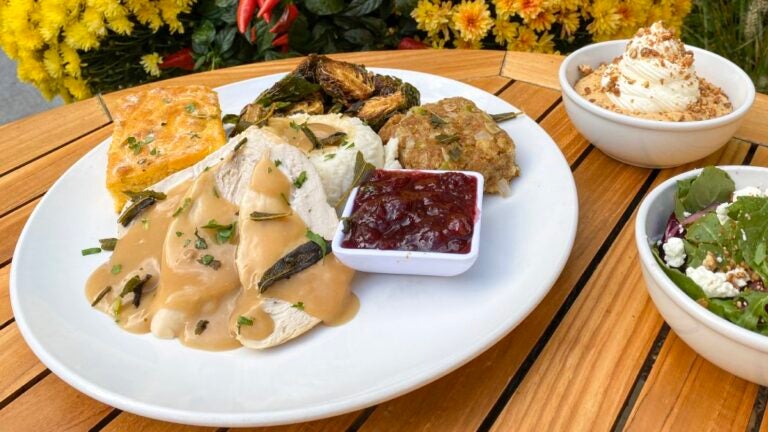 Thanksgiving kicks off the holiday season on Nov. 23. What's on your table for this all-important meal? If cooking isn't in your plans this year — or even if it is — you're well-covered by Boston's best restaurants.
From 30 local spots open on Thanksgiving to tons of tempting takeout, here's your guide to Thanksgiving dinner in Boston.
Thanksgiving reservations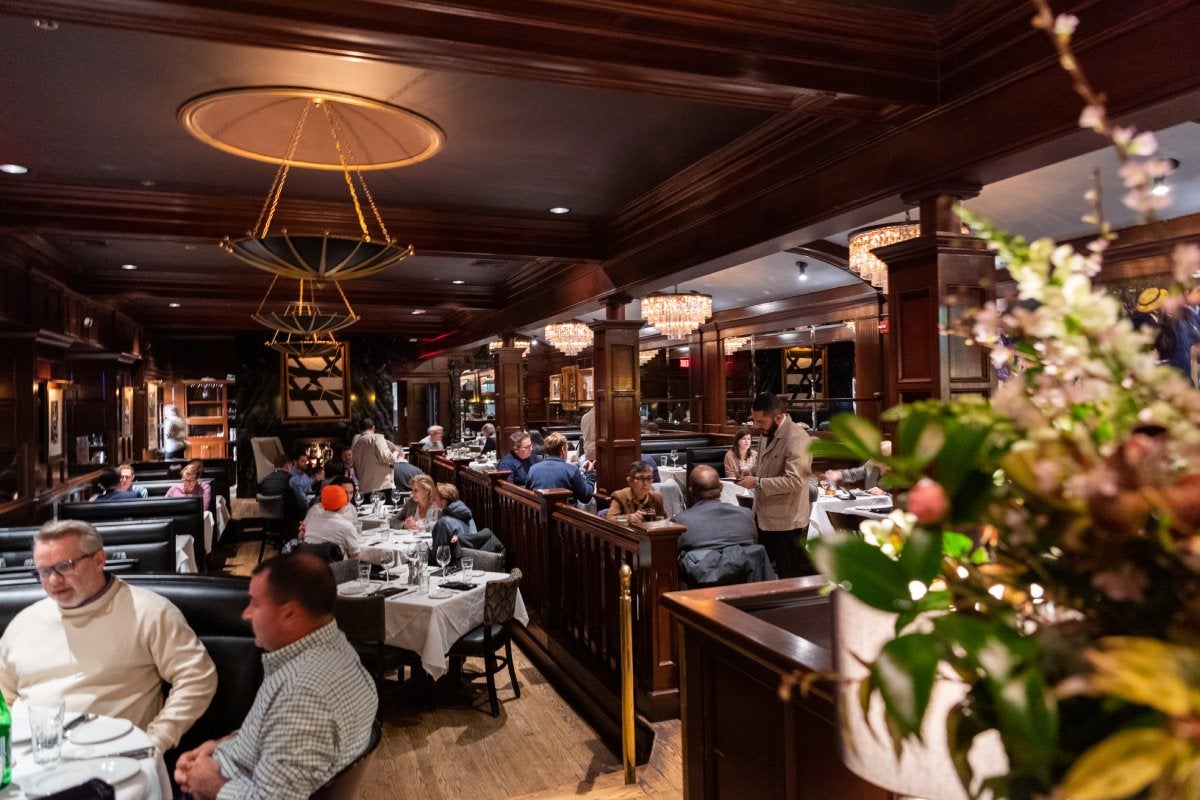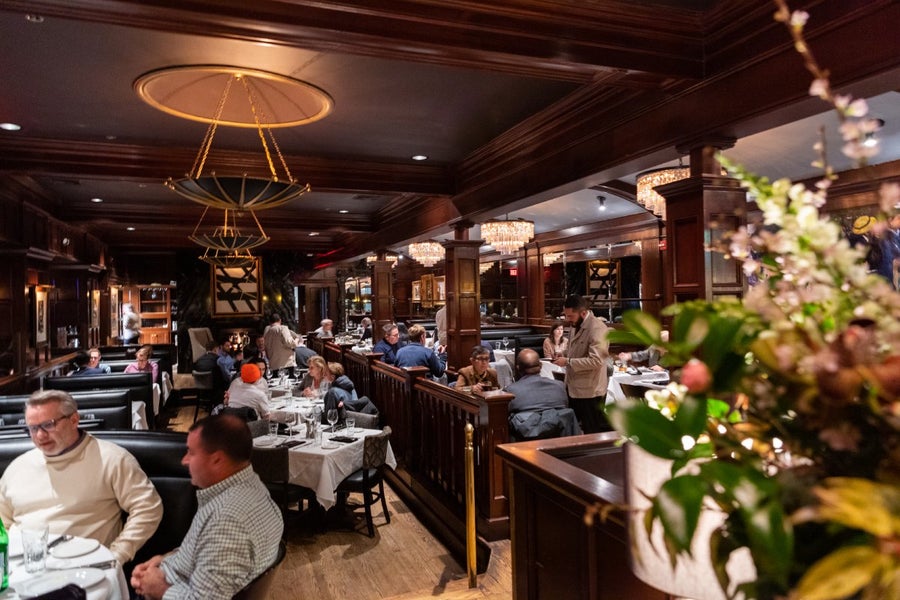 Open in the Back Bay on Thanksgiving from 10:30 a.m. until 10 p.m., Abe & Louie's is dishing up its steakhouse menu along with a trio of specials. There is butternut squash soup with crème fraiche and candied pepitas; all-natural Vermont-raised turkey served with all the fixings; and pumpkin pie topped with house-made whipped cream. Reservations are available.
Spend time on Thanksgiving strolling the Harborwalk, then settle in for a meal at Alcove (or pick it up to-go; see below). The West End restaurant is open on Thanksgiving from noon until 8 p.m. Along with the full menu of farm-coast-to-table cuisine, chef Mark Cina is preparing some holiday-worthy additions, including roast turkey, New England seafood, and festive side dishes like jalapeño macaroni and cheese. Reservations are recommended and available all day.
The Ritz-Carlton near Boston Common is open all day on Thanksgiving. Reservations are highly recommended to savor chef Joel Eugene's menu, which includes many gluten-free and vegetarian options. Begin with parsnip bisque and chilled, marinated grilled shrimp. Mains can be roasted heritage turkey, beef filet medallions, seared bass, or mushroom lasagne; and desserts by pastry chef Christopher Goluszka will feature a gluten-free pumpkin torte or a slice of warm pecan tart with caramel-chocolate ganache and bourbon cherries. The four-course meal is priced at $79, and there is a children's menu as well.
Fish or fowl for Thanksgiving? That's the delicious choice at Atlantic Fish Co., which is offering its full menu of seafood in addition to some holiday features this Thanksgiving. A shaved Brussels sprout salad with hazelnuts and lemon-thyme vinaigrette, Vermont-raised turkey breast with pan jus and stuffing, spaghetti squash, cranberry relish, and Yukon gold mashed potatoes; and apple crumb tart with gelato and sea salted caramel are all on deck. Reservations are available from 11 a.m. until 9 p.m.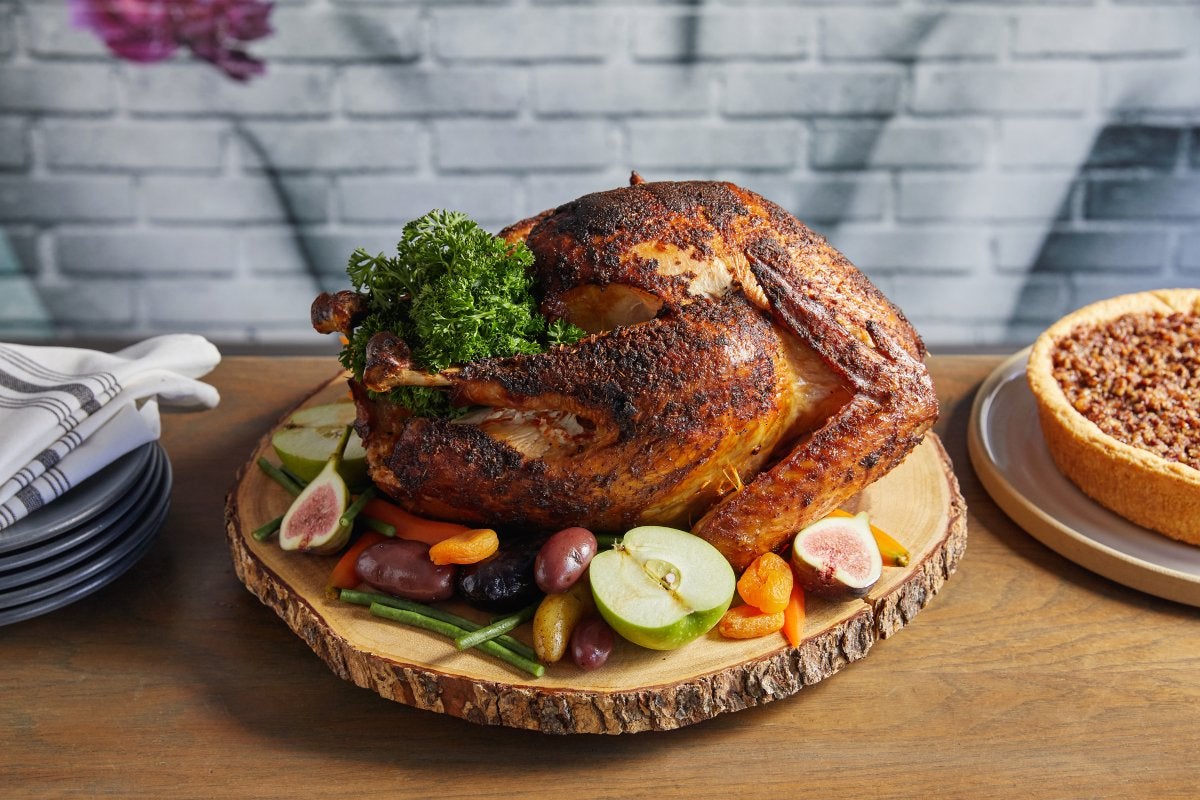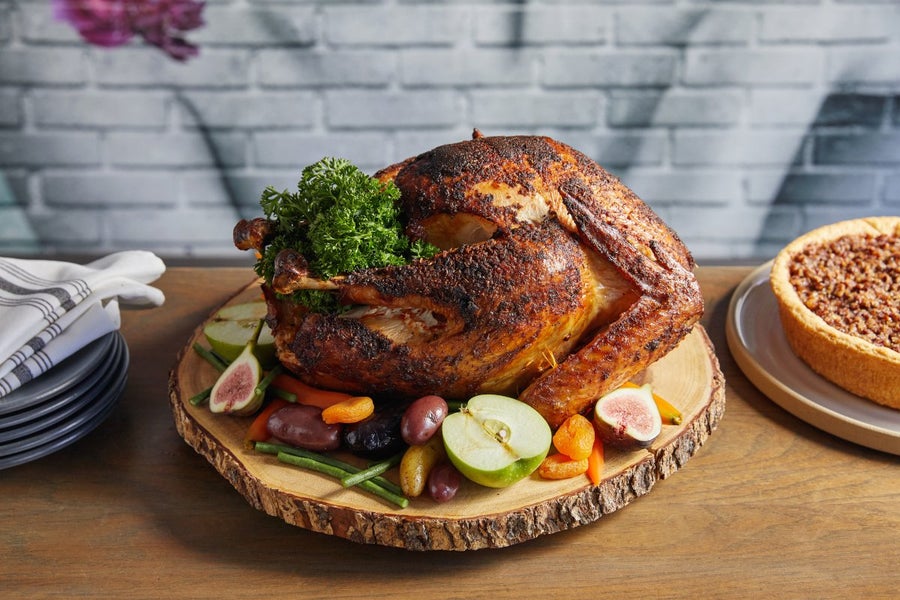 After a leisurely morning watching the parade or simply enjoying a day off, leave the cooking to Bambara Kitchen. The restaurant inside Cambridge's Kimpton Marlowe Hotel is open from 3 to 8 p.m. with a no-fuss prix-fixe menu by chef Adam Resnick. The selection includes a choice of appetizer and dessert plus a pretty plate of turkey breast and confit turkey legs, Yukon gold mashed potatoes, roasted mushroom stuffing, and more. The main event is priced at $65 per person.
Open for both lunch and dinner on Thanksgiving, The Banks Fish House will offer its seafood-focused menu along with several seasonal specials by chef Robert Sisca and team. Reservations are encouraged and available between 11 a.m. and 8 p.m.
It's pretty much business as usual at Baramor in Newton on Thanksgiving. The neighborhood restaurant is open from 3 p.m. until 1 a.m. on the holiday. Bring the family for casual, shareable plates like piles of poutine, arancini, and sweet-and-spicy cauliflower, or sneak in solo to get away from all the commotion. Baramor will also be open 'til 1 a.m. the eve of Thanksgiving. Reservations are available until 10:45 p.m.
If watching the parade of advertising on TV doesn't cut it for your Thanksgiving Day entertainment, consider visiting The Beehive in the South End. Live music will fill the space all day along, while executive chef Ryan Skeen serves up a traditional, three-course menu. For $89 per person and $25 for kids 10 and under, expect dishes like roasted free-range turkey with sage and rosemary gravy, sourdough stuffing, whipped potatoes, wild mushroom risotto, cranberry-apple compote, and more. Reservations are available between 11 a.m. and 9:45 p.m.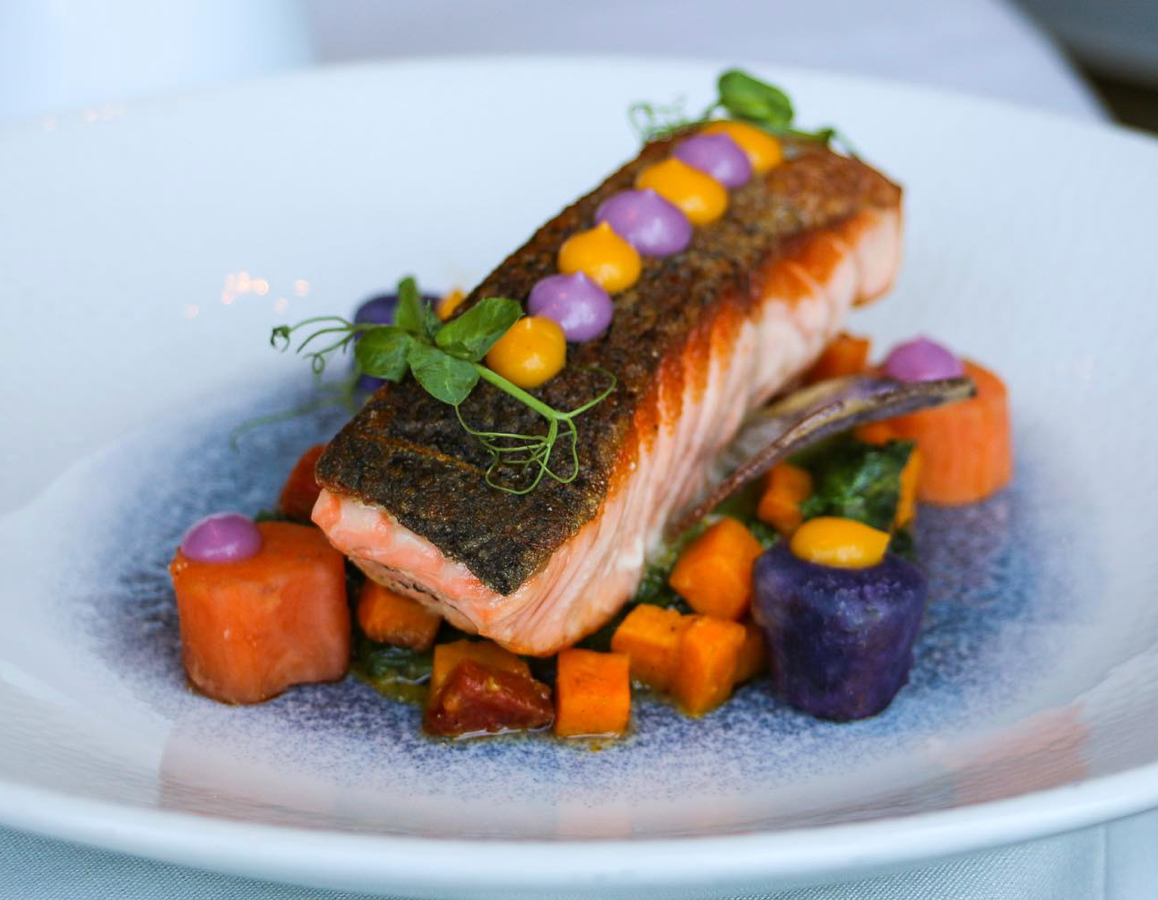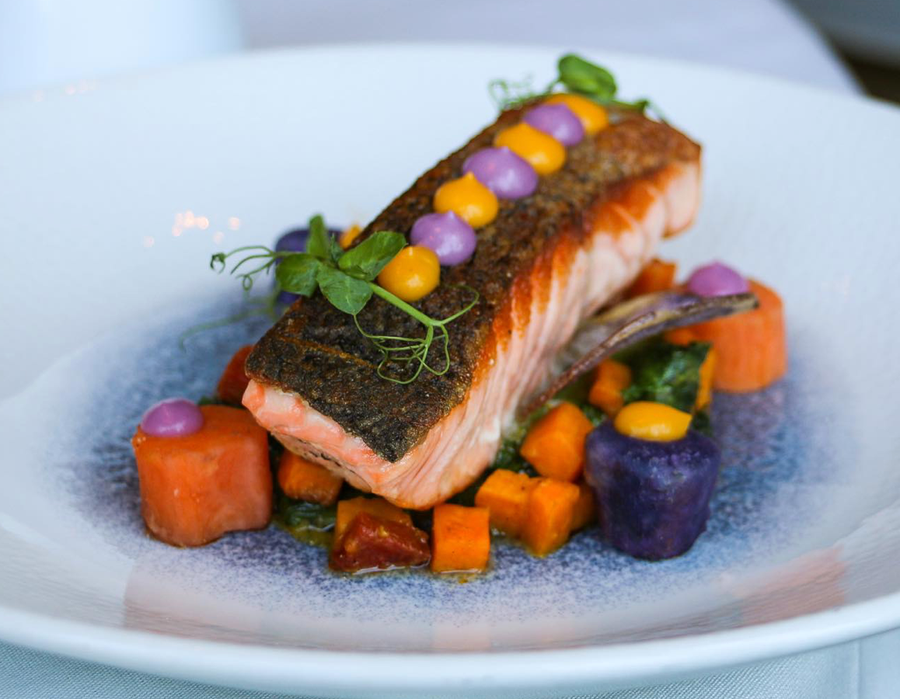 Before or after a Thanksgiving meal at Bistro du Midi, you and the fam can take a stroll around the Public Garden. The park-adjacent restaurant is open all day, serving up a three-course menu for $90 per person with an optional $50 wine pairing. You'll start with a choice of dishes like pumpkin and squash soup, Spanish octopus with smoked fingerlings, or American wagyu beef tartare. Entrées include beet gnocchi with pink lady apple, brown butter seeds, feta, and basil; sourdough-crusted halibut with hen-of-the-wood mushrooms and a lemongrass sauce; and the requisite roasted turkey breast and leg confit served with a foie gras-mushroom brioche stuffing, fall vegetables, and thyme gravy. Desserts include vanilla bean creme brulee with fall citrus, among other options. Reservations are available between 10:30 a.m. and 8 p.m.
You'll be thankful for the stunning location if you opt for a Thanksgiving at the Boston Harbor Hotel. Boston's only five-star and five-diamond, waterfront hotel is planning a merry Grand Brunch buffet in the Meritage and Atlantic rooms, featuring the traditional turkey dinner with all the sides and a full dessert table, plus festive additions like sushi and sashimi, white truffle carbonara, beef Wellington, and more. The spread is $225 per person ($80 for children 5 to 12 years old). From 11 a.m. until 3 p.m., there will be live entertainment by a jazz ensemble. At Rowes Wharf Sea Grille, Thanksgiving dinner is on until 10 p.m. Reservations are available for both.
Fort Point beer bar City Tap House is serving Thanksgiving dinner from 11 a.m. until 9 p.m. with the bar staying open 'til 11. Holiday specials include a traditional Turkey Day feast ($28) plus appetizers and desserts like a beet and goat cheese salad and a no-bake pumpkin cheesecake. Reservations are available for dining in.
Lock in a reservation at Clink, the restaurant at the Liberty Hotel. Chef Daniel Kenney is planning a three-course menu for $89 ($37 for children) including roasted acorn squash soup, breast of turkey brined with local honey and apples, and more, including a decadent holiday dessert buffet. The prix-fixe runs from noon until 4 p.m., while normal dinner service commences at 5:30 p.m. Reservations are available. Craving a feast before family time? Clink is also celebrating Friendsgiving with a mix of shareable and individually-served courses for $75 per person available Saturday, Nov. 18; Sunday, Nov. 19; Saturday, Nov. 25; and Sunday, Nov. 26 from 5 to 10 p.m.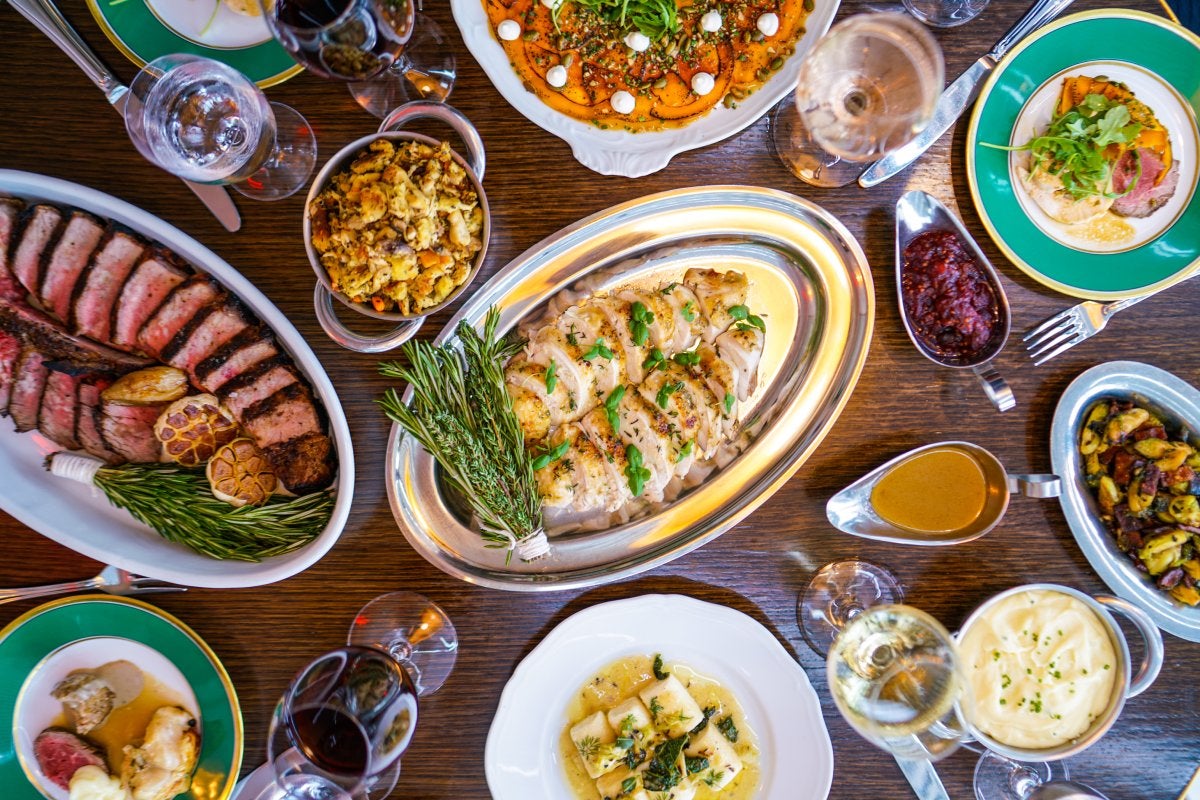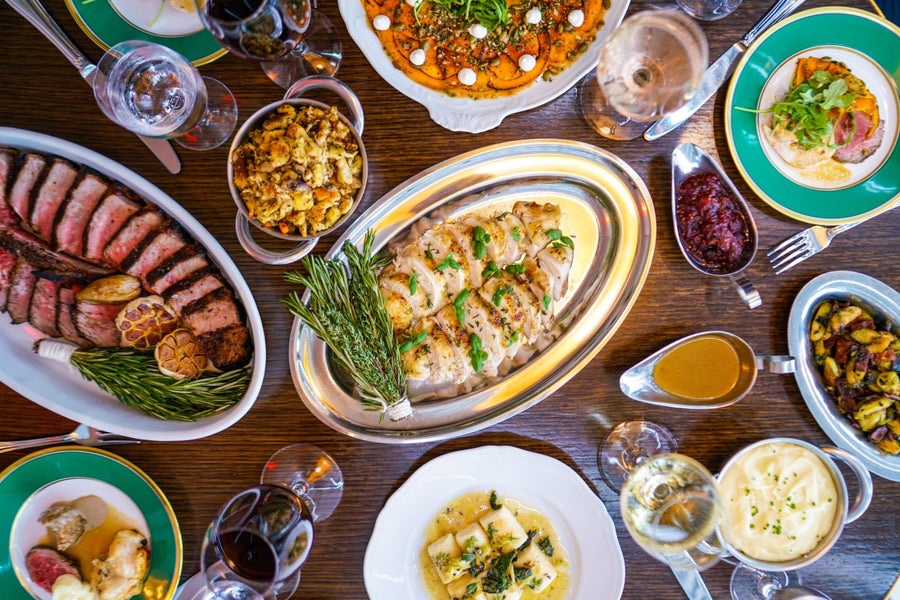 Contessa, located at the top of the Newbury hotel, offers sweeping views of Boston as well as a four-course Italian feast for Thanksgiving. Among the selections will be the signature meatballs Aldo with whole grain mustard sauce; squash carpaccio; ricotta gnudi with black truffles; roasted turkey with all the accoutrements; and for dessert, pumpkin ice cream and "crema de Boston," a take on Boston cream pie. The family-style menu is $195 per person and ticketed via Resy. Views are included. Reservations are available between noon and 8 p.m.
Not looking for the typical trappings of a Thanksgiving meal? Head to Gordon Ramsay Burger, the British celeb chef's latest Boston opening, for the likes of a Hell's Kitchen Burger, Hellfire Chicken Salad, and more fiery fare. The Boston bar is open from 11 a.m. until 8 p.m. on Thanksgiving.
Celebrate Thanksgiving in the former great hall of the Federal Reserve Bank of Boston. Grana, the restaurant at the five-star Langham Hotel in Boston's Financial District, has high ceilings and ornate moldings fit for its past life — and a memorable holiday meal for you and yours. Chef Stephen Bukoff is planning a family-style feast complete with a choice of festive fall soup or salad, roasted turkey, and all of the fixings. The experience ends with a chic dessert buffet featuring pies, cheesecake, cookies, and more. Thanksgiving at Grana is $145 per person and $65 for children ages 5 to 12 years. Reserve a seating time of 11:30 a.m., 2:30 p.m., or 4:30 p.m.
Choose your own adventure at Grill 23 & Bar, where chef Ryan Marcoux will be offering an a la carte menu between 11 a.m. and 8 p.m. Along with the chef's take on turkey dinner with all the sides, options include a shellfish sampler, a wedge salad, maple-glazed salmon, prime meatloaf, and plenty of steak offerings including 2 ounces of A5 Japanese wagyu. Reservations are available.
At Harvest in Harvard Square, chef Nick Deutmeyer is serving up a three-course menu on Thanksgiving Day from 10:30 a.m. to 8 p.m. The prix-fixe is $90 per person with an optional wine pairing available for $40. Reservations are available.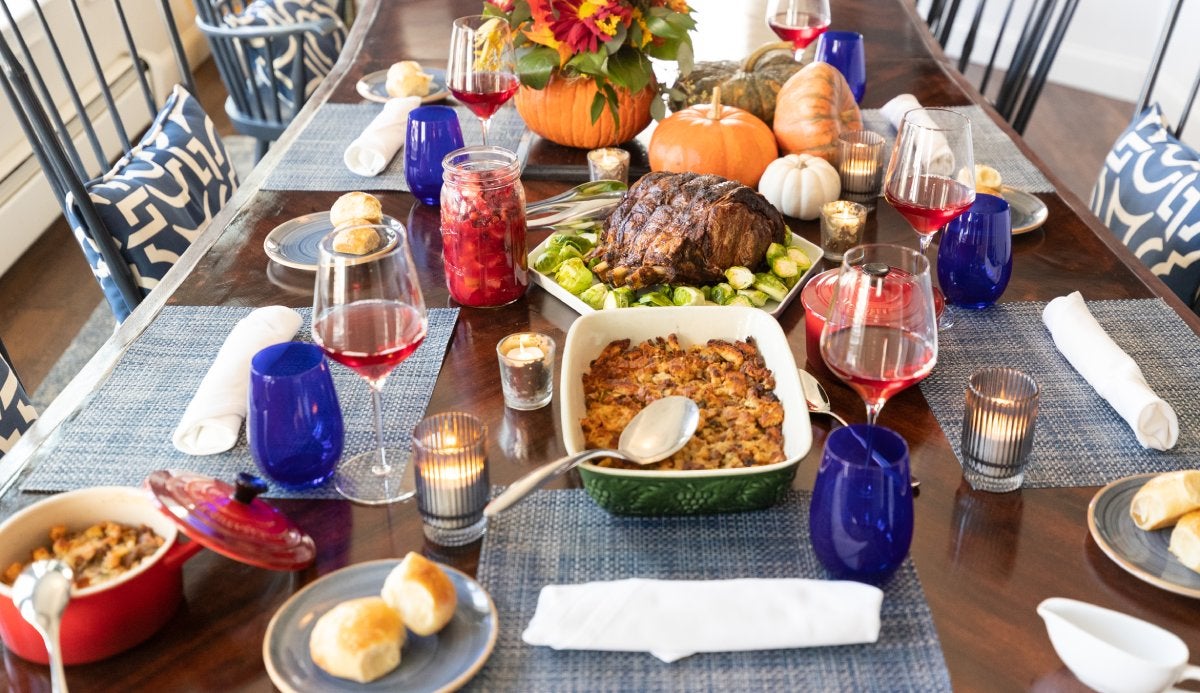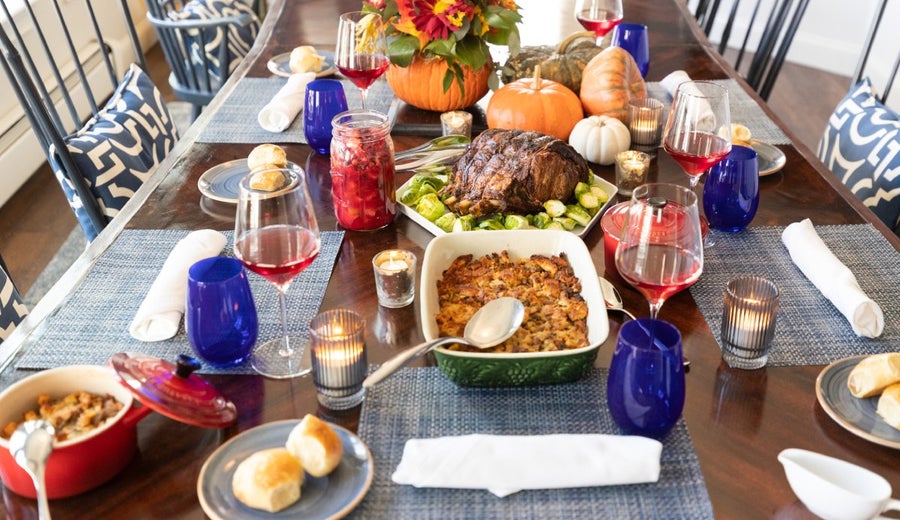 Head to the historic and especially beautiful-in-autumn town of Lexington to celebrate Thanksgiving. Town Meeting Bistro, the restaurant at the Forbes four-star Inn at Hastings Park, is hosting a big buffet all afternoon long. The spread ($125 per person, $60 for children 4 to 12) includes kale salad with roasted apple, pomegranate and fennel; fried Brussels sprouts with cider vinaigrette; bourbon-glazed arctic char with sesame sweet potatoes; Yankee pot roast; stuffed delicata squash with wild rice and mushrooms; roasted turkey; and more. Reservations are available from noon until 6 p.m.
Both locations of Joe's complement their all-day menus with festive specials this Thanksgiving. Joe's on Newbury is open 'til 11 p.m. with menu additions like autumn corn chowder with bacon and chive; roasted turkey with traditional stuffing and sides; grilled ribeye; pumpkin cheesecake with spiced crème; and post-feast nightcaps. The Boston Harbor-side Joe's Waterfront offers unparalleled views along with specials including prime rib roast with red bliss potatoes; pan-seared halibut with fingerling potatoes; and more. It's open until 8 p.m.
Back Bay neighborhood restaurant Lucie Drink + Dine, located at the Colonnade Hotel, is there for you this Thanksgiving with breakfast, lunch, and dinner specials by chef Nick Calias, culinary director of the Colonnade. Turkey is there in the form of roast breast and turkey leg roulade, served with roasted butternut squash, wild mushroom brioche stuffing, haricot verts, Yukon whipped potatoes, cranberry chutney, and natural gravy ($35). There are also steak frites, pizzas, macaroni alla vodka, and more. Dinner reservations are available from noon until 7:30 p.m. Additionally, Lucie will be open for breakfast from 7 to 10:30 a.m.
All locations of Mooo…. will be open on Thanksgiving. The steakhouse menu is on offer, as well as Thanksgiving specials like roasted butternut squash bisque and a turkey dinner plate. Mooo….Beacon Hill greets the day at 7 a.m. with breakfast then serves dinner from 11 a.m. until 5:30 p.m. Reservations are available. The newest Mooo…. in the Seaport is open on Thanksgiving from 2 until 5:30 p.m., and reservations are available. In Burlington, Mooo…. is open (and offers reservations) between noon and 5:30 p.m.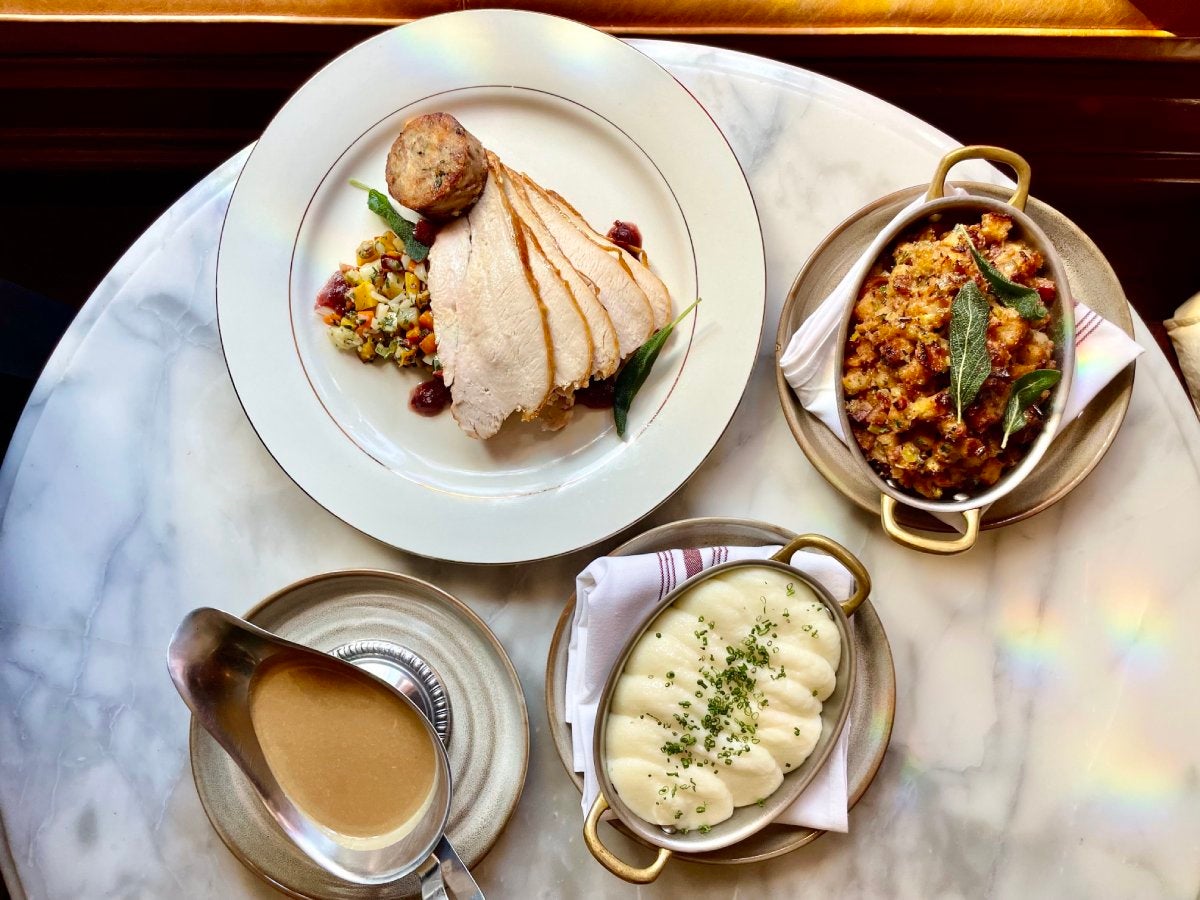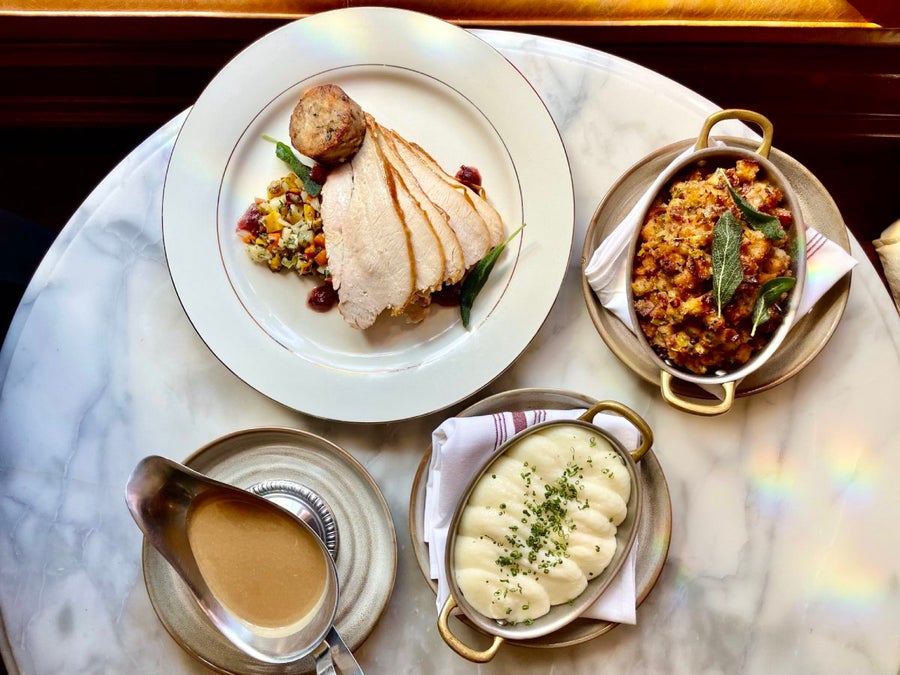 As is tradition, the Fairmont Copley Plaza restaurant is open at all hours on Thanksgiving Day. Beginning with breakfast at 7 a.m. and ending with last call at midnight, OAK Long Bar + Kitchen is serving its regular menus along with a la carte specials. Festive flavors this year include hearth-roasted Brussels sprouts with Downeast Cider glaze, smoked almonds and house-made bacon; honey-glazed turkey with artisan sides; and pecan pie with nutmeg cream. New this year: Snag a seat at the 83-foot bar to try the bar-only special of turkey French dip on ciabatta. Table reservations are highly recommended and bar stools are first-come, first-served.
If making Thanksgiving dinner yourself sounds like an episode of "Kitchen Nightmares," best to leave it to the pros. "Hell's Kitchen" star Gordon Ramsay's classy Boston establishment — which leans more on the Michelin-starred British celebrity chef's bonafides than his silver screen antics — is open from 11 a.m. until 8 p.m. on Thanksgiving with a traditional prix-fixe. The menu is $70 (or $110 with wine pairings) and features mushroom soup or harvest salad; a roasted turkey plate with potato purée, haricot verts with bacon vinaigrette, chicken sage dressing, cranberry jam, and turkey gravy; and pumpkin butterscotch budino. The regular a la carte menu is also available.
Feeling lucky this Thanksgiving? Why not spend it at Encore Boston Harbor in Everett. The Forbes four-star award-winning Rare Steakhouse at the casino will be treating its guests to a Thanksgiving meal from 4 until 9 p.m., including turkey roulade with black truffles, Brussels sprouts, herbed stuffing, and house gravy. Rare's regular a la carte menu is also available, and so are reservations.
Keep it classic this year at the Revere Hotel, where the restaurant Rebel's Guild is celebrating Thanksgiving with a traditional three courses available from noon until 8 p.m. The $59 menu includes herb-roasted turkey with stuffing, potatoes, and all the trimmings; plus a choice of seasonal bisque or salad and slice of pie for dessert. Reservations are available.
Scampo, chef Lydia Shire's restaurant at The Liberty Hotel, is offering a traditional Thanksgiving feast in four courses for $125 per person alongside a la carte options. Festive selections include the likes of roast heritage turkey with muscat gravy; celery heart, sausage, and golden raisin stuffing; deluxe mashed potatoes; shelled lobster; and Dutch apple pie. Reservations are available from noon until 7 p.m.
This new Italian restaurant in Woburn is celebrating its first Thanksgiving by offering dine-in service from 11:30 a.m. until 9 p.m. Alongside Sogno's regular menu, executive chef Jason Maynard and team are preparing options such as slow-roasted turkey; porchetta with olive oil-mashed potatoes, sausage and apple stuffing, roasted autumn vegetables, pork gravy and cranberry agro dolce; duck confit with pumpkin gnocchi and cherries; and pumpkin cake with cream cheese mousse. Reservations are available.
Head to Newbury Street on Thanksgiving Day to dine in at Sonsie. The longstanding favorite is serving up a three-course menu for $65 per person from noon until 8 p.m. With multiple choices available for each course, you'll be treated to the likes of Maplebrook Farms burrata with crispy prosciutto, apple cider-brined turkey, lamb shoulder, heirloom cauliflower steak, warm pumpkin pie, bread pudding, and more. Reservations are available.
Take the holiday to new heights with a Thanksgiving outing to the top floor of the Prudential Center. Tickets (starting at $30) are required to visit View Boston, which offers panoramic views of the city. While you're up there, dine at The Beacon Bistro or sip cocktails and watch the sunset at Stratus Bar. Both venues are open on Thanksgiving.
Bar 10, located inside the Westin Copley Place, is open on Thanksgiving with a three-course menu priced at $78. Expect a seasonal selection of roasted pumpkin soup or marinated beet salad; a main choice of roasted organic turkey, beef short ribs, or spicy tofu stir fry plus family-style sides; and desserts like bread pudding, lemon meringue cheesecake, and honeycrisp apple tart. Reservations are available.
Thanksgiving Takeout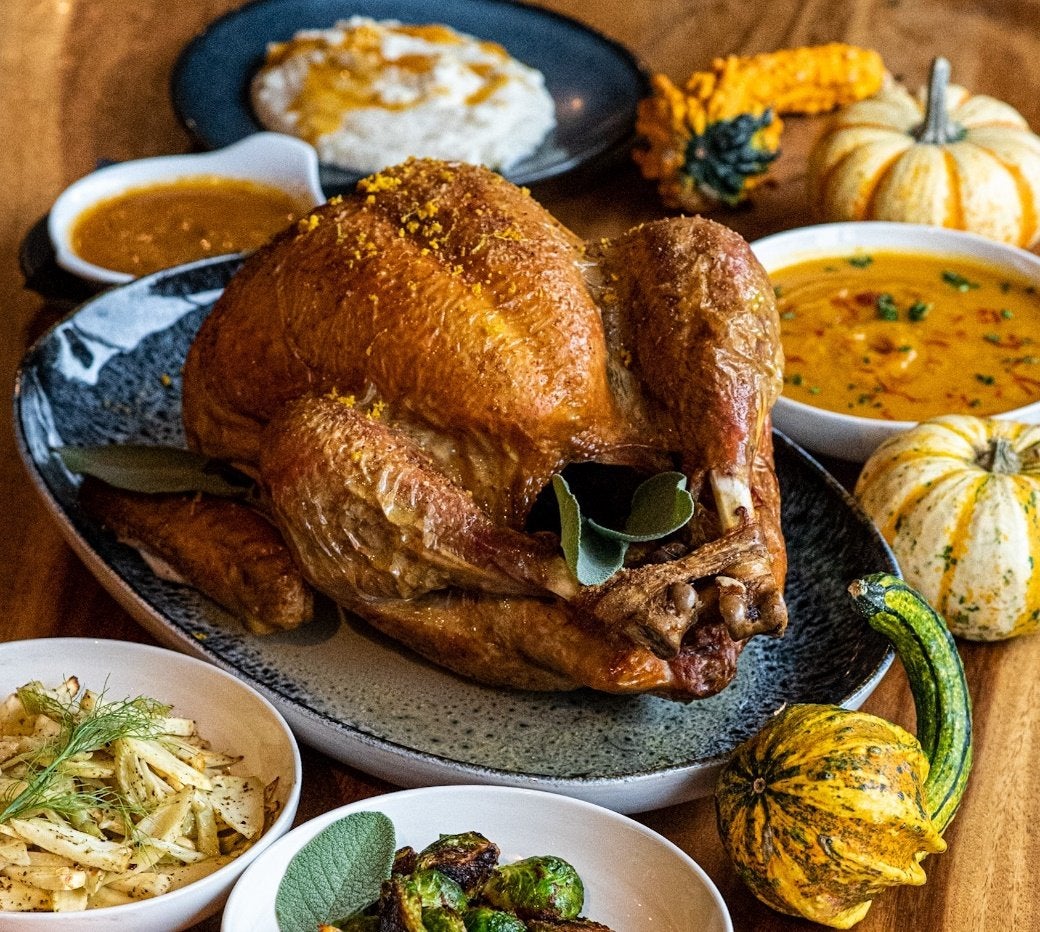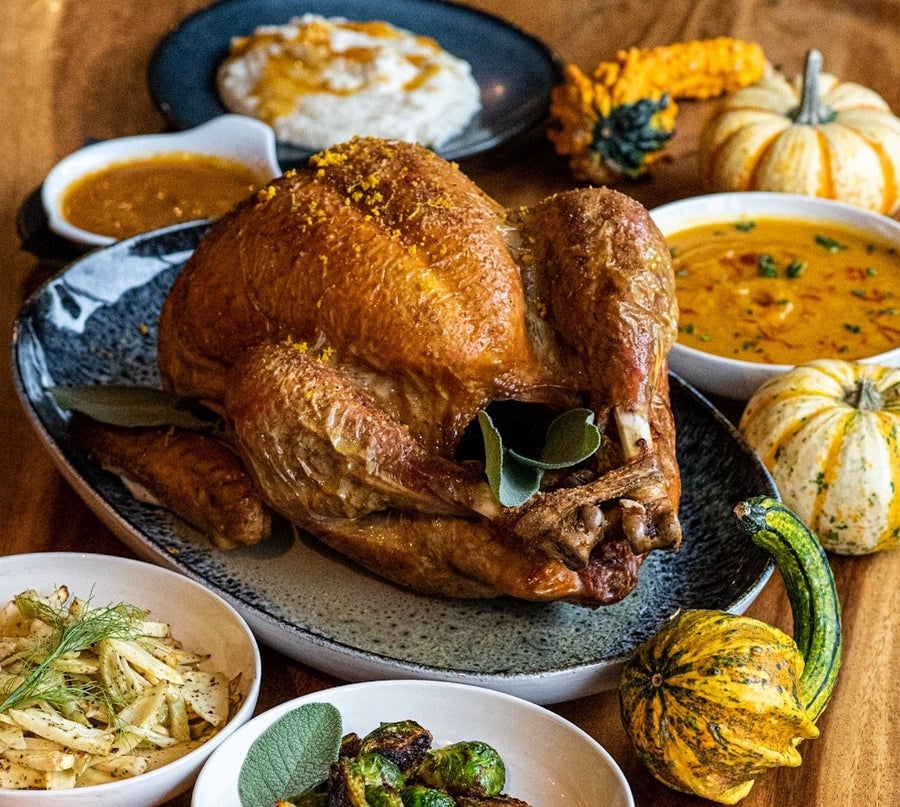 Spend time on Thanksgiving strolling the Harborwalk, then take away a meal from Alcove. In addition to being open for serving on the holiday, the West End restaurant is offering all the fixings to-go. Chef Mark Cina is preparing whole-roasted turkey with all the trimmings, plus raw bar offerings, starters such as butternut squash and apple soup or crab cakes, sides like jalapeño macaroni and cheese and potato and leek gratin, whole pies, and more. Festive beverages sized for four, such as Holiday Punch with rum, spiked Egg Nog, and mulled-cider Wassail are also available. Pre-orders are required by calling the restaurant by Nov. 19 for pickup between 10 a.m. and 1 p.m. on Thanksgiving Day.
Holiday meals for two, four, and six people are available from chef Colin Lynch and his team at Bar Mezzana. For $70 per person, each order includes roasted turkey breast and confit turkey leg, gravy, cranberry sauce, and a choice of sides — plus bread and mayo to make turkey sandwiches the next day! Choose from sides such as glazed yams, sage and plum stuffing, mashed potatoes, and more. Packages for two people come with three sides, and larger orders include more options, and there are breads and pies available a la carte as well. Place orders by Nov. 19 for scheduled pickup on Nov. 22.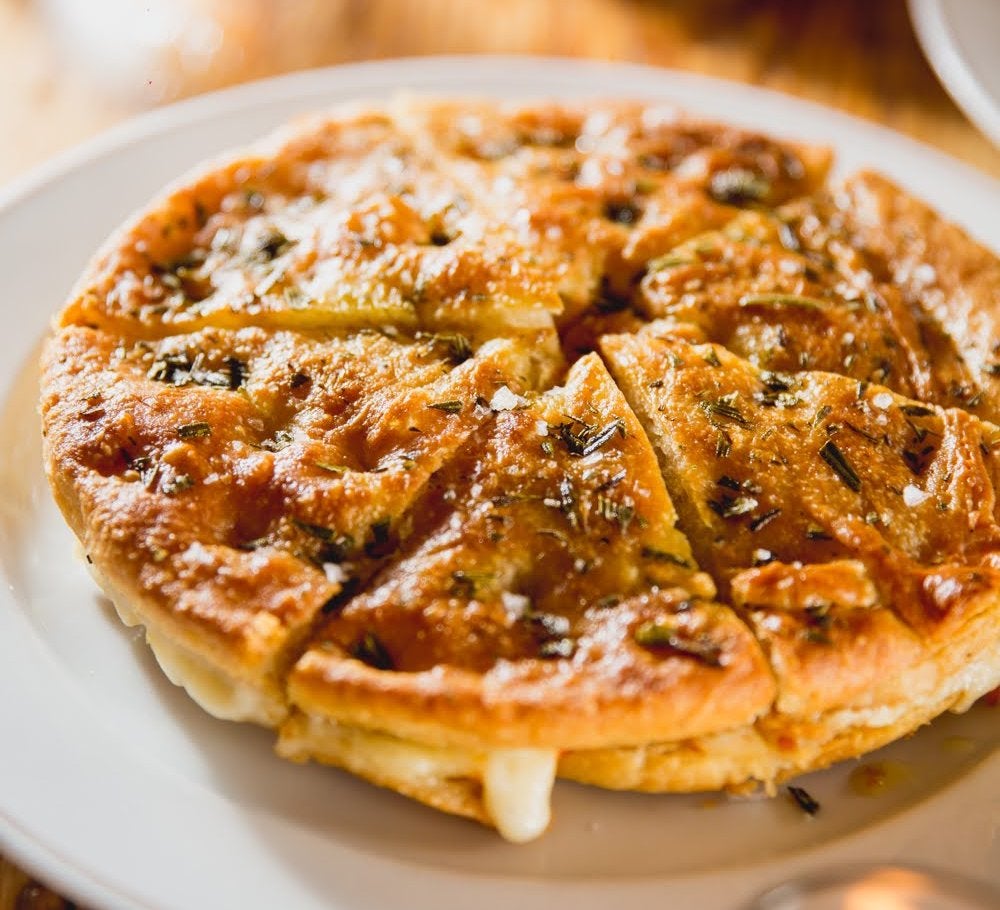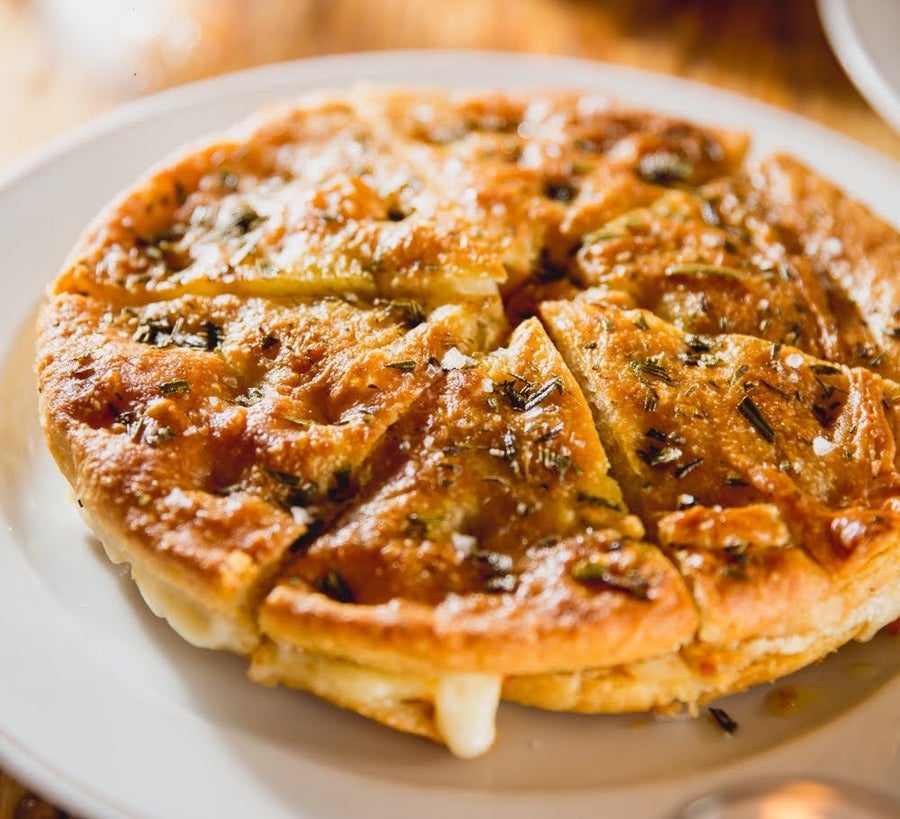 Tell your guests a star from Bravo's "Top Chef" prepared your holiday feast if you preorder from Bar Volpe (available beginning Nov. 1). The South Boston restaurant helmed by chef Karen Akunowicz — a fan favorite from the latest "Top Chef All-Stars"— has a few Thanksgiving takeout options. Each dish has Italian flair; think: truffled rotisserie chicken, mascarpone mashed potatoes, Sicilian-inspired Ferla stuffing, and the chef's signature Taleggio-stuffed focaccia. It all comes with instructions for reheating. The top chef can also take care of wine and dessert, with add-ons like bottles and pies. Items are priced a la carte and sized to feed four to six people. Order by Nov. 19 for pickup on Wednesday, Nov. 22.
To accompany your own roast bird or whatever's on your table this year — or to give yourself an easy option for a meal the day before — check out the Thanksgiving specials from local empanada outfit, Buenas. The Latin food brand, which has locations at Somerville's Bow Market and Brighton's Charles River Speedway, is preparing two vegetarian-friendly, savory styles of emps to heat up at home this holiday season: Stuffing-filled and green bean casserole. There is also a brand-new apple + dulce de leche empanada on the menu. Buenas is collecting pre-orders through Nov. 15 for various pickup times between Nov. 19 and 22 from Bow Market or Super Bien.
Watertown hotspot Branch Line has a full menu of Thanksgiving favorites ready to make the party at your house. The full package is $295 and feeds four to six people with roast turkey breast roulade and confit thighs, mashed potatoes, francese stuffing, thumbelina carrots, giblet gravy, and cranberry sauce. Or, you can mix and match to complete your meal. Order by Nov. 19 for pickup on the morning of Thanksgiving.
Bring a Thanksgiving feast home with help from the folks at Clink at the Liberty Hotel. The Boston restaurant is preparing take-and-bake packages to feed six to 10 people — and/or proactively create leftover turkey sandwiches for your immediate family. Each meal comes with a 10- to 12-pound, stuffed whole turkey, marinated and in an oven-ready roasting pan, complete with the chef's cooking directions. It also includes quarts of gravy, whipped potatoes, cranberry sauce, green beans, stuffing, rolls, and more. There are also prime rib and bone-in Virginia ham options. Packages start at $525. The cutoff to order is 1 p.m. on Monday, Nov. 20, and meals must be picked up between 11 a.m. and 1 p.m. on Wednesday, Nov. 22.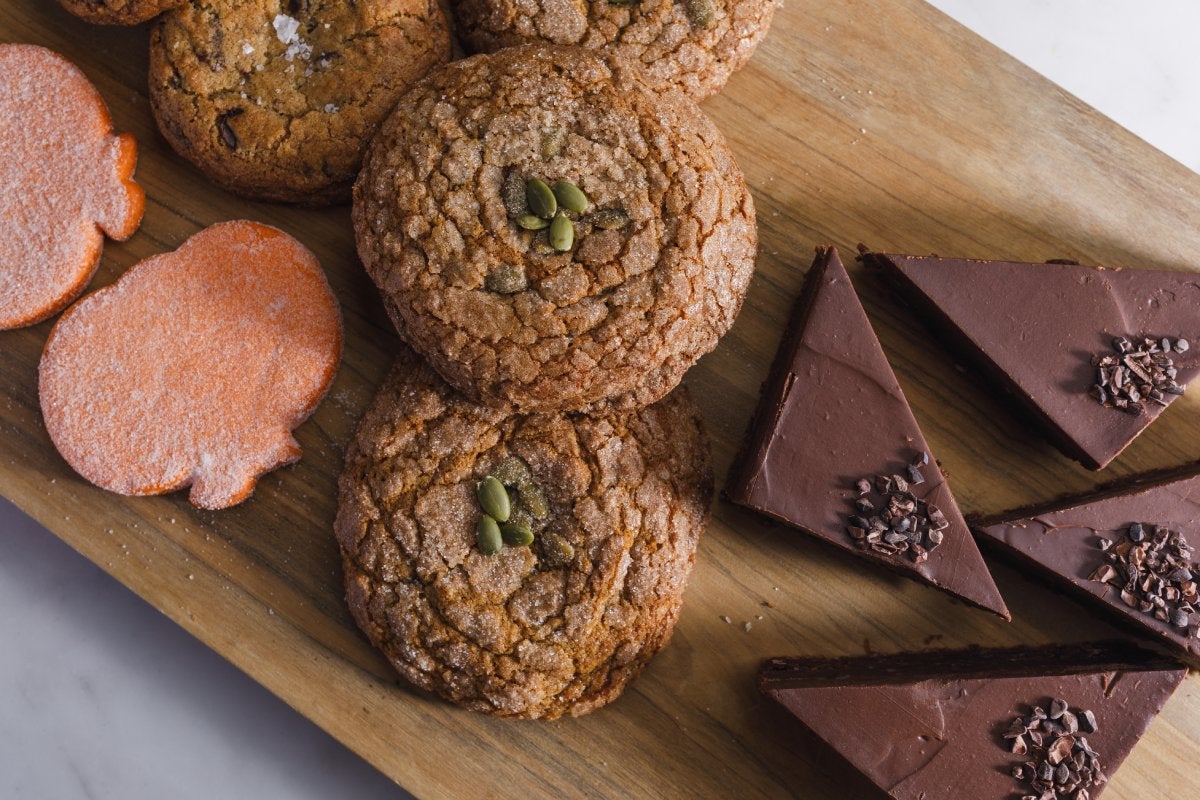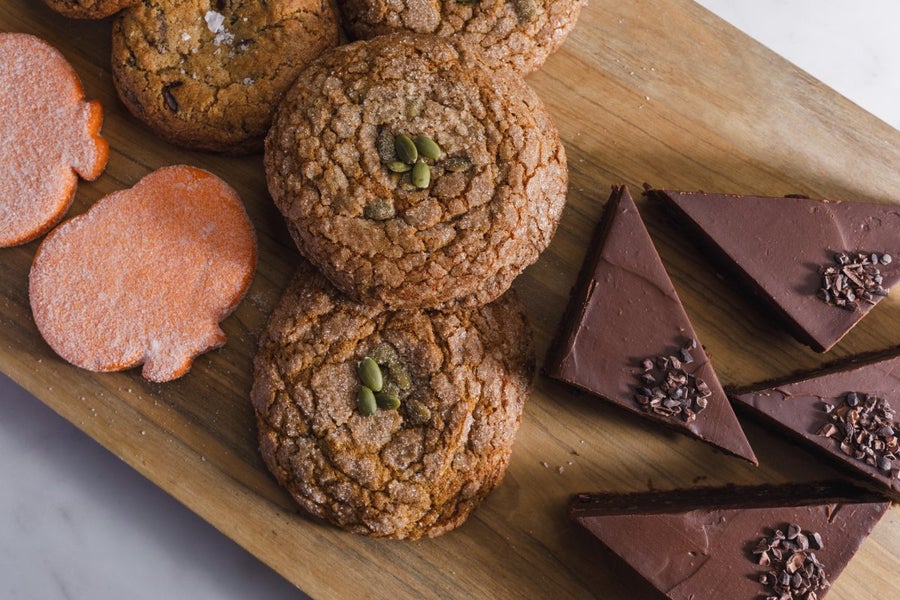 French-inspired boulangerie Cocorico is preparing holiday treats for takeaway. Head pastry chef Mai Nguyen and her team are crafting classic holiday pies ($36-$38) ready Nov. 17-23. They are also making holiday cookie platters including shortbread, pumpkin spice snickerdoodle, chocolate chip, and fudge brownie available throughout Nov. until Dec. 23. Small platters serve 10-12 for $60 and larger platters serve 20-24 for $120. All the specialties are available for delivery or pick-up via EZCater with 48 hours' notice.
Let the Dial take care of everything this Thanksgiving. The Cambridge restaurant is making dinners for four complete with a salad and cider vinaigrette, dinner rolls with honey butter, Green Circle turkey breast and confit dark meat, and sides of garlicky green beans, sage stuffing, mashed potatoes, herbed gravy, house-made cranberry sauce, cider-bourbon-glazed sweet potatoes, and pumpkin pie with whipped cream. The package is $250, and you can add on a bottle of Jean-François Mérieau Gamay for $50. Ordering closes Sunday, Nov. 19 for pickup at your preferred time on Wednesday, Nov. 22.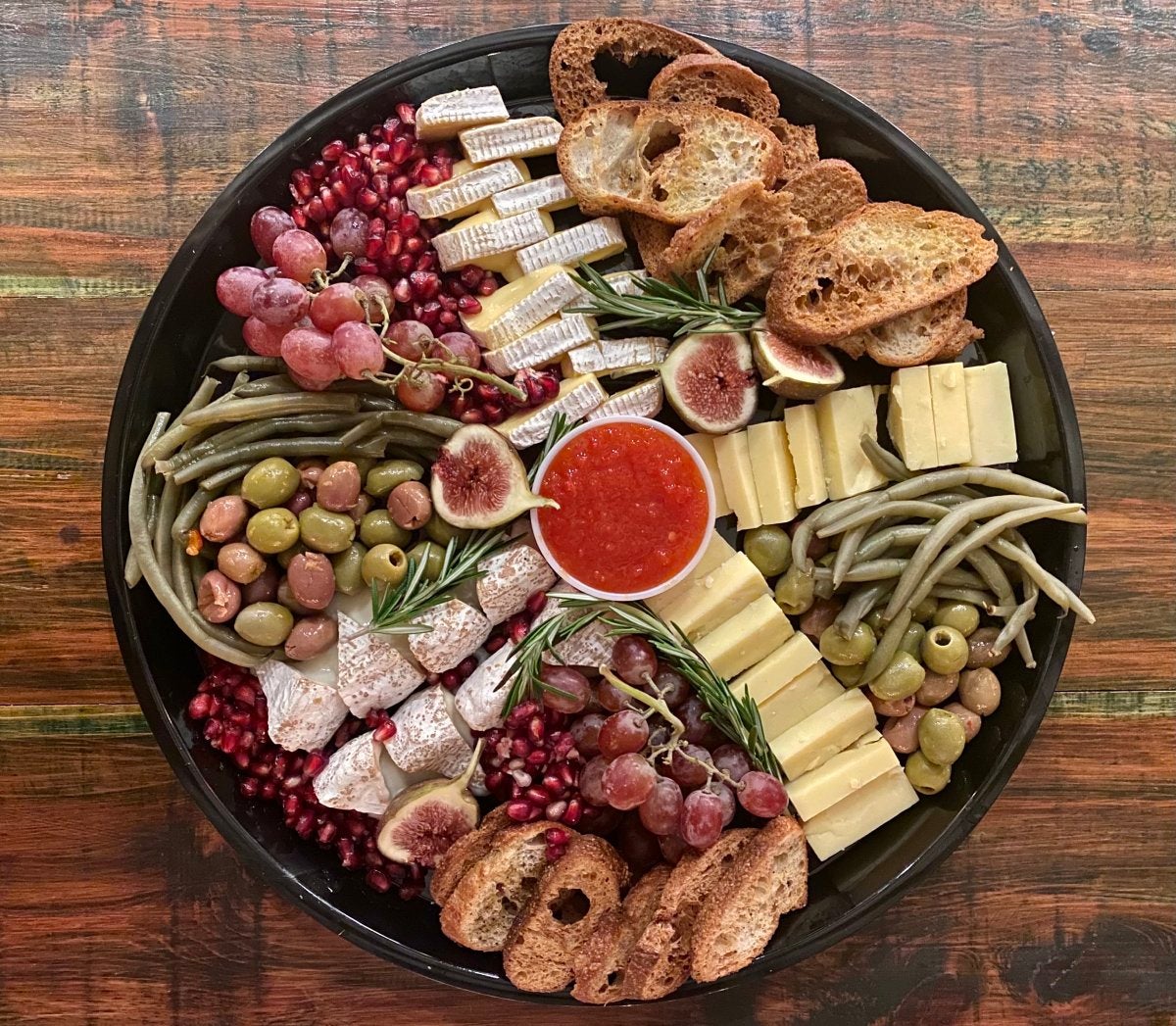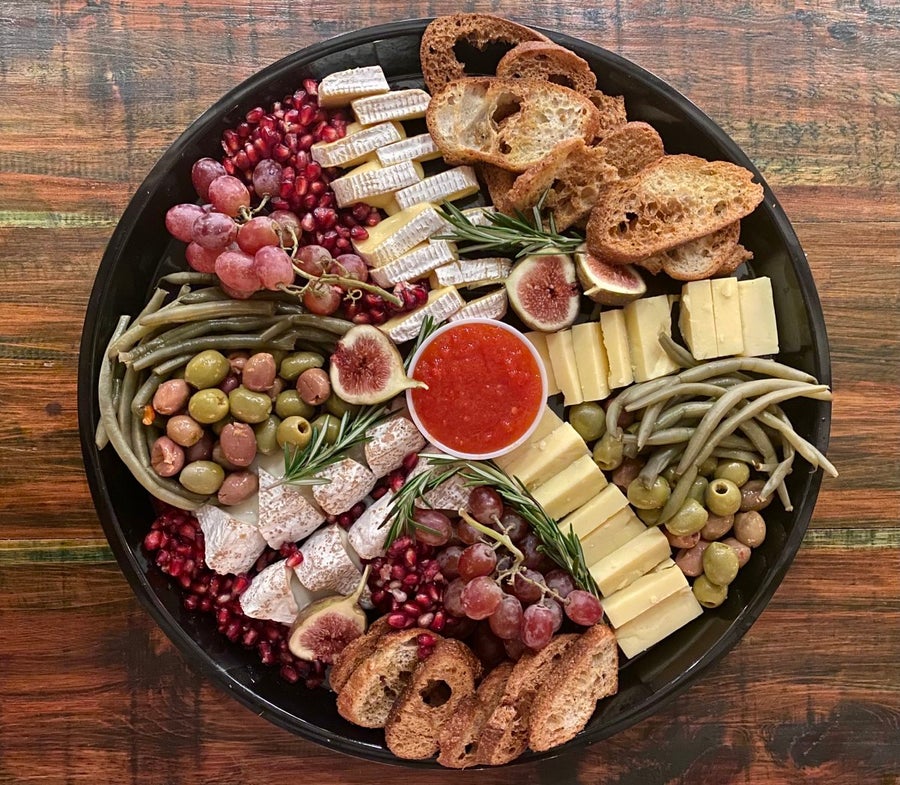 This Charlestown shop has three artfully arranged options to add to your Thanksgiving festivities. A Charcuterie Platter ($85) comes with assorted cured meats, house-made pickles and jams, crostini and crackers. A Cheese Platter is $65 and filled with local cheese selections, house-made pickles and jams, crostini and crackers. For $50, you can start with a Chip & Dip Platter featuring house-made hummus, onion dip, pimento cheese and muhammara, along with sea salt chips, dorados, bagel chips, crostini and crudite. Order by Monday, Nov. 20.
Flour Bakery may come to mind for mile-high pies and buttery pull-apart rolls, but in reality the local chain can help you with basically everything but the turkey this Thanksgiving. The menu of a la carte options to take home includes all manner of baked goods, both sweet and savory; as well as creamed spinach and kale gratin, roasted mushroom and multigrain stuffing, Yukon gold mashed potatoes, shrimp cocktail with remoulade, and more. Pre-orders must be received by 4 p.m. on Sunday, Nov. 19, for pick-up from your choice of Flour location on Tuesday or Wednesday before Thanksgiving.
Bring some fresh seafood home for Thanksgiving from the Seaport's brand-new H + L Market, the latest from the Alcove team and chef Mark Cina. The special Thanksgiving takeout menu features everything from caviar and oysters to stuffies and bluefish pâté — and even fresh turkeys to roast at home, along with Cina's recipe and cooking instructions. There are also house-made sides, salads, beverages, and more. Order in person at 10 Fan Pier Blvd.
If wild mushroom-brioche stuffing and butternut squash bisque sound like delicious additions to your Thanksgiving table, order a la carte options from the Colonnade Hotel restaurant. Lucie Drink + Dine has a takeout menu of roast turkey, sides, and whole pies fit to feed a group. All orders must be placed by Thursday, Nov. 16, and picked up cold on Wednesday, Nov. 22 or hot on Nov. 23.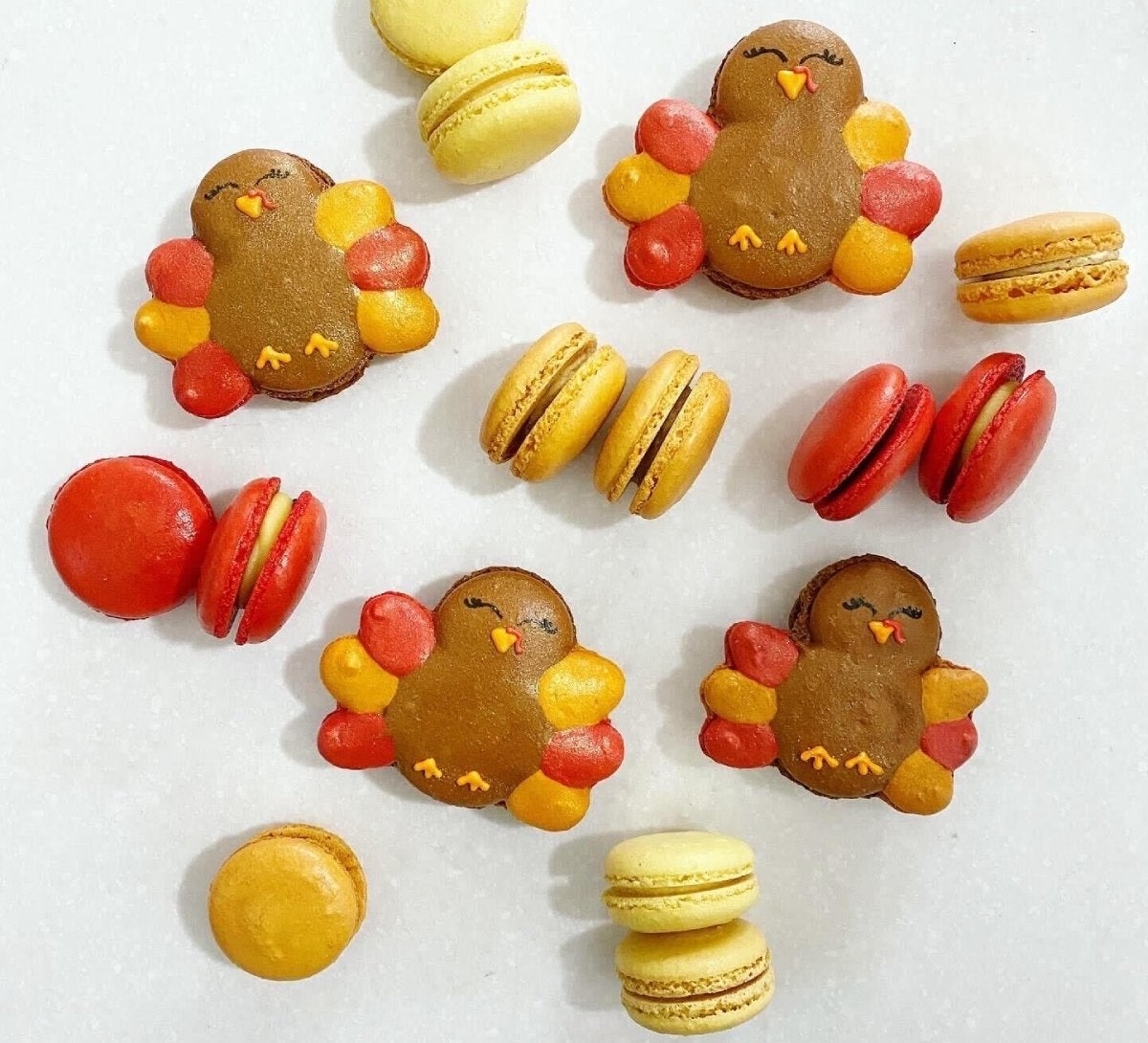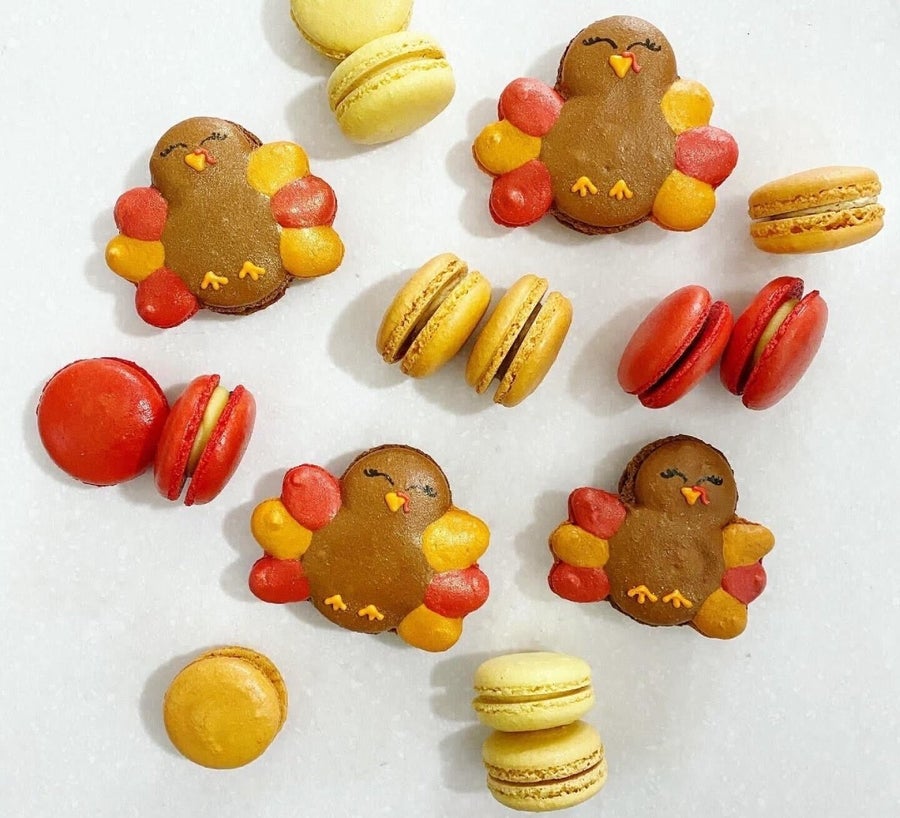 Somerville macaronerie Maca is bringing back the most adorable desserts for your holiday table. Tiny turkey, apple, and pumpkin character macarons, along with other seasonal flavors, are available for Thanksgiving. Order by Nov. 11 for a designated pickup time at the Bow Market shop on Tuesday or Wednesday before Thanksgiving. Some extra characters may be available for walk-ins the week of the holiday, as well.
Back Bay beacon Mistral is offering Thanksgiving at Home. The menu for two is $195 for two and includes a choice of Maine lobster or kuri squash bisque, roasted all-natural turkey herb stuffing, Vermont butter whipped potatoes, roasted autumn hash, gravy and cranberry-orange chutney; and a choice of pecan pie or Fuji apple crostata for dessert. Preorder by calling the restaurant for pickup on Thanksgiving Day between 11 a.m. and 3 p.m.
Chef Tracy Chang's signature specialty Sticky Rice Duck is on offer again this Thanksgiving, as well as koji prime rib. Both meal options are priced at $239 to feed four to six people. They come with the main event as well as a quart of sticky rice with Taiwanese sausage, a loaf of house-made pan de cristal, olive oil mashed potatoes, koji-roasted corn with feta, four slices of Basque cheesecake, and more. The Pagu Market also offers "day-after duck ramen" kits for your leftovers plus cheese, jamon iberico, wine, cocktails and mocktails by the liter, and more to make this Thanksgiving one to remember. Order by Nov. 18 for pickup in Cambridge on Nov. 22 between 1-10 p.m.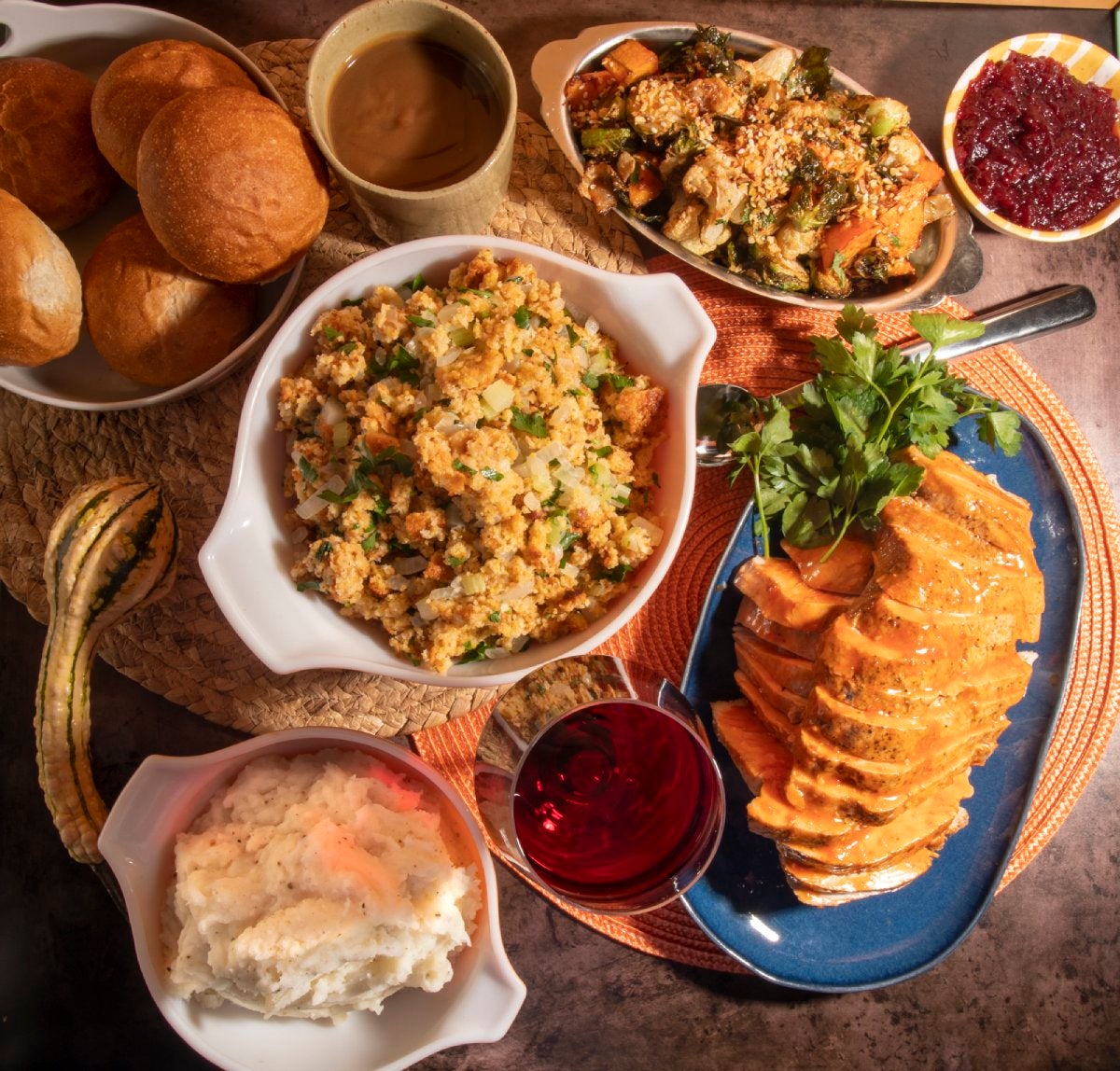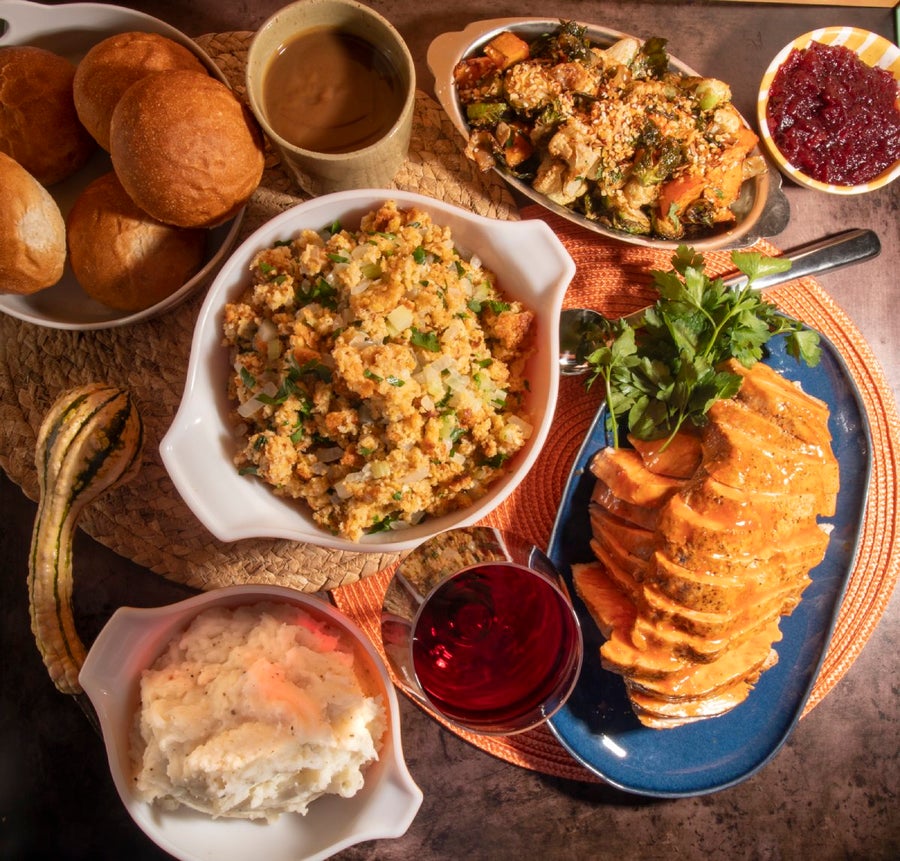 Sweet potato bread stuffing, roasted Verrill Farm veggies, and ancho-brined turkey breast are just some of the specialties coming out of Revival Cafe + Kitchen for Thanksgiving. Order the whole spread for four to six people for $235, or pick and choose what you need to complete your holiday table. Pumpkin, chocolate cream, and pecan pies as well as apple crostata are also available for $29 each. Pick up Tuesday afternoon or Wednesday evening from the Alewife location.
Inside Winter Hill Brewing Company, Scott Brothers Kitchen is preparing for Thanksgiving. The smoked meat specialists are smoking turkeys that you can order whole or sliced by the pound. There is also a sliced salt-and-pepper brisket option. Sides such as biscuit dressing, mac and cheese, sweet potato mash, and more are all fully cooked and packaged with reheating with instructions. Go for the full meal to feed four to six people ($185) or choose items a la carte. A portion of all turkey dinner sales support the Elizabeth Peabody House to help feed families in need. Order by Nov. 17 for pickup between 10 a.m. and 7 p.m. on Wednesday, Nov. 22.
A unique bakeshop in Davis Square is offering Thanksgiving takeout items made with local flour and natural leavener. Add Shirley's herby mushroom stuffing, tear-and-share brioche buns with honey butter, cornbread loaves with cranberry butter, and/or six-inch focaccia rounds with honey butter to your holiday table. There are also personal-sized Swedish apple pies with sugar-cookie crust. Order by Nov. 17 for pickup on Wednesday, Nov. 22, or the morning of Thanksgiving.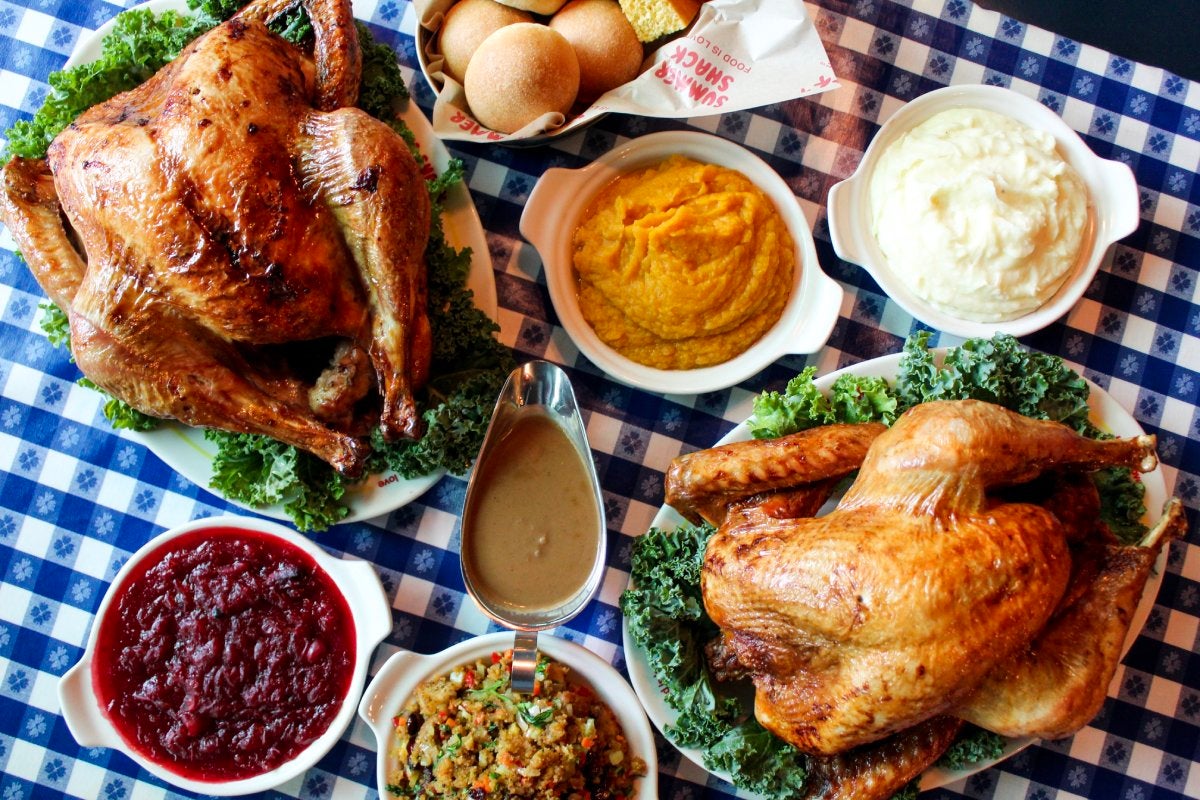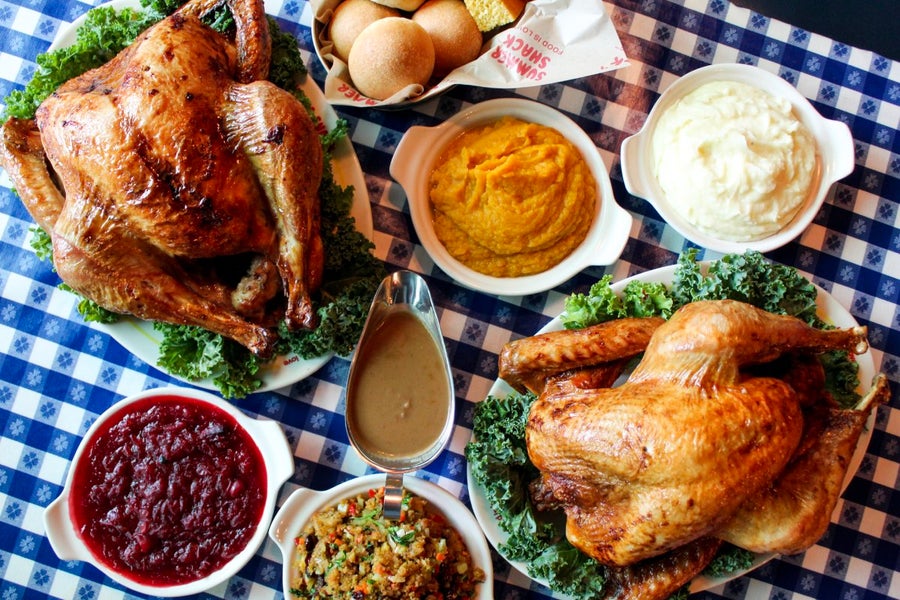 From a full turkey dinner to lobster pot pie, Summer Shack has a slew of holiday specials available for takeout. Jasper White's restaurants in Cambridge and Back Bay have a variety of Thanksgiving to-go offerings, including 16-pound turkeys, cornbread stuffing, butternut squash, apple pies, and more. Items are individually priced and available for pickup from either location on Wednesday, Nov. 22, between noon and 6 p.m.
Outfit your whole holiday table with specialties from Sweets Cheeks Q. Celeb chef Tiffani Faison's Fenway smokehouse is offering not only brined and smoked bird, but also Thanksgiving brisket, whole-smoked pork shoulder, and more meaty mains. Specialty "scoops" by the pan include collard greens with smoked pork and cider vinegar; Cita's broccoli cheese casserole, baked mac and cheese with garlicky Ritz Cracker crumb topping; buttermilk biscuits and honey butter; and more. Holiday pies are also available. Everything is prepared ahead of time and will be picked up cold on Wednesday, Nov. 22. Order by 3 p.m. on Wednesday, Nov. 15.
Next door to sister spot Sweet Cheeks, Tenderoni's is celebrating Thanksgiving Italian-style with items like baked stuffed shells, meatballs alla Raia, roasted mushroom Marsala, eggplant parm, and more available for pickup. Everything is prepared ahead of time to-go cold on Wednesday, Nov. 22. Order by 3 p.m. on Wednesday, Nov. 15.
Order in from Thistle & Leek for creative, comforting Thanksgiving dishes prepared by chefs inspired by family recipes, travel, and the local bounty. Chefs Kate and Trevor Smith of the Newton Centre restaurant are making twice-baked potatoes with aged cheddar and scallions; red wine-sausage stuffing with rye bread; their signature clam dip; spiced orange cranberry sauce; and more. Among the a la carte options for Thanksgiving are Green Circle turkeys ready-to-cook at home ($150), pints of house-made ice cream and spiced apple sorbet, wines by the bottle and house-made Irish cream, and more. Order by Nov. 18 for pickup Nov. 22 or 23.
This farm-to-table spot near Davis Square has numerous seasonal dishes on offer. Chef Erin Miller is preparing ready-to-reheat meals with generous portions for two, four, or six people. The star is sage and cider-brined roasted turkey breast with confit leg and peppercorn giblet gravy, with sides such as fennel, apple, and challah bread stuffing; mulled wine cranberry preserves; colcannon made with mashed potatoes, kale, leeks and thyme; roasted broccoli and wild mushrooms, roasted beets and radicchio; and Chef Erin's Famous Buttermilk Biscuits with maple butter. Batched cocktails, such as apple-bourbon punch; festive wines by the bottle; and classic pies round out the meal. Packages start at $190 with a la carte options as well. Order by 9 p.m. on Nov. 19 for pickup in Cambridge on Wednesday, Nov. 22, between noon and 4 p.m.
Need weekend plans?
The best events in the city, delivered to your inbox