Food
This event has passed. Check out other things to do instead.
Warm up to new experiences with communal Fireside Dinners at Hemlock Grill
The name-your-price wine pairing series is cozy and casual.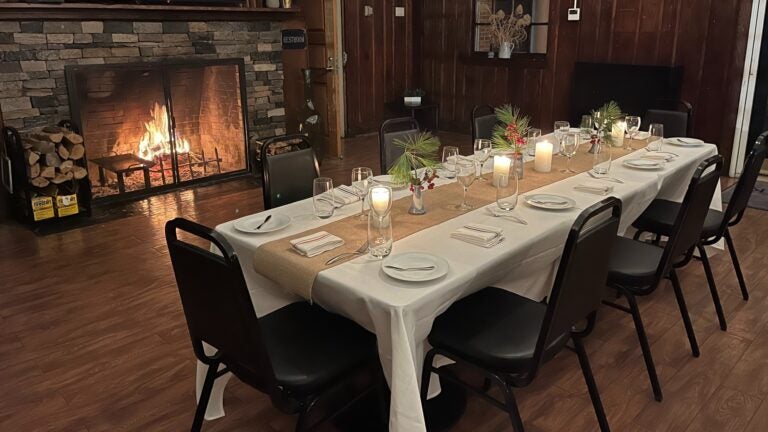 It's not often that city dwellers can warm up by a fireplace, but this cozy atmosphere is closer than you might think: Hemlock Grill, located at a public golf course in Chestnut Hill, boasts a wood-burning hearth in its dining room — and a menu by a renowned local chef. This winter, head to Hemlock Grill for the Fireside Dinner series for "a true dinner-party experience" alongside a glowing fire.
Chef Alex Saenz, of Taqueria el Barrio and Bisq Sandos at Time Out Market, is at the helm of Hemlock Grill, an open-to-the-public tavern at the Robert T. Lynch Municipal Golf Course in Brookline. For the Fireside Dinner series, the chef's team crafts a four-course menu with a pay-your-own-price tag.
Parties are seated together at eight-person tables and served shared dishes such as deep-sea shrimp called carabineros, cooked in embers and served with burnt meyer lemon sabayon; and pork Milanese atop pommes puree with a pickle-packed sauce charcutière. The menu changes regularly for the Fireside Dinners, says Hemlock Grill owner Chris Yorty: "The concept lends itself to so many styles of Alex's food."
At the conclusion of the meal, diners are asked on a scorecard to value the experience. During this time the staff joins the party, sometimes passing around a digestif or an extra tray of cookies.
The $25 ticket covers wine pairings. Servers will open and describe the bottles and replace them as needed, but guests pour for themselves. "It really serves to break the ice early [between] everyone at the table," Yorty says.
The cozy fireplace doesn't hurt, either. "I can't express how warm the room feels at the conclusion of the meal," Yorty says. "People that arrived as strangers are exchanging contact info with promises of getting together again."
The Fireside Dinner series is in the works for two weekends per month into the spring. For now, January 13, 14, 27, and 28 are on the books. Follow on social media for future event announcements.
Need weekend plans?
The best events in the city, delivered to your inbox