Movies
This event has passed. Check out other things to do instead.
Check out 'Thor' times four in Dedham
Showcase Cinema de Lux Legacy Place marks the arrival of "Thor: Love and Thunder" with a movie marathon July 7.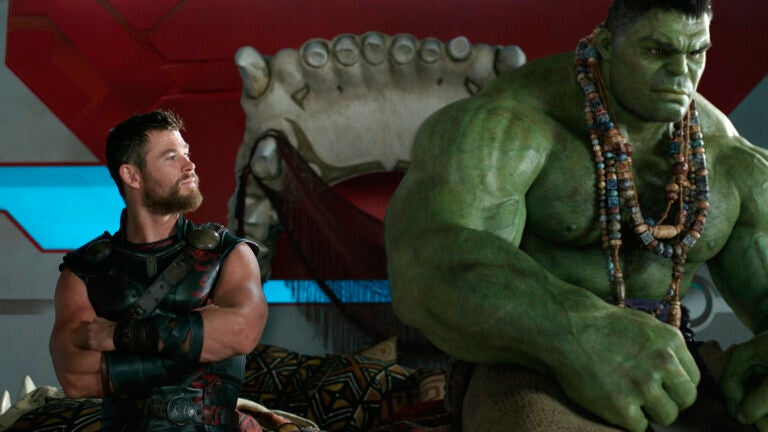 You'd be forgiven if you'd written off Chris Hemsworth's Thor as a major box office draw after 2013's "Thor: The Dark World," the generally underwhelming second solo film featuring Marvel's favorite chiseled Asgardian. But that was before director Taika Waititi got his hands on the franchise with 2017's "Thor: Rangnorok," and unlocked the true secret of the thunder god's power: He (and Hemsworth) are funny!
Basically a buddy comedy featuring Thor and the Hulk, that installment breathed new life into the character's cinematic fortunes, providing a template for his appearances in the next two blockbuster Avengers movies, and spurring a fourth solo outing (also directed by Waititi), "Thor: Love and Thunder," opening July 8.
But only mere mortals will be waiting until then to check out the new flick. True Thorians (Thorsters? Thor-heads?) are sure to flock to Showcase Cinema de Lux Legacy Place in Dedham on July 7, where the theater will roll out New England's only stop for "Marvel's G.O.A.T. Marathon: Greatest of All Thor." Starting at 8 a.m., you'll be able to take in all four Thor films in a row, including an early screening of "Love and Thunder," in Showcase's XPlus premium large format auditorium, plus take home a commemorative T-shirt and lanyard. (Mjölnir sold separately?)
In case you were wondering, the running times for those films are 114 minutes, 112 minutes, 130 minutes, and two hours even, for a grand total of about eight hours, give or take — barely a moment if you're a 1,500-year-old Asgardian, or if you're one of the brave souls who sat through Showcase's 22-movie Marvel marathon back in 2019. Besides, there will be brief breaks in between films to use the facilities and attempt to get the feeling back in your legs and buttocks.
As if that weren't enough, there will be discounted refreshments and activities such as the "hammer strength test." May you ever be worthy.
Need weekend plans?
The best events in the city, delivered to your inbox