Music
Enjoy Yo-Yo Ma, Star Wars, and more during BSO's 2023-24 season
The Boston Symphony Orchestra's 2023-24 season kicks off September 22 with a tribute to John Williams.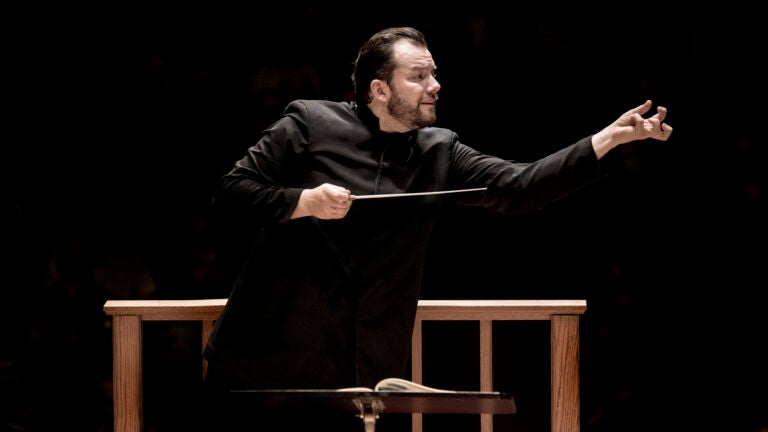 For its 2023-24 season, the Boston Symphony Orchestra (BSO) will be both celebrating the past and looking toward the future.
The upcoming season, which runs from October 5 through May 4 (plus some pre-season shows that begin September 22), will commemorate a pair of anniversaries involving legendary conductor Serge Koussevitzky: The 150th anniversary of his birth and the 100th anniversary of his appointment as BSO's music director, a position he revolutionized from 1924-1949.
It's a fitting year to be honoring Koussevitzky, given that a worldwide audience will likely learn more about the Russian-born conductor, composer, and double-bassist quite soon. Koussevitzky was a mentor to a young Leonard Bernstein in the 1940s, a relationship we will likely see play out in Bradley Cooper's upcoming Bernstein biopic "Maestro." Cooper and Co. filmed scenes at Tanglewood in May 2022, and the film is expected to be released on Netflix this fall.
Near the end of the 2023-24 season, the BSO will perform works either premiered or commissioned by Koussevitzky, including Scriabin's "Prometheus" (April 4-6), Messiaen's "Turangalîla‐symphonie" (April 11-14), and Prokofiev's Fourth Symphony (April 25–27), all led by BSO Music Director Andris Nelsons. The celebration of Koussevitzky will then continue in the 2024 Tanglewood summer season and the BSO's 2024-25 season.
The BSO will also feature four new works commissioned for its anniversary celebration dubbed "Koussevitzky 150 commissions." They include a piece by Cuban‐American composer Tania León (January 11–13, 26), Elena Langer's "The Dong with a Luminous Nose" (March 14–16), Roberto Sierra's Symphony No. 6 (March 28 – 30), and Sofia Gubaidulina's "Prologue for Orchestra" (April 25–27).
"As a figure of inspiration to me and so many musicians of our time, Koussevitzky is an enduring presence in the rich history that continues to inspire the BSO," Nelsons said in a press release. "As we look forward to celebrating him, we reflect on the BSO's ability to touch so many lives with the power of music. This is always our mission and hope as we create and immerse ourselves in every new season."
Amidst all of the Koussevitzky celebrations, the BSO will still have plenty of time for crowd-pleasing performances, including a visit from world-renowned cellist Yo-Yo Ma (Oct. 12-15), a tribute to composer John Williams (Sept. 22-23) conducted by Keith Lockhart, and a performance of the music from all nine main series Star Wars films by the Boston Pops Orchestra (Sept. 23-24).
Here are a few of the biggest highlights from the Boston Symphony Orchestra's 2023-24 season. To see the BSO's full lineup, visit BSO.org.
Sept. 22-23: Led by Keith Lockhart, the Boston Pops Orchestra pays tribute to John Williams with works from more than a dozen films including "Jaws," "Superman," and "Harry Potter and the Sorcerer's Stone." The show will also include film excerpts and exclusive interview footage featuring Williams discussing his work.
Sept. 23-24: Lockhart and the Boston Pops Orchestra will perform works from Episodes 1 through 9 of the Star Wars saga in order.
Oct. 12-15: Cellist Yo-Yo Ma performs Shostakovich's powerfully emotional cello concertos as part of the BSO's multi-season survey of written originally for Mstislav Rostropovich. These performances are part of the BSO's multi-season survey of the Russian composer's work. Under the direction of Nelsons, Ma will also perform. Haydn's Symphony No. 22 and Iman Habibi's "Zhiân," a BSO commission for summer 2023.
Oct. 19-21: English pianist Paul Lewis performs all five of Beethoven's piano concertos over the course of three concerts. These performances will be accompanied by Hannah Kendall's "The Spark Catchers," a poem inspired by imagery from Lemn Sissay's poem by the same name; and James Lee III's "Freedom's Genuine Dawn," a BSO commission that sets texts by the 19th-century African American orator and activist Frederick Douglass.
April 11-14: Andris Nelsons conducts French composer Olivier Messiaen's "Turangalîla-symphonie," a work originally commissioned by Koussevitzky and performed under Leonard Bernstein's direction in 1949.
May 2-4: To close the season, Nelsons conducts 19th century French composer Hector Berlioz's "Roméo et Juliette." Berlioz was deeply influenced by the Shakespeare's works, and it was actress Harriet Smithson's performances as Ophelia in "Hamlet" and Juliet in "Romeo and Juliet" that led to their marriage.
Need weekend plans?
The best events in the city, delivered to your inbox