Music
This event has passed. Check out other things to do instead.
Love rock 'n' roll with Joan Jett at the Chevalier Theatre
The rock icon comes to Medford April 8.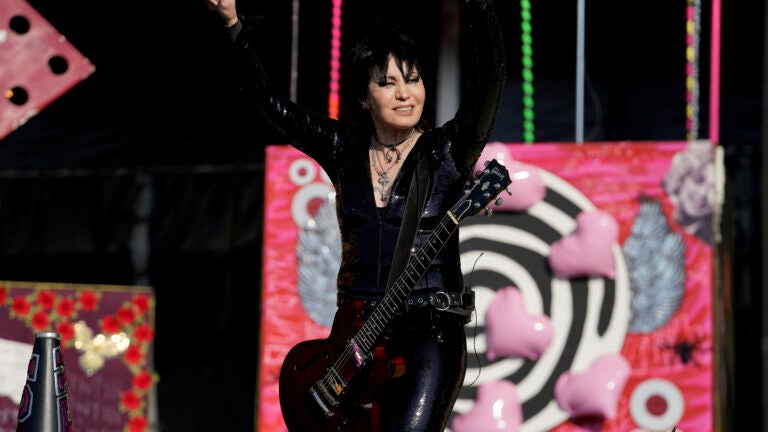 Little did Joan Jett, born Joan Marie Larkin, know that the die of a legend was cast when she joined The Runaways shortly before she turned 17 in 1975. The all-female punk quintet would tour the world with some of the most popular American groups of the era and release four studio albums between June 1976 and November 1978. Although they were popular in Japan and Australia, they never sold many records stateside and broke up in 1979.
Despite this lack of chart success, the legacy of The Runaways looms so large that they were the subject of a documentary directed by one member (bassist Vicki Blue) in 2004 and a feature film — aptly titled "The Runaways," with Kristen Stewart as Jett — based on a memoir written by another (singer Cherie Currie) in 2010. The memoir of another Runaway (guitarist Lita Ford) was a bestseller in 2016.
The unfolding of Jett's own story was equally unlikely and has proved just as enduring. Her eponymous 1980 debut LP was rejected by 23 labels in the U.S. before being released independently. Its track "Bad Reputation," co-written by Jett, would (much) later serve as the theme to the TV show "Freaks and Geeks," be included in the movies "10 Things I Hate About You" and "Shrek," be recorded by Avril Lavigne, and serve as the title of the 2018 documentary about Jett.
In 1981, Joan Jett and the Blackhearts reached the top 10 with a cover of Tommy James and the Shondells' "Crimson and Clover," and made a chart-topping classic out of the previously obscure Arrows song "I Love Rock 'n' Roll." Seven years later, Jett and her band reached the top 10 one last time with "I Hate Myself for Loving You," which would subsequently receive a Grammy nomination.
Jett remains an indelible, influential, and beloved cultural figure. Despite sparse offerings of new material since the early 1990s, she has opened tours for Aerosmith, Green Day, The Who, and many others since the mid-aughts. The composition of the audience at her upcoming Chevalier Theatre show — rescheduled from November — will likely span generations of fans who will be at an equal level of enthusiasm despite their age differences.
Need weekend plans?
The best events in the city, delivered to your inbox