Music
This event has passed. Check out other things to do instead.
Rock out to five decades of heavy metal with Judas Priest in Lowell
The hard rock icons will be at Tsongas Center April 4.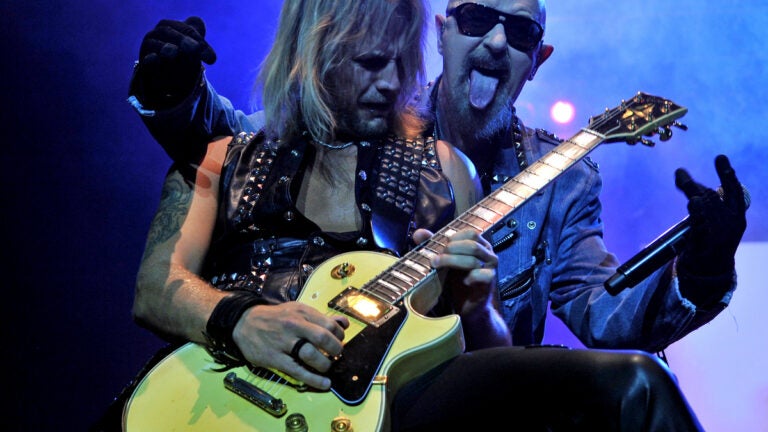 All but one of the albums that British heavy metal titans Judas Priest released between 1977 (the annus mirabilis of punk) and 1990 (the eve of grunge's commercial onslaught) eventually sold between 500,000 and 2 million copies in the US. Among the songs included on these many classics were "Living After Midnight," "Breaking the Law," and "You've Got Another Thing Comin'," each of which is familiar even to those who think that they couldn't name a single Judas Priest song.
This unabated popularity and durability was more than sufficient to earn "Priest" a place alongside fellow Brits like Black Sabbath and Iron Maiden as one of the most influential bands of the genre. Interestingly, the highest-charting albums of the band's career were the ones released in 2014 ("Redeemer of Souls") and 2018 ("Firepower"). Not many artists, especially metal ones, can claim such staying power and relevance. However, Judas Priest had substance with the style to match, striking a balance that many bands sought to emulate — frequently with far less success.
Priest's slightly delayed 50 Years of Heavy Metal Music tour lineup includes bassist Ian Hill and guitarist Glenn Tipton — who have played on every Judas Priest recording — and lead singer Rob Halford, one of metal's mightiest and most recognizable figures.
Speaking with unchecked optimism to The Aquarium, the 70-year-old vocalist said of the upcoming trek, "It's about the celebration of the 50 Heavy Metal Years that we've been together, but it's also going to be very special with regards to putting closure somewhat to the pandemic that we've all been through together … To be able to get back out there again and just be with each other is going to be a very strong, powerful moment for all souls involved."
Their April 4 concert at Lowell's Tsongas Center may not have the same ghoulish atmosphere as its originally scheduled Halloween date, but it's still sure to be frightfully good.
Need weekend plans?
The best events in the city, delivered to your inbox